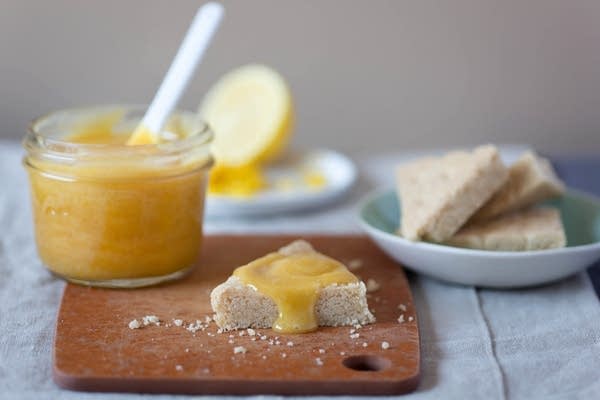 Makes one 9-inch shell
This light, crisp meringue shell is great filled with lemon curd made with the leftover yolks and topped with plenty of berries and whipped cream.
1/4 teaspoon salt
1 cup sugar
1 tablespoon cornstarch
4 egg whites, at room temperature
1 teaspoon vanilla
1/2 teaspoon lemon juice
Preheat the oven to 225 degrees. Line a cookie sheet with parchment paper.
Mix together the salt, sugar, and cornstarch in a small bowl. In a large bowl, beat the egg whites until soft peaks form. Gradually add the sugar mixture, 1 tablespoon at a time, beating well after each addition. Beat in the vanilla and the lemon juice.
Mound the meringue onto the prepared cookie sheet, and use a rubber spatula to spread it into a 9- or 10-inch circle. Bake until lightly browned and crisp, about 1 hour. Allow to cool before filling.
Lemon Curd
Makes about 1 cup
This makes delicious use of the egg yolks left over from making meringues.
Grated zest of 2 lemons
1/2 cup lemon juice
4 egg yolks
1 cup sugar
Pinch of salt
2 tablespoons unsalted butter
In a medium saucepan, beat together the lemon zest, lemon juice, egg yolks, sugar, and salt. Cook over low heat, stirring constantly, until the mixture becomes thick and translucent, about 5 to 7 minutes. It should coat the back of a spoon. Remove from the stove, and strain through a fine-mesh strainer into a separate bowl. Stir in the butter until it's melted.
Use the lemon curd to fill the meringue shell, or store it, covered, in the refrigerator for up to 1 week.