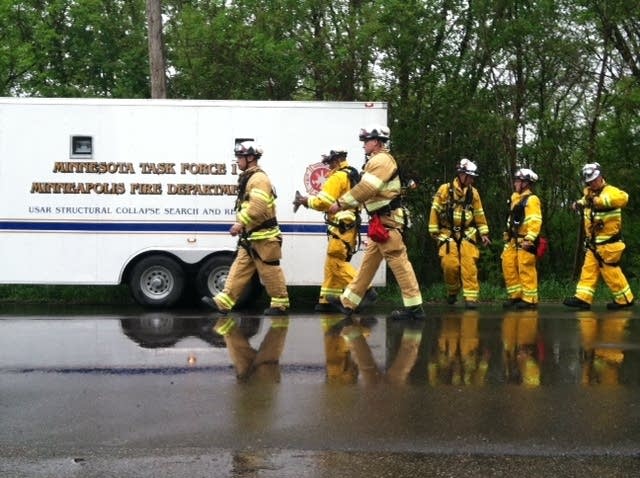 Rescuers rushed into waist-deep water Wednesday afternoon to rescue four children trapped in a gravel slide at a St. Paul park. One of the children died, two were rescued and one remains missing, authorities said.
The accident took place during a fourth-grade field trip by students from Peter Hobart Elementary School in St. Louis Park.
"They were walking along, and the earth gave way and they went down," said St. Paul Fire Department spokesperson Steve Zaccard.
The incident was first reported at 1:16 p.m. at Lilydale Regional Park on the city's west side near the Mississippi River.
Firefighters and police officers raced to the scene and dug through the mud with hands and shovels. One firefighter was struck by a rock on the head and was taken to a hospital with non-life threatening injuries, Zaccard said.
It took rescuers about an hour to get the first child out. As they dug, they uncovered the hand of another child who was completely buried. A third child was sinking into the mud. All three children were taken to Regions Hospital in St. Paul, where one was later pronounced dead.
Authorities believe a fourth child remains missing, but the scene is too dangerous for rescuers to continue to dig. About 75 people are on hand to assist in the effort. "We're working with (authorities) to divert the water and shore up the area" so that crews can continue, Zaccard said.
St. Paul Mayor Chris Coleman, speaking at a news conference near the site this afternoon, praised the rescuers.
"We've had some unbelievably heroic efforts today on the part of our first responders that have put themselves quite frankly in a very dangerous, very precarious situation in an attempt to rescue the children that were trapped," Coleman said. "Our thoughts and prayers go out to the families and to the first responders who continue to deal with the situation."
A statement from Dr. Debra Bowers, superintendent of St. Louis Park Public Schools, read, "This is an incredibly sad time for our schools and our entire school community. Our hearts go out to the families, friends and everyone touched by today's accident. The St. Louis Park Schools are providing support and resources to students, staff and families, and we will continue to do so as long as needed. We, like everyone else, want to understand how this tragedy occurred, but today we ask for your continued thoughts and prayers for everyone involved."
View
Vento View Overlook
in a larger map
Fourth-graders from Peter Hobart Elementary School were on a field trip to Lilydale Regional Park in St. Paul.
Written with information from the Associated Press.