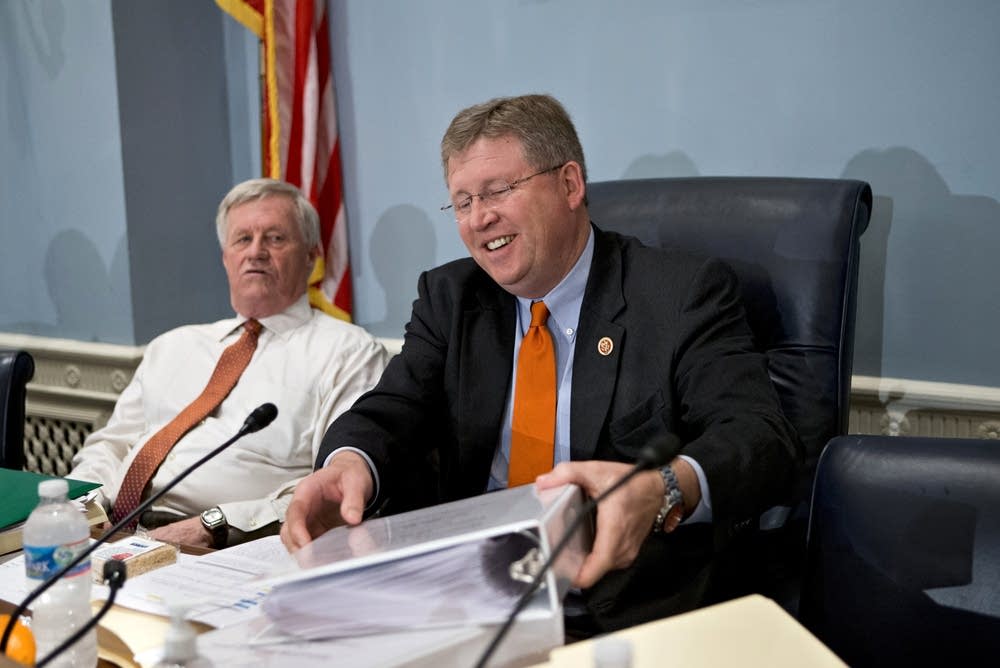 The farm bill passed a major procedural hurdle in the U.S. Senate Thursday when a vote to end debate won approval by a wide margin. On Monday, the bill could receive a vote in the full Senate, where it is expected to pass.
But the farm bill appears to be in potentially serious trouble in the House because of a partisan battle over spending on the federal food stamp program.
The farm bill is a much broader piece of legislation than its name suggests. In addition to crop subsidies and various agricultural programs, it also sets the rules for the federal food stamp program, which spends $80 billion a year.
When Congress last passed a farm bill in June 2008, President George W. Bush vetoed it on the grounds that it gave too much money to wealthy farmers. But the bill was so popular that both chambers of Congress that same day overrode Bush's veto, which takes a two-thirds vote.
Almost exactly five years later, there is zero chance that the latest farm bill will draw that kind of support in the U.S. House.
DEMOCRATS, REPUBLICANS DISAGREE ON FOOD STAMPS
Privately, Democratic sources say the newest bill may only receive the votes of 30 out of 201 House Democrats because the legislation cuts too much spending on the federal Supplemental Nutrition Assistance Program -- nearly $21 billion over the next decade.
U.S. Rep. Collin Peterson, the ranking Democrat on the House Agriculture Committee, admits he's having trouble convincing many Democrats to back the bill. But Peterson, who co-authored the farm bill with the committee's Republican chairman, U.S. Rep. Frank Lucas of Oklahoma, said the GOP is also having trouble drawing support because conservatives want even deeper food stamp cuts.
"I've had some Republicans tell me they only have 150 votes," said Peterson, who represents Minnesota's 7th District.
If the Republican and Democratic vote tallies are accurate, the farm bill is far short of the 218 votes needed to pass the House.
Worse still for Peterson and Lucas, almost anything they do to attract Democratic votes will likely lose Republicans.
"If somebody can go out and make a great case on why we should spent $80 billion a year on the food stamp program and they can win that public argument then more power to them."

Dan Holler, Heritage Action of America
If they make the bill friendlier to the GOP, it will surely lose some of the few Democrats who support it and make negotiations with the Senate more difficult.
That's not how farm bills used to work.
Traditionally, they were a bipartisan marriage of political convenience between urban and rural interests.
Not anymore, said veteran Congressional scholar Norm Ornstein at the American Enterprise Institute.
"If there's ever a case study that's emblematic of how polarization and tribalization have just taken over rational policymaking or the art of the deal, it's this one," Ornstein said.
But things have changed since 2008.
The recession led to a massive expansion of the program's rolls and costs.
President Obama's Republican critics, among them U.S. Rep. Steve King of Iowa, have sought to link the program's growth to their ideological critique of the president.
"I'm concerned about the effort on the part of the administration to actively promote the expansion of dependency in this country," King said.
Meanwhile, influential conservative political groups that have formed since 2008 have put a bullseye on the farm bill, running radio ads in some congressional districts urging voters to pressure their lawmakers to oppose the bill.
Dan Holler, communications director for Heritage Action of America, an arm of the conservative Heritage Foundation, said members of Congress should vote separately on issues such as crop programs and food stamps instead of casting votes on one big bill.
"We certainly think things should pass or fail on their own merits," he said. "If somebody can go out and make a great case on why we should spent $80 billion a year on the food stamp program and they can win that public argument then more power to them."
To Norm Ornstein, that proposition goes against the grain of how a democratic legislature works.
"You have to give members the cover to be able to vote for a package so that they can justify the things that are unpalatable to their constituents by pointing to the things that are very popular with their constituents," he said.
Peterson said many Democrats also have become more unwilling to cut deals.
"We've got inflexible folks, too -- the people saying there can't be one penny taken out of food stamps," he said.
Among the Democrats fighting the food stamp cuts is Minneapolis U.S. Rep. Keith Ellison, co-chair of the Congressional Progressive Caucus, the largest and most liberal faction of House Democrats.
"At a time when unemployment is still very high, poverty is very high, wages have been stagnant, we cannot pull the rug out from under families," said Ellison, who represents Minnesota's 5th District.
But Ellison sidestepped the issue of whether liberals would try to defeat the farm bill on the House floor.
Doing so would have the effect of keeping food stamps at their current, higher, funding level.
"All we can do is put every bit of our energy into making this the best bill that we can before we do have to vote and make a final decision on passage," Ellison said.
For Peterson, who entered a very different Congress in 1991, the struggle to pass a farm bill reflects the growing polarization of Congress and the public.
Peterson said with just 50 or so congressional districts considered competitive between the two parties, most members are now much more worried about ideological purity and avoiding a primary election than they are about accomplishing anything.
"They're worried about being challenged by the right or left of their party," Peterson said. "That's part of the problem."
The House is expected to consider the farm bill the week of June 17 -- if Peterson and his allies have rounded up enough votes by then.