Xcel Energy said Saturday that utility crews were working as fast as they can in dangerous conditions to restore power.
And with yet another round of thunderstorms likely Saturday night, authorities say warning sirens may be without power and off-line in at least one-quarter of the cities in Hennepin County. County officials urged residents to rely on multiple sources for weather information.
Since the storms began early Friday, just under half a million people lost power, said Xcel spokesman Tom Hoen. Now, he said, the number of customers without power as of Saturday afternoon was down to 133,000 in the west metro, 28,000 in the east metro and 11,000 in St. Cloud.
"The level of power outages caused by this succession of storms is one of the highest we've ever faced," Dave Sparby, president and CEO of Xcel subsidiary Northern States Power-Minnesota, said in a news release.
Hoen said: "This is a very frustrating time. Trust me when I say we understand that nobody likes to be without power. We all depend on it quite a bit. But please understand that we have every available resource of ours - not to mention we've enlisted the help of several utilities throughout the Midwest. And we have got every resource we have available working on this. And we'll get the power restored as quickly and safely as we can."
The damage was spread throughout the metro area, Hoen said, adding that high winds made the situation particularly dangerous. Workers were reporting whole trees are uprooted, bringing down power lines.
Xcel was bringing in utility crews from Iowa, Nebraska, Ohio and Missouri to help, Hoen said. The company expected to have as many as 1,200 workers on the ground this weekend.
In Chanhassen, the National Weather Service said that the worst damage from Friday night's storm was centered in the metro area, with hundreds of trees down throughout the Twin Cities.
Winds were as high as 70 mph in Crystal, NWS meteorologist Mike Griesinger said, while the Minneapolis-St. Paul Airport recorded winds at 58 miles an hour.
Drainage was also a problem, with flooding around intersections along Highway 280 and Interstate 94 in St. Paul. Those floods areas receded overnight, but Griesinger said the situation may repeat itself on Saturday night.
"We're still in a position that leaves us very vulnerable to seeing more showers and thunderstorms," Griesinger said. "A bit of an unknown now as to where things will go this afternoon into the evening. But there's potential later in the afternoon that we'll see more thunderstorms develop. Wind and hail would be a threat again. But what is becoming an increasing concern is any additional rain that would exacerbate the risks for flooding."
Flooding remained a concern elsewhere in Minnesota as well. The National Weather Service issued flood warnings for Mower, Traverse, Jackson, Aitkin and Todd counties.
University of Minnesota climatologist Mark Seeley said flooding could be severe, adding that when flash floods happen in rapid succession -- as they have in many parts of Minnesota over the past few days -- the ground gets saturated. That makes flooding more likely.
"The capacity of the landscape to buffer you kind of diminishes with each event," he said, "so that finally after you've had maybe one, two or three events the capacity to handle even a 1-inch rain is so diminished that most of it produces runoff and of course floods the intersections and parking lots and the storm sewer system and everything else because most of it is running off."
Repeated heavy rains may be a pattern for the rest of this summer, Seeley said.
In Robbinsdale, officials were dealing with a huge sinkhole in a major intersection.
The hole, on 42nd Avenue and Bottineau Boulevard, appeared to be about 40 feet wide, said Garit Martin, who works nearby at Sipe's Car Care Center.
"The whole intersection's pretty much gone," Martin said. "There's cracks along the entire length of it. It looks quite deep from what it is -- I'd say it's easily 15 feet. It is quite odd."
Authorities say the hole was likely caused by a water main break.
In St. Paul and elsewhere, crews were spending Saturday cleaning up storm damage.
Public works and parks employees were clearing downed trees from streets and sidewalks. The city might not be able to repair all the damage caused by the storm until early next week, said Brad Meyer, the public services manager for the St. Paul Parks and Recreation Department.
Meyer said the city was considering whether to hire contractors to help.
"Due to the size of some trees, we may have to hire some outside crews to use large machinery to lift trees off of homes or private residences," he said. "But with tonight's forecast of additional storms, that could certainly impact the timeline of when we could recover from this storm."
The city's Highland Park neighborhood was hit the worst, although there was also damage on the West Side and along Johnson Parkway on the East Side. Meyer said it was too early to tell whether the city will need to make arrangements for extra debris collection.
Residents from South Dakota to Wisconsin were cleaning up, too. Homeowners were out with chainsaws, clearing streets and yards in the Longfellow neighborhood of Minneapolis. Nearly every street had a tree down in the boulevard or blocking traffic.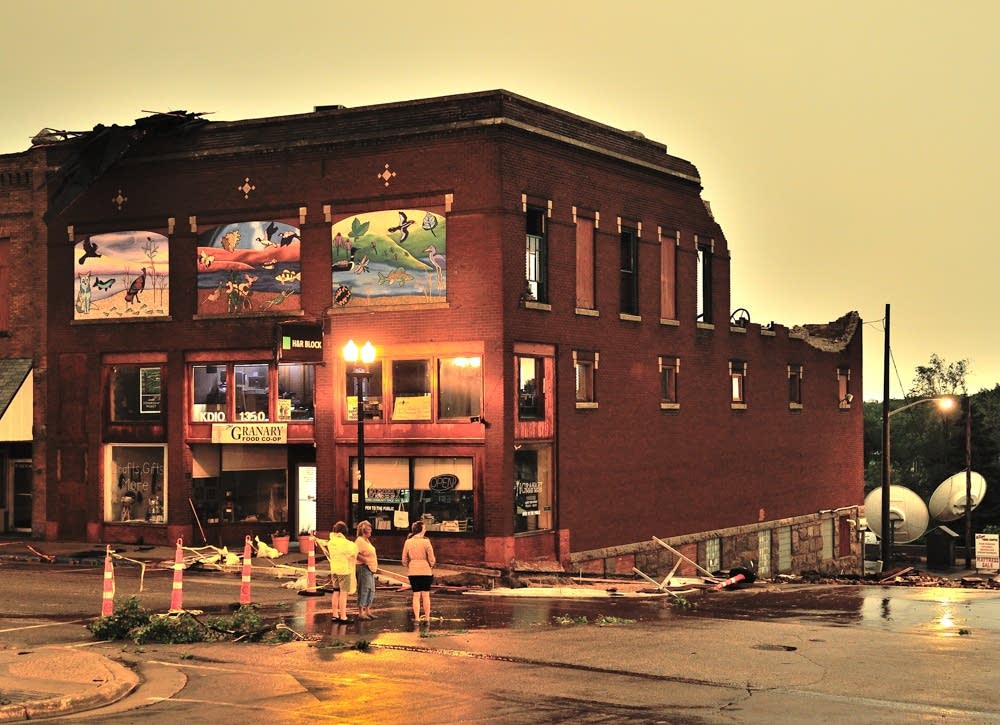 Elsewhere in Minnesota, authorities in St. Peter observed nearly 2-inch hail. Streets were reported flooded in Oakdale and New Prague. At the Back to the 50's car show, high water lapped the bumpers of campers at the Minnesota State Fair Grounds, according to reports.
Around Loring Park near downtown Minneapolis, the water was reported to be as much as 2 feet deep.
The winds and rain blew into the metro area Friday evening after hitting central Minnesota. Hennepin County Emergency Management Director Eric Waage said he saw "quite a few large trees down" as he surveyed damage from Friday night's storm.
The evening storms followed a line of thunderstorms that also raked Minnesota on Friday morning, dumping several inches of rain in some locations.
The winds took the top floor off a 130-year-old office building in the western Minnesota town of Ortonville, said Mayor Steve Berkner.
"There's probably about five or six different offices that are in there," Berkner said. "There's the Family Food Coop ... And also the KDIO radio station. Their programming studios are on the second floor of that building. But basically, that building is a complete loss. I can't imagine that there would be any way that they could put that thing back together."
Berkner said the storm also damaged the Cenex building in town, as well as the roof of the Big Stone County courthouse.
The Associated Press contributed to this report.