Xcel Energy said Sunday that it has restored power to almost 460,000 customers.
Still, about 85,000 customers were without service in Minnesota, said spokesman Tom Hoen, mainly in the Twin Cities area: 75,000 without power in the west metro and 10,000 in the east.
"Unfortunately, we did see just a bit of a spike this morning as yet another round of bad weather came through at about 7 a.m.," he said. "That, however, looks to be the end of it, for at least a while. If Mother Nature can cooperate a little bit and give our linemen a chance to put in a solid day, day and a half, we should be able to put a real serious dent in the outage number."
Xcel, the largest utility serving Minnesota and western Wisconsin, says it deployed more than 1,000 line workers to restore power after three waves of strong storms hit the region.
Areas in the west metro like Robbinsdale and New Hope were hit hardest Saturday night by rain and strong winds that took down trees, Hoen said. Glencoe had reported rain of up to 4 inches.
Customers have been inundating Xcel with calls, Hoen said, but for the most part they have been patient.
"Obviously, we're in the third day now, and some customers are still without service, so the frustration level can get high," he said. "Nobody likes to be without power. We all rely on it for just about everything we do. But the customers have to know we have got every available resource - even those from other utilities - out in the field right now trying to restore the power."
Xcel Energy's system was severely damaged by high winds that brought trees and branches down onto power lines before dawn Friday and on Friday evening and early Saturday. More than 500,000 of the utility's customers in Minnesota and western Wisconsin were affected at the height of the power outages, Xcel Energy said.
"The level of power outages caused by this succession of storms is one of the highest we've ever faced," Dave Sparby, president and CEO of Xcel subsidiary Northern States Power-Minnesota, said in a news release.
Kent Larson, senior vice president of operations for Xcel Energy, said Xcel line crews from throughout the Upper Midwest and Colorado were in the field along with crews from other utilities. He said they will work 16-hour shifts until all power is restored.
The company said in a statement that it expects to restore power to the vast majority of its customers by Wednesday.
Gov. Mark Dayton signed an executive order Saturday to ease restrictions on out-of-state utility trucks coming to help out.
Across the Twin Cities, crews with chain saws and residents spent the weekend cleaning up downed wood.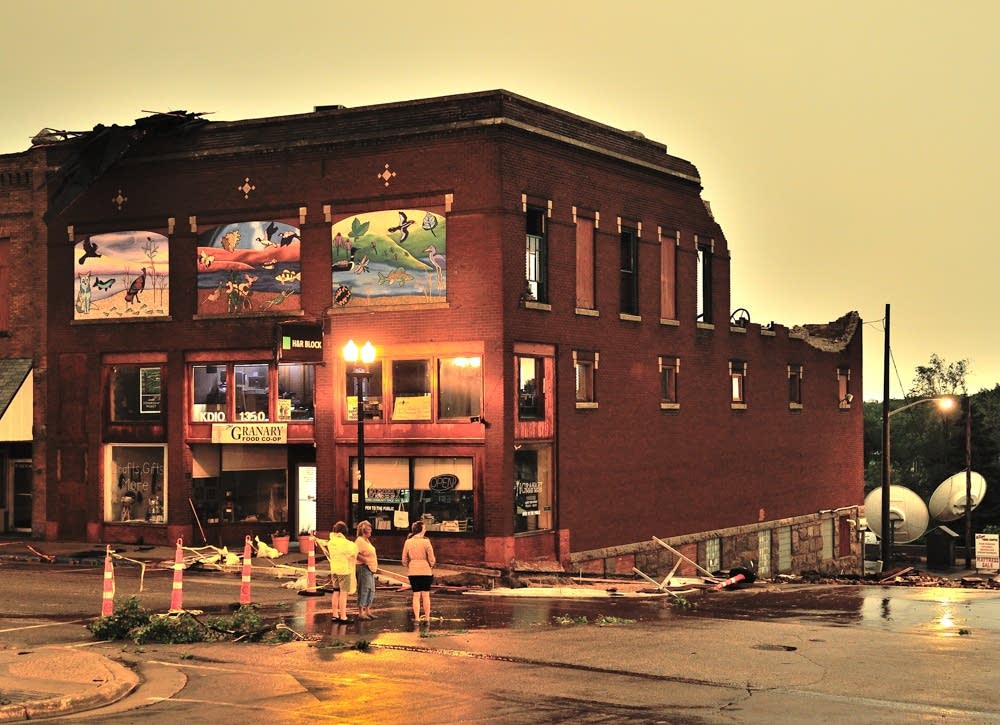 Minneapolis officials were working to remove hundreds of fallen trees throughout the city, with the Park and Recreation Board leading the cleanup effort. Their first priority is removing trees from roads, said spokeswoman Dawn Sommers. Next, workers will remove trees between sidewalks and curbs that have fallen on private homes.
"I do want to stress that these are boulevard trees - the park board manages trees between, in essence, sidewalks and curbs," she said. "If there are private property trees that have fallen on individual's homes or structures, they need to work with contractors to take care of those."
Sommers added: "Our third priority is actually to evaluate the many hazard trees that have been identified as either damaged or in soil saturation that are at high risk of toppling soon if they're not removed. So we'll remove those; then our last priority is actually go in and clear out our parks."
Sommers recommended that homeowners check a list of licensed contractors on the city's website.
Beginning Monday, she said, residents can take wood debris to a recycling site at 33rd Avenue and Second Street. Starting July 1, park staff will offer curbside pickup.
Jill Townley, 33, joined forces with neighbors, cleaning up branches from yards and roofs in Minneapolis' Hiawatha neighborhood.
"The silver maples got it bad, a lot of the tall trees," Townley said.
In St. Paul, parks and recreation spokesman Brad Meyer said all roads were cleared and crews have removed about half of the 15 of the trees that fell on homes. He said the city lost 400 trees.
With more storms in the forecast through the weekend and into next week, Hennepin County officials warned that many cities in the county have at least a few severe weather warning sirens that are off-line due to power issues. They reminded residents that TV and radio stations and smartphones are all good sources of warning information.
Winds reached as high as 70 mph in Crystal, National Weather Service meteorologist Mike Griesinger said, while the Minneapolis-St. Paul Airport recorded winds at 58 miles mph.
While flash floodwaters receded early Saturday, Griesinger said the situation had the potential to repeat itself on Saturday night.
"We're still in a position that leaves us very vulnerable to seeing more showers and thunderstorms," Griesinger said.
In western Minnesota, high winds took the top floor off a 130-year-old office building in Ortonville, said Mayor Steve Berkner.
"There's probably about five or six different offices that are in there. ... Basically, that building is a complete loss," he said. "I can't imagine that there would be any way that they could put that thing back together."
The Associated Press contributed to this report.