Feds asking about transcript changes at St. Cloud State University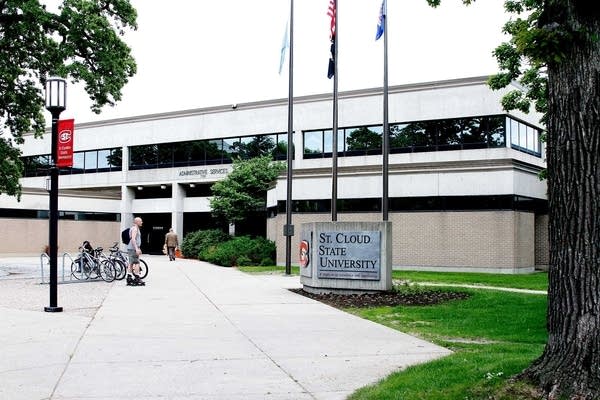 Federal officials are asking questions and collecting information about student transcript changes at St. Cloud State University and their possible impact on student financial aid. 
Several faculty members say FBI and U.S. Department of Education agents interviewed them last week. 
"They were investigating the effect of transcript alterations, the removal of grades and the possible impact on financial aid eligibility," said chemistry professor Jack McKenna, who met with agents on Tuesday.
Professors have complained to the administration in recent months that grades they gave students were later removed from transcripts without their knowledge. University policy requires administrators to consult with faculty before changing a transcript. 
St. Cloud State says neither the FBI nor the federal Education Department has informed the school of an official investigation and no one from university administration has been interviewed by federal agents.
"We are aware that representatives were recently on campus," university spokesman Adam Hammer said. "We don't know necessarily what questions they were asking individuals, but we do know they were here."
Several current and former faculty and administrators indicated they also spoke to the agents but declined to speak on the record.
An FBI spokesperson said the agency does not have a case open but was playing a supportive role to the Department of Education. The Education Department's Office of Inspector General said the agency does not confirm or deny "investigative efforts." 
Ginny Dodds, manager of state financial aid programs at the Minnesota Office of Higher Education, said she's unaware of the federal inquiry but could think of two possible reasons for it.
It may be that students who completely withdraw from all of their classes before 60 percent of the term is complete need to pay back varying degrees of federal financial aid. 
It may also be an issue of what's called "satisfactory academic progress," she said. 
"That's a requirement for both federal and state financial aid where you have to be maintaining a certain GPA (grade point average) and finishing a certain percentage of your classes each term," she said.
For federal aid, students need to keep a GPA of 2.0 or higher (the equivalent of a C) and complete roughly 67 percent of their classes each term, Dodd said. If a student drops below the federal requirements, she added, they can get placed on academic probation.
"But if you don't qualify for a probationary period then you lose financial aid eligibility for the next term until you bring up your GPA and completion percentage to be meeting requirements again," she said.
So, if a course a student failed gets removed from a transcript — that could increase both their GPA and completion rates, keeping the student eligible for financial aid.
In reviewing a sample of 237 student transcripts changed between July 2011 and June 2012, the university found that administrators responsible for making the changes consulted faculty in 69 percent of the cases. In others, it was not clear whether the faculty member was not notified or did not respond to a request for comment.
Jan Kircher, a social work professor who met with the agents last week, said the Education Department is concerned about fraud and that agents were "really looking for a name of a student whose grade had been changed." 
Kircher said she didn't have records and couldn't provide the agents with a name.
Gallery
1 of 1