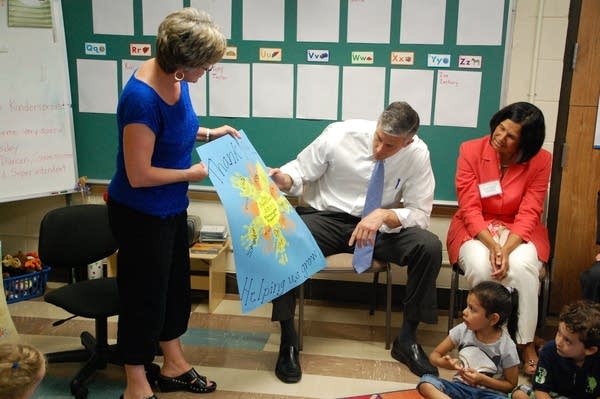 The Obama administration wants to spend $75 billion on early childhood education over the next 10 years, an investment U.S. Secretary of Education Arne Duncan said would pay off several-fold in the future.
Duncan, the nation's top education official, was in the Twin Cities today advocating the plan, which he said would better fund pre-kindergarten programs in Minnesota and across the country.
There's growing evidence that high quality early childhood education programs are the most effective way to prepare students for school, especially children from low-income families.
To illustrate that point, Duncan stopped by a pre-school classroom in Bloomington where 17 students were identifying pictures that start with the letter "C" -- words like "a cat, a caterpillar, a car!"
The students are part of the Bloomington Public Schools district's summer Kindersprouts program, which aims to help children develop their reading, math and social skills so they'll be ready for kindergarten in the fall.
In a town hall discussion after the classroom visit, Duncan told state and local education officials, and teachers and parents, that early childhood education programs are key to preparing children for school, especially low-income students.
"The stakes have never been higher and we've moved as a country far too slow in this area."

U.S. Secretary of Education Arne Duncan
"The average kindergartner who comes from a disadvantaged community starts school in the fall a year to 14 months behind," he said. "And then we wonder why we have achievement gaps and dropout rates and all the other things."
Minnesota has one of the largest achievement gaps in the country. From test scores to graduation rates, low-income students and students of color lag 20 to 30 percentage points behind white students.
Duncan said better funding for pre-school programs could help close the achievement gap, and he stressed that now is the time to make that investment.
"The stakes have never been higher and we've moved as a country far too slow in this area," Duncan said.
The Obama administration's plan would pay off several-fold in the future, he said.
Access to early childhood education gives students a leg up when they start school, said Art Rolnick, a senior fellow at the University of Minnesota's Humphrey School of Public Affairs who has researched pre-K programs over the last decade.
"They're much more likely to succeed in school and succeed in life with incredible savings for the child and the public," said Rolnick, former director of research at the Federal Reserve Bank of Minneapolis.
Rolnick said studies show early childhood education can lead to lower rates of incarceration and teen pregnancy among older students.
Minnesota lawmakers boosted funding for pre-K this spring when they approved $40 million to pay for pre-school scholarships.
About 8,000 low income students will have access to the scholarships over the next two years.
Gov. Mark Dayton said last session's bipartisan effort to fund pre-K programs was late in coming.
"We adults are slow learners, I guess," Dayton said. "It's taken all this time now to catch on and begin to catch up."
Duncan said Minnesota stands to benefit from the White House plan to fund early education, to the tune of $38 million in federal funding in the first year of the 10-year plan alone.
But how to pay for the effort is still up in the air. President Obama wants to increase the federal cigarette tax by 94 cents a pack to raise the money, something tobacco executives and some Republican lawmakers have opposed.
Support for the plan overall has yet to firm up in Congress.
It would need to pass through the House Education and Workforce committee, which is led by Republican U.S. Rep. John Kline of Minnesota's 2nd District.
Kline wants to give children a solid foundation, but "that also means we can't saddle them with even more debt," according to a statement released by his spokesman, Tony Young.
The statement notes similar pre-school programs, like Head Start, already are in place, and that work should be done to ensure those programs are producing positive results.