Building explosion, fire rock Minneapolis neighborhood
An explosion ripped through a three-story building in the Cedar Riverside neighborhood of Minneapolis New Year's Day morning, igniting a three-alarm fire and sending more than a dozen people to area hospitals.
When firefighters arrived at 516 Cedar Ave. S. shortly after 8 a.m., they found bodies in the street, Fire Chief John Fruetel said.
Fourteen people were injured, six critically. Fire officials say they can't yet determine if everyone made it out of the building and is accounted for.
• Photos: Firefighters working in sub-zero weather
Grow the Future of Public Media
MPR News is supported by Members. Gifts from individuals power everything you find here. Make a gift of any amount today to become a Member!
Robert Ball of Hennepin County Emergency Medical Services said the injuries ranged from burns to trauma suffered from falling or jumping from windows.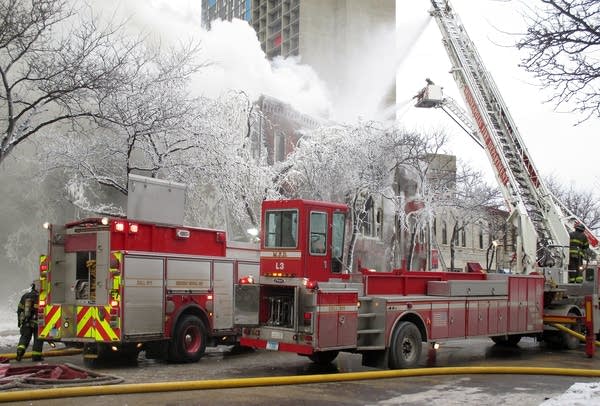 Mohamed Jama, who lives in Riverside Plaza, said he raced to the building after hearing an explosion. What he found shocked him.
Jama, 20, said he saw two men lying on the ground after having jumped from their apartment windows to escape the fire. Jama said he then saw a woman leap from her window. He said he thinks she broke her leg and her neck.
"She landed on the snow," Jama said. "She survived. Thank God she survived. But there are people who are not going to survive. There are six people who we are told are in critical condition, so we're rallying behind the victims."
Fruetel said firefighters tried to enter the structure to search for more people but were beaten back by the fire.
"When they arrived there were flames shooting 20 feet out of the second and third floor windows. Crews did make entry into the first floor of the structure, did what they could to do any primary searches of that first floor area," he said.
Shortly after that they pulled back to defensive positions on the street and began dousing the building with water. By 9:30 a.m. the second and third floors had collapsed.
The bitter cold made for "brutal" firefighting conditions, Fruetel added.
Authorities believe there were 10 apartments in the building and as many as nine of them may have been occupied. Fruetel said there may be victims that firefighters couldn't find.
"We need to gather a lot of information in regard to occupants," he said.
The building housed a small grocery store on the ground floor and apartment units above. City officials said the building was inspected in 2010 and again in 2012 and that no problems were cited.
Metro Transit buses were dispatched to the scene to provide shelter for victims and firefighters.
Drew Kerr, a spokesman for Metro Transit described the scene as "a lot of sirens and a lot of smoke and a lot of water and the streets were filing with water getting very slippery."
The Salvation Army and Red Cross are helping victims at the nearby Brian Coyle Center.
"We have five volunteers on scene with the victims of the fire, working with them to provide food, clothing or any shelter they may need for the next few days because of the fire," said Red Cross spokeswoman Kelsey Polcher.
Cedar Riverside, southeast of downtown Minneapolis, is a triangle-shaped neighborhood bordered by Riverside Avenue, Interstate 94 and Interstate 35W.
The building sits next to the Dar Al-Hijrah Islamic Civic Center, a mosque, said board chair Abdisalam Adam. The two buildings are connected, but the burning building is not part of the mosque, and he said he didn't think the fire had anything to do with the mosque.
Adam said he fears the mosque has been damaged by water. Leaders are working on a plan to move congregants to the Brian Coyle Center's gym for Friday prayers.
FBI spokesman Kyle Loven said the agency is aware of the explosion, "but it would be sheer speculation to theorize what may have occurred here as far as any mosque or any other business in the area. So we're going to wait for the first responders to discover the facts and we'll go from there."
Minneapolis fire officials said the building was last inspected in 2012 and there are no outstanding inspection issues for the building.
Centerpoint Energy spokeswoman Becca Virden said utility crews have carefully been through the scene.
"We have specialized a gas leak that can detect a gas leak even when you can't detect it -- highly sensitive equipment," she said. "They have checked there were no gas leaks reported before and there are no gas leaks in the area now."
Mayor-elect Betsy Hodges, at the scene, said the city would be setting up an assistance center nearby to help.
"It's clearly a tragic morning for the city of Minneapolis. Our hearts and our prayers are with the people effected by this fire," she said. "We want to be with the families in this moment. We want to make sure that people get the information that the Brian Coyle Center is available for the families. We want to thank the firefighters that are responding to this fire and will be working hard all day and we will be there with them."
Two of the men who were taken to Hennepin County Medical Center for treatment were distant relatives of Mohamud Noor, executive director of the Confederation of Somali Community in Minnesota, which is based in Cedar-Riverside. Noor said his relatives were as upbeat as could be, given the circumstances.
"They're doing good," Noor said. "They had minor burns and a little frostbite because they didn't have shoes on when they were running away. All they could do was run for their lives."
HCMC was inundated with families looking for loved ones, including one victim who Noor heard was undergoing surgery after jumping from one of the building's windows to escape the fire. Noor, a candidate for the state Legislature, expects an announcement to be made Thursday regarding a relief fund for the victims.
Community leaders and organizations are focusing on finding new homes for the victims and supporting the grocery devastated by the fire, while hoping the individuals who have been reported missing are safe.
"It's the beginning of the new year, and a tragic incident was not something we were looking forward to," Noor said.
Jama, general director of the Cedar-Riverside Youth Council, said the Somali-owned grocery ravaged in the fire is where most of the neighborhood's residents did their shopping.
While many Somali immigrants on the West Bank are focusing on how to support the business and the victims, they also feel like they have the backing of the broader community, said Jama, who noted the presence of several elected officials today.
"The police, the firefighters, they helped us out," Jama said. "The important part was that the resources showed up when we needed it."
The question going forward, he said, is if that broad support will continue in the weeks and months to come.