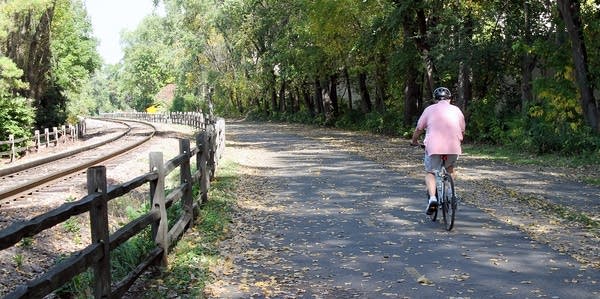 The head of the Metropolitan Council says she is "absolutely open" to routing Southwest light-rail trains through the Kenilworth Corridor in Minneapolis at ground level.
Chairwoman Sue Haigh said she firmly believes in the current light rail alignment, but is undecided on whether the passenger trains should pass through a shallow tunnel or move above ground.
An analysis underway will present the pros and cons of several options for what to do with existing freight traffic in Kenilworth, she told The Daily Circuit on MPR News.
The corridor is too small to handle both freight and passenger trains.
"What we're going to learn from this study is, 'Is there a different way to deal with the freight rail?' Can it be in fact relocated out of this corridor in a safe and productive manner? The answer may be yes, the answer may be no," Haigh said. "We really won't know until we get the study done."
In October, metro leaders recommended putting the LRT trains in shallow tunnels through the park-like Kenilworth corridor. But Gov. Mark Dayton ordered the project staff to slow the planning and build more consensus around the controversial project.
The Met Council is hosting the first of two public meetings later today to gather input on three engineering and environmental studies.
IF YOU GO
Tuesday, Jan. 7 from 5-7:30 p.m.
Kenwood Community Center, 2101 Franklin Ave. W., Minneapolis
Click here for map
Thursday, Jan. 9 from 5-7:30 p.m.
St. Louis Park Recreation Center, 3700 Monterey Dr., St. Louis Park
Click here for map