No Southwest light rail support in Dayton's proposed public works bill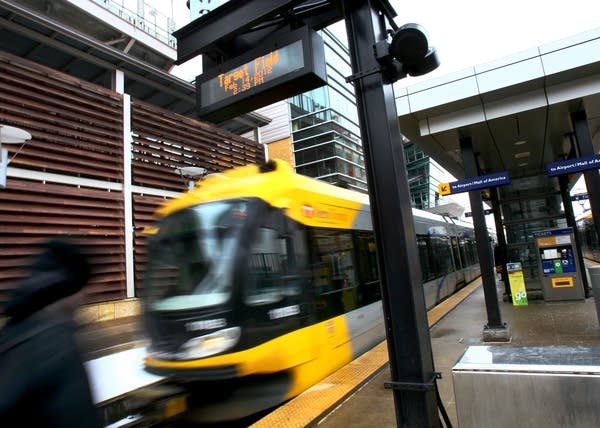 For the second year in a row, Gov. Mark Dayton has left out funding for the Southwest light rail project from his nearly $1 billion wish list of public works projects.
"The cost of these [light rail] projects is prohibitive, unless you want to start excluding $125 million of very worthwhile projects elsewhere in the state," Dayton said Wednesday.
As the governor announced the proposals he does support, he bemoaned Minnesota's tradition of paying for transit projects in piecemeal fashion and once again championed an idea to raise the metropolitan area-wide sales tax to provide a sustainable way to pay for transit.
Light rail planners are expecting the state to pay a tenth of the Southwest project's costs. Sue Haigh, chair of the Metropolitan Council, said she's confident the council will identify a funding source to fulfill the state's share of the project. So far, the state has committed $44 million and will need to find an additional $100 million or more.
MPR News is Member Supported
What does that mean? The news, analysis and community conversation found here is funded by donations from individuals. Make a gift of any amount today to support this resource for everyone.
Haigh said Dayton remains a strong supporter of the Southwest project, and his decision to exclude it from the bonding bill does not signal a wavering of state support. Haigh also said it's possible the Met Council may be able to sell bonds against future potential revenues from the statewide motor vehicle sales tax to fulfill the state's obligation for the project.
Dayton said he would support a more stable funding source, such as an increase in the metro sales tax, but acknowledged that might be unlikely to happen this year.
"I don't know that the Legislature has any willingness to take that on this year, particularly given the stalemate right now with Southwest light rail," said Dayton. "We'll see how it unfolds in the next few months. I'd be supportive of it. But I think it's probably more likely it's going to be something that would be taken up seriously in 2015."
But Southwest light rail supporters say 2015 would be too late. The project's schedule requires local and state funding to be committed by the middle of this year.
State Sen. Ron Latz, DFL-St. Louis Park, says the fate of Southwest light rail will be determined in part by whether it can show local support. The federal government is expected to pay for half of Southwest's costs, now estimated to be around $1.5 billion.
"They've got lots of demand from around the country for those dollars," Latz said. "It's going to be redirected to some other community that has demonstrated their commitment to moving forward with their light rail project."
In October, Dayton postponed key decisions on the light rail line connecting Minneapolis to Eden Prairie to give planners more time to build consensus on one controversial segment of the route.
State Rep. Alice Hausman, DFL-St. Paul, who chairs the House Capital Investment committee, said the debate over Southwest is so divisive that she's still hearing people question the entire alignment.
"That's how unsettled the whole thing is. It would be hard for me to fund it at this point. I just don't think it's ready," Hausman said.
Minnesota Rep. Jenifer Loon, R-Eden Prairie, said if the bonding bill were to include the Southwest line, it could alienate conservative and rural legislators and jeopardize the bill's passing.
"I'm not aware of any strong support from Republican members in the southwest suburbs," she said. "It's a very expensive project — the most expensive light rail project proposed in this area."
But the tens of thousands of new jobs the transit line would serve over the next 20 or 30 years make Southwest a worthwhile investment, said Deb McMillan, director of government affairs for the TwinWest Chamber of Commerce. McMillan said she was disappointed the governor didn't include it in his bonding proposal during what she considers a critical time for the project.
McMillan acknowledged the current stalemate over the Kenilworth corridor, but remains upbeat about the project's future.
"We'd like to think they're just bumps in the road," she said. "The case to build Southwest light-rail is so compelling, and we do trust that they'll be worked out and the political differences will work themselves out."