Proposals for budget surplus would boost health care, education spending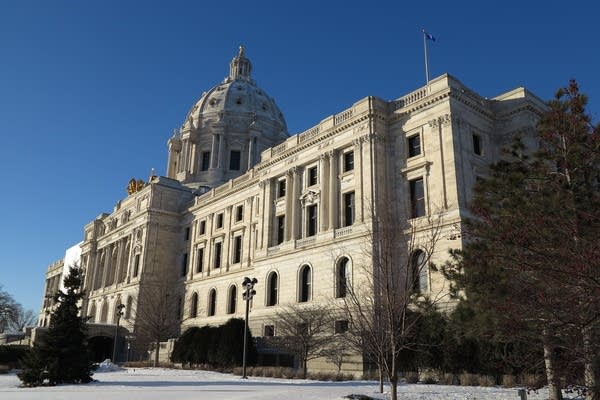 The Minnesota House and Senate are expected to take action this week on bills that spend the remaining money from the $1.2 billion budget surplus.
After tax cuts, lawmakers have about $600 million to work with, and they plan to spend most of it on health care, education, economic development and transportation. There's also a second round of tax cuts in the works.
House and Senate budget committees have been working on individual spending proposals that are now being rolled into larger packages. A big share of the supplemental spending is for the health and human services programs.
• March 21: Dayton praises speed as Leg. passes tax cut bill
House Democrats made a late $16 million addition to that area of the budget to fund a 5 percent raise sought by home health care workers and their advocates. State Rep. Tom Huntley, chair of the House HHS Finance Committee, said he thinks those workers deserve more.
"I think they're underpaid to start with, even at the 5 percent," said Huntley, DFL-Duluth. "They could make more money at Walmart in a lot of cases than they could doing this very tough work."
Senate Democrats also included the 5 percent funding increase in their spending plan. Gov. Mark Dayton proposed only 4 percent, but a spokesman said that, given the bipartisan support, he is willing to support 5 percent.
State Rep. Jim Abeler, R-Anoka, said that was a positive development.
"These service providers who work for $10-11 an hour, I think they're going to feel very encouraged," Abeler said. "I think a lot of them will stay in their profession longer so they can serve our people in the way that they've become accustomed. That's really at the end of the day what we're all trying to do, is have quality services for these people who really, really need the help."
HHS spending in the Senate comes in about $12 million higher than in the House. The House plan tops the Senate on education spending by about $25 million. State Rep. Paul Marquart, chair of the House Education Finance Committee, said the House put more money in the basic funding formula, while the Senate favored early childhood education.
"That's probably where you're going to see the most debate, and probably the most negotiations are going to have to take place in those two areas," said Marquart, DFL-Dillworth.
There are differences in other budget areas too, including transportation and public safety. Still, Senate Majority Leader Tom Bakk said most of the major pieces appear to be falling together.
"There's a bonding bill of about $845 [million]. There's in the neighborhood of $140 to $180 million of one-time spending to supplement the bonding bill. I think us and the House are kind of on the same page there," said Bakk, DFL-Cook. "There's some additional one-time spending on the finance bill side. We really aren't that far apart on the big provisions to close out this session."
Just over a week ago, lawmakers passed a tax bill that provided about $443 million in tax relief and increased the budget reserve by $150 million. The House will vote later this week on a second tax bill that would provide $103 million in property tax breaks for farmers, homeowners and renters.
House Tax Chair Ann Lenczewski said small businesses and military personnel would also be helped.
"We think it's the right balance, given the size of the surplus, that we can do a little more in tax cuts," said Lenczewski, DFL-Bloomington.
But Republicans argue the DFL tax cuts don't go far enough and their spending plan goes too far. Senate Minority Leader David Hann said lawmakers should be sending more of the surplus back to taxpayers.
"We should be working harder to get that money back in the hands of hardworking Minnesotans, who can use it to provide job opportunities or use it to help their own personal family economy rather than trying to do more spending at the state level," said Hann, R-Eden Prairie.
Hann said Republicans who support the 5 percent health care increase will probably end up voting against it, if it remains part of the bigger spending bill. Hann accused DFL leaders of using the issue in an election year political game, by including it with other spending increases Republicans can't tolerate.