Medical marijuana's prospects grow with Minnesota Senate panel vote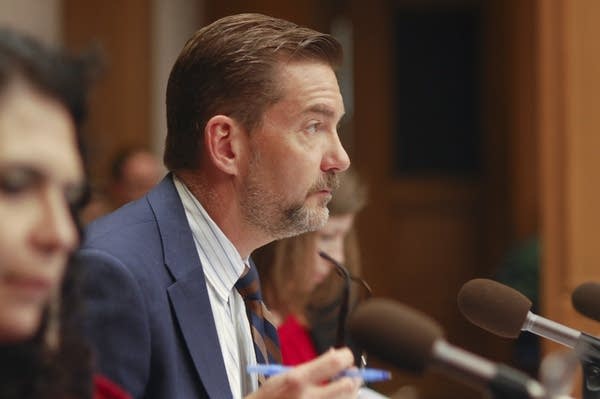 A Minnesota Senate committee Friday jump started a medical marijuana bill that had been stalled in the Legislature.
The action gave new hope to families who believe the drug will help treat chronic and debilitating conditions, though bill opponents worry legalizing medical marijuana will have unintended consequences.
The Senate Health, Human Services and Housing Committee followed through on Gov. Mark Dayton's recent suggestion that lawmakers need to "stop hiding behind their desks" on medical marijuana and take a stance. The panel voted 7-3 to approve the bill and send it along to another committee.
As lawmakers debated the bill, Jeremy and Kristy Pauling sat and watched next to their wheelchair bound seven-year-old daughter, Katelyn.
Katelyn suffers regular seizures and a strain of marijuana known as Charlotte's web could provide some relief, Jeremy Pauling said.
"We've got to get something done because we only have three or four years left with our daughter," Pauling said. "It's one of those things that we need to do now to get this done."
Before you keep reading ...
MPR News is made by Members. Gifts from individuals fuel the programs that you and your neighbors rely on. Donate today to power news, analysis, and community conversations for all.
The Pauling family is one of several actively lobbying the Legislature to pass a medical marijuana bill this session. Their pleas have put many lawmakers in the uncomfortable position of choosing to help these families without knowing for sure if marijuana will work.
Previously: Senate panel approves medical marijuana bill
Several lawmakers expressed concern about the lack of definitive medical evidence.
Sen. Carla Nelson, R-Rochester, backed an amendment that would have scrapped legalizing medical marijuana in favor of a study by the medical community, law enforcement and other entities.
Without the study and more scientific data, Minnesota could end up in the "wild west of medicine," Nelson said.
The committee rejected efforts to scrap the medical marijuana system but did agree to study the issue.
That vote came after a University of Arizona psychiatrist explained the difficulties she's having studying medical marijuana. Sue Sisley told the committee she received FDA approval for a study but can't move forward because of opposition from the federal Drug Enforcement Agency. She encouraged lawmakers to move forward with their bill.
"It is possible to conduct active clinical trials in the midst of having a very robust and conservative medical marijuana program in your state," Sisley said. "That would be the optimal choice for this state to approve this bill as is and enable these clinical trials to occur hand in hand with a very strict program."
The Senate State and Local Government Operations Committee is scheduled to hear the bill on Tuesday.
Still, the pathway forward isn't clear, said bill author Sen. Scott Dibble, DFL-Minneapolis. Dayton, police and prosecutors, and some medical groups still oppose it, he acknowledged.
"It's a pretty heavy lift to get this thing all the way through the process this late in the session," Dibble said. "It's a big idea and it still has a lot of static and a lot of friction from some significant quarters. That being said, I think we have momentum."
Friday's hearing comes two days after a group pushing for full legalization of marijuana rallied at the state Capitol. Supporters of medical marijuana were careful to distance themselves from that rally, though it is on the minds of Dayton and some lawmakers.
Dayton, who opposes the bill, suggested earlier this week that the national group pushing to legalize medical marijuana also wants full legalization. Sen. Chris Eaton, DFL-Brooklyn Center, said she worries advocates of medical marijuana won't stop until marijuana is legal in Minnesota.
"We have enough problems in our society with people with prescription drugs, with heroin, with alcohol," Eaton said. "I don't think we need to add increased access to marijuana as another one."
Dayton has suggested the Mayo Clinic do a study on children with epilepsy that he believes will provide some relief. But parents rejected that offer, saying similar studies didn't work in other states.
House Speaker Paul Thissen, DFL-Minneapolis, said he's optimistic that lawmakers will reach a compromise on a bill. The House version is currently stuck in the Government Operations Committee.