It's going to be beautiful!
MPR News meteorologist Paul Huttner says we can expect temps in the 50s, just a few clouds and SUNSHINE. Imagine that: SUNSHINE. And very likely no rain. (The past few days' storms created some messes and soggy basements across the state this week, and were responsible for closing metro-area Mississippi River locks. It has been good for Minnesota's groundwater situation, though. It could even be 70 by Wednesday.
That sounds like the perfect weather to ride your bike, basking in the glow of the country's second-most bike-friendly state. Or head out to the Duluth Homegrown Music Festival, happening now through Sunday. And, of course, Sunday marks the 40th anniversary of Minneapolis' legendary May Day parade.
Complicated road closures this weekend
If driving's more your thing, keep an eye out ahead of time for the many road closures and detours planned for the weekend.
•The Crosstown (part of Highway 62) closes Friday at 10 p.m. near the U.S. 169 interchange in Edina and Eden Prairie.
•Also on Friday night (at 9 p.m.), a section of southbound Highway 101 between 147th Street and South Diamond Lake road will close. It's scheduled to reopen mid-morning Saturday.
•Highway 52 through Rochester will be closed in both directions, from 10 p.m. Friday to 6 a.m. Monday. The construction will also close 55th Street in Rochester.
Make the detours better by hitting up one of the Cities' world-class museums -- FOR FREE. It's museums month!
Why does music move us?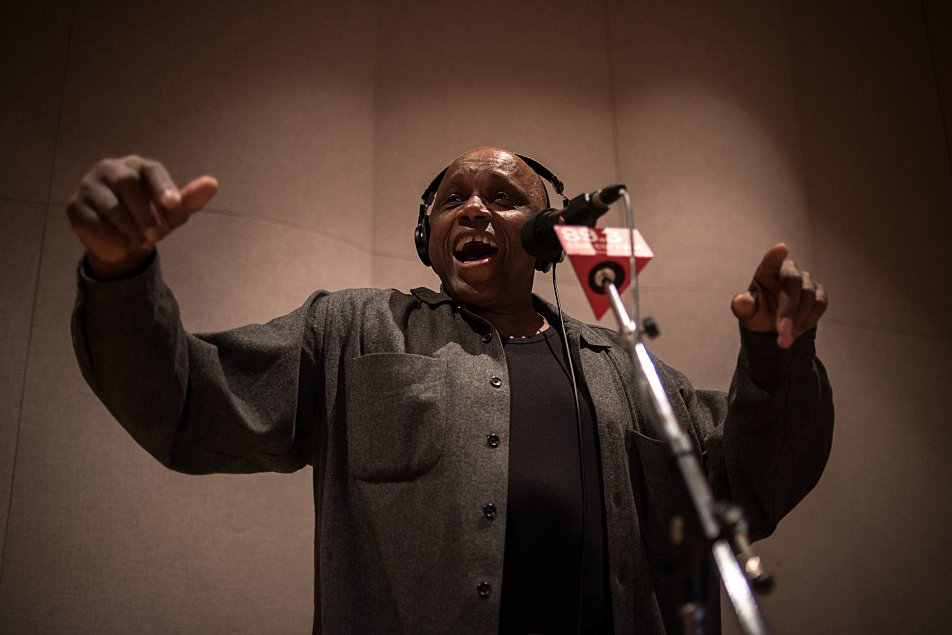 Why does music move us? A panel of scientists and musicians explored the question this week on the air. Explore it yourself this weekend while celebrating Twin Cities soul singer Sonny Knight's latest album release.
First, though, check out his live Current studio session (You might have also heard him on Morning Edition Friday.)
•Saturday: record release show @ First Ave, 7 p.m.
•Friday: listening party @ Summit beer Hall, 6 p.m.
Listen to The Hulk
Lou Ferrigno -- The Incredible Hulk -- said he wished he'd have something like this when he was a kid. "When I was young, I was fascinated with power," he said. "I got beat up a lot, I was very introverted. That's why I connected with these comic books. And the Hulk, because it was a connection knowing that the power I discovered, through body building and fitness, that led to my path to survive. And I see these young kids today, and it's very similar." Fulfill those childhood dreams and head on over to the Wizard World Minneapolis Comic Con, through Sunday at the Minneapolis Convention Center, 1301 2nd Ave. South, Minneapolis.
Stanley Cup Playoffs
The Wild's second-round foray into the Stanley Cup playoffs begins in Chicago Friday night with a 9:30 p.m. face-off in the series' first game against the Chicago Blackhawks. Catch the game on the NBC Sports Network. Coach Mike Yeo and his crew will stay in Chicago for Sunday's Game Two, which begins at 3 p.m. They're back in St. Paul later in the week for Game Three. Recap their last game.
•Wild beat Avs 5-4 in Game 7 to advance
•Photos: Wild, Avalanche battle to the end
In other sports news, the spendiest of Vikings season tickets (which come along with personal seat license fees) are already sold out. Sorry.
On stage: Looking ahead, looking back, looking inward
"The Working Boys Band," a play opening at the History Theatre in St. Paul this weekend, tells the story of the turn-of-the-century Minneapolis marching band formed to keep working kids (in the years before child-labor laws) wholesomely occupied during their off-hours.
From the Art Hounds: This week's culture club offers up raves for a Brooklyn spoken word duo, the master of suspense on the big screen, and a musical about a young African American man's search for identity.
•"Passing Strange" at Mixed Blood Theatre, 1501 S. 4th Street, Minneapolis. Through May 11.
•"Climbing Poetree" spoken-word duo May 3 and 4 at 8pm at Intermedia Arts, 2822 Lyndale Ave South, Minneapolis.
•Minneapolis Hitchcock Festival continues its run through May 19 with three screenings at the Riverview Theater, 3800 42nd Ave South, Minneapolis.
But if that's not enough film for you, check out Movie Maven Stephanie Curtis' suggestions for movies about Wall Street. And "Star Wars: Episode VII." (And don't forget Tuesday's installation of "Fargo" on the small screen. Here's what happened this week.
•'Fargo' recap, episode 3: Tightening the screws
For the readers among us
•Justin Go's "The Steady Running of the Hour" was inspired by his own wanderings across Europe. (Start the book this weekend, so you're ready to meet the author Thursday night (May 8) for his reading at the Barnes and Noble in Edina at 7 p.m.)
•William Kent Krueger, who lives in the Twin Cities, just won an Edgar Award for his "Ordinary Grace" novel, a coming-of-age mystery set in 1961 Minnesota.
•Kids' books. Fewer than 100 out of 3,200 kids' books published in 2013 were about people of color. Andrea Davis Pinckney's are among them. Check out her "Martin & Mahalia," then head on over to her lecture at the University of Minnesota on Saturday at 7 p.m.
•Why books for kids lack racial diversity
•Hamlet. The Globe Theatre in London is taking up a worldwide tour of the classic drama. Time to brush up on a little Shakespeare?
•Bloomberg reporter Bob Ivry's book "The Seven Sins of Wall Street" contends that bankers and their ilk continued to get richer -- with the help of Washington -- while millions of Americans struggled and the American economy continued to sputter.
•Bob Ivry on 'The Seven Sins of Wall Street'
•"No Saints Around Here" is writer Susan Allen Toth's personal tale of caregiving and family.
•'No Saints Around Here' is a caregiver's story
Nosh
Is it snack time yet? Check the clock first. There's new research out that suggests nutrition and weight loss have more to do with when you eat than they do with what you eat.
Monday begins Minnesota's craft beer week. Prepare for events across the state by exploring brew recommendations from the state's first certified cicerone (professional beer guide) Michael Agnew. He says beer, thanks to the nuances in its ingredients, pairs even better with food than wine does. (Local wine seller Chuck Kanski makes the case for wine: What pairs better with food, beer or wine?)