It's mosquito season: How to keep them at bay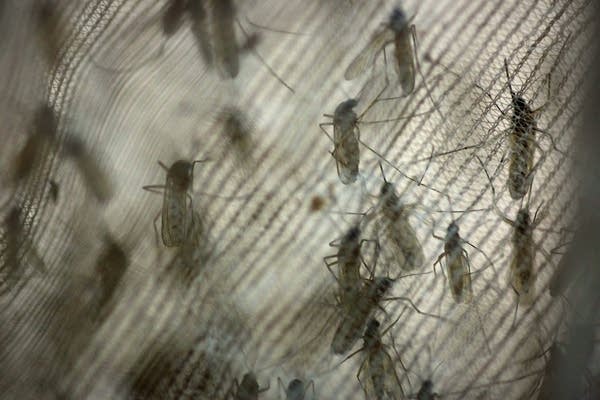 The Twin Cities' annual war against mosquitoes is set to shift into full gear as mosquito control crews start spraying adult mosquitoes in the northern suburbs as early as this week.
Mike McLean, communications coordinator for the Metropolitan Mosquito Control District, said his agency started receiving a flood of calls reporting the emergence of mosquitoes around Memorial Day.
"The phone has been ringing off the hook, so we know that mosquitoes have emerged, especially in the northern part of the metro area," McLean said. "We're starting to experience actual adult mosquitoes flying around."
The agency has already treated about 120,000 acres of mosquito-breeding habitat in the Metro area.
"Once we start getting into May we do a little bit more of a widespread larval control, which means we target the mosquitoes before they start biting people, when they're still in the water," Mclean said.
As adult mosquitoes emerge, the agency sprays hard-hit areas using ground vehicles and backpacks, usually from late May to September.
Before you keep reading ...
MPR News is made by Members. Gifts from individuals fuel the programs that you and your neighbors rely on. Donate today to power news, analysis, and community conversations for all.
McLean said they'll start spraying flying and biting mosquitoes in the northern suburbs later this week or early next week. Their goal is to reduce the amount of mosquitoes that pester humans by about 75 percent.
Jeff Hahn, entomologist at the University of Minnesota Extension, said a late spring may have slightly delayed the first mosquitoes of the season. But wet weather could help them bounce back, at least temporarily.
"Mosquitoes are laying their eggs in temporary pools of water, as that dries up with the lack of rainfall if it's dry out, then there's just not the place for mosquitoes to lay eggs, so there will be fewer of them," Hahn said. "I've seen seasons where we see really rainy May and June and then the rain stops, like someone flipping a switch."
Hahn and McLean said people can take steps to cut down on number of mosquitoes they encounter.
• Don't let items like buckets, tires or children's pools fill with water and become homes for mosquito larvae. The Metropolitan Mosquito Control District will even pick up a couple of old tires if you don't know what else to do with them.
• Put screens on your windows to limit your exposure in the house.
• Apply insect repellants containing DEET or lemon eucalyptus before going outside.
• Put a tight screen over any rain barrels to ensure that mosquitoes don't fly inside and lay eggs.
• If you have bird baths, make sure to change the water about once a week to ensure mosquitoes don't mature.
• Cut weeds and tall grassy areas near your home to help reduce mosquito habitat.