Minnesota firefighters heading to Colorado to search for hikers missing since April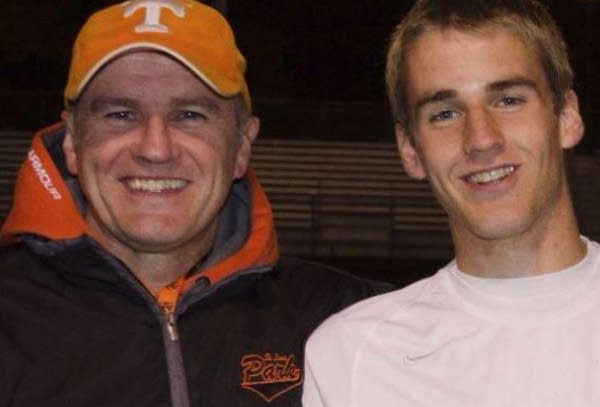 It's been more than three months since a St. Louis Park father and son disappeared on a spring break hiking trip to Colorado in what was feared to be a deadly snowstorm. There's still no sign of them.
Now, a team of firefighters from the Twin Cities is heading to the Rockies, hoping to accomplish what previous searches did not: Give the family the closure it's been denied.
51-year-old Damian McManus and his 18-year-old son Evan, a St. Louis Park high school senior, went to Colorado's Mount Evans for a spring break hike in April. Authorities found their car in the parking lot near Echo Lake, a popular spot for day hikes.
"You know, as more and more time goes by and they're not found, it's just devastating," said Andrea Bouzrara, a family friend and spokesperson. "The process of grieving and moving forward is just so hard"
Bouzrara is helping organize a last push to recover the remains of Damien and Evan, starting Tuesday. Four firefighters, from St. Louis Park, Edina and Eden Prairie, have volunteered to go to Colorado, months after rescue teams called of the effort to find the McManuses alive.
"It's not something we would deploy to normally," said Steve Koering, the fire chief in St. Louis Park, "but it was a chance to reach out to some of the firefighters in the local area here, who have mountaineering experience, who would be interested in giving of their personal time, to head out there and be assist with whatever level they were asked of."
Among those heading to Colorado for the search is Hugo Searle, a St. Louis Park firefighter and high-altitude mountain guide who's scaled Mt. Everest.
"I live in St. Louis Park, my wife is a teacher in the school district, and my daughter goes to the same school that Evan used to go to," he said. "So we have felt very connected to this tragedy right from the start."
So far there's been little for anyone in Minnesota to do. Alpine rescue teams combed the mountain in April, following a final cell phone signal from the mountain. In May, another search was mounted, presumably to look for McManus's remains. The effort included 13 search parties at a time from across Colorado, but also turned up nothing.
Family spokesperson Bouzrara says volunteers from the area have been making weekly trips to the mountain all summer, and that the effort has so far logged more than 4,500 hundred hours of searches.
"They have narrowed the area down somewhat, although ...they're still not 100 percent sure that they're even in the right place."
The Minnesota firefighters are hoping to reinvigorate the search. Along with Searle, two Edina firefighters and an Eden Prairie firefighter will be flying to Denver . They're going to help comb the mountain Tuesday, Wednesday and Thursday.
"We're going out there for some of those perhaps more difficult areas," said Searle. "The searching has to be done in a very through manner, and so you have to be familiar with search patterns, search techniques, GPS use, following lines and grids, and this is what we have expertise in as well."
The firefighters are taking personal time to make the trip. A donor to the search effort is picking up the airfare and financially backing this summertime push to bring Damian and Evan home.
And just as it was back in April, Bouzrara says the clock is ticking for the McManuses.
"They basically have a five-week window," said Bouzrara. "And then it will start to snow again."
Your support matters.
You make MPR News possible. Individual donations are behind the clarity in coverage from our reporters across the state, stories that connect us, and conversations that provide perspectives. Help ensure MPR remains a resource that brings Minnesotans together.