St. Louis Park hikers' bodies ID'd in Colorado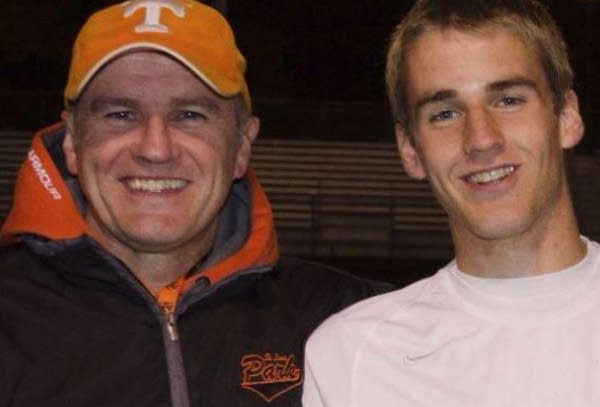 The remains of two hikers from St. Louis Park who went missing in April have been identified by Colorado authorities.
Family members said Damian McManus, 51, and his son Evan, 18, a St. Louis Park High School senior, went to Colorado's Mount Evans for a spring break hike April 2. Authorities later found their car in the parking lot near Echo Lake, a popular spot for day hikes. A week-long search didn't find any trace of the two and they were presumed dead.
Searches kept up for months, in part lead by a family friend in the area, who found them about 10 a.m. Thursday. That search finally proved successful about 10 a.m. on Thursday, when a hiker found one body, then another nearby, in an area called Vance Creek.
"The terrain is extremely, extremely rough. I mean, there's downed trees and brush and rock, and as a matter of fact the gentleman I talked to yesterday said he was, probably last week or the week before, he was within 50 feet of the one body and didn't see it," said Clear Creek Co. Sheriff's Captain Bruce Snelling, who described the remains as skeletal, partial and difficult to spot.
"Literally you have got to almost walk on top of it to find it," Snelling said, adding that the identification is based on personal effects found nearby. Dental records have been turned over to the coroner to help confirm the find. It appears that the two succumbed to bad weather, and foul play is not suspected, but a fuller investigation is ongoing.
"You know, guys will go to go hiking and they'll either get separated or off the beaten path and then they'll be conditions where the snow will be waist deep, and then they're stuck," Snelling said. "And then if they're ill prepared to hunker down and stay there, and make a snow cave or take some kind of survival action, they're absolutely done."
More than 50 members of over a dozen Colorado search and rescue teams began to search extensively for the men on April 6 — on foot, on snowmobiles and from the air — after they were reported missing. The search was called off because of dangerous winter conditions in the area.
Andrea Bouzrara, a family friend and spokesperson, helped organize a last push to recover the remains of Damien and Evan, starting Tuesday. Four firefighters, from St. Louis Park, Edina and Eden Prairie volunteered to go to Colorado to help and were out looking for the McManuses through Thursday. Before the Minnesota searchers arrived, searchers spent about 5,000 combined hours looking for the men, said Bill Barwick, a spokesman for the Alpine Rescue Team.
Mount Evans is 14,250 feet high and has one of the highest paved roads in North America. The road closes at the end of summer, when weather conditions can quickly become treacherous. Friends of the McManus family believed they had only a matter of weeks left to search this year before snow returned and would have covered up any trace of the bodies again.
Snelling said about four or five people a year die under similar circumstances in Clear Creek County every year. He said authorities recovered another deceased hiker just a month before the McManuses disappeared.
"Hypothermia sets in fairly quickly," Snelling said. "You know, it gets cold at night up there, we're talking minuses. And people just pass away."
Funeral services are pending. Bouzrara, the family spokeswoman, said that relatives and friends are gathering to decide what the next steps will be and how to memorialize the pair.
Bouzrara issues the following statement on behalf of Katherine McManus:
"Yesterday afternoon, July 17th, Damian and Evan McManus were found on Mt Evans, in Colorado. Their identities were confirmed today. The family offers their deepest thanks for the diligent and on-going efforts of the official search and rescue teams, the Clear Creek County Sheriff's Department & Coroner's Office, the local angels - Misty McGuire Keyoth and Team McManus, local Twin Cities Firefighters, close family friend Tom Traub and everyone who played a part in the search effort. Their unwavering focus, strength and positivity have kept the search active and gave hope that Damian and Evan would be brought home. A very special, heart-felt thank you goes out as well to everyone who has sent their love, support and prayers. It has meant the world to Katherine and Lauren to know that so many people have held them up. Please continue to keep them in your thoughts and prayers going forward. No details are available at this time regarding a funeral/memorial service. We ask for privacy for the family and close friends. We are not entertaining interviews or further questions. Thank you for honoring this request as we all grieve this terrible tragedy."
Your support matters.
You make MPR News possible. Individual donations are behind the clarity in coverage from our reporters across the state, stories that connect us, and conversations that provide perspectives. Help ensure MPR remains a resource that brings Minnesotans together.