Judge orders terror suspects held pending trial
Updated: 6:10 p.m. | Posted 1:09 p.m.
Tempers flared in a St. Paul courtroom Thursday after a judge ordered continued detention for four young men accused of trying to join ISIS in Syria.
After more than five hours of hearings, U.S. Magistrate Judge Becky Thorson ordered the men detained, saying they pose a flight risk and a potential danger to the community.
"We are the community," a young man yelled at the judge from the spectator seats. "You should ask us."
During the course of the hearing, at least three people were escorted out of the court building.
Before you keep reading ...
MPR News is made by Members. Gifts from individuals fuel the programs that you and your neighbors rely on. Donate today to power news, analysis, and community conversations for all.
Dressed in yellow T-shirts and orange pants, the men appeared defiant. Guled Omar, the only one detained at the Ramsey County jail and wearing a red jumpsuit, smiled at the spectators. All the men waved to their family members, who packed the courtroom.
Zacharia Abdurahman, Adnan Farah and Hanad Musse are detained at Sherburne County Jail.
"Praise to God," Omar said before he was led away in handcuffs.
Many family members and supporters fought back tears. Women wiped tears from their eyes with their scarfs. Some raised their hands in prayer.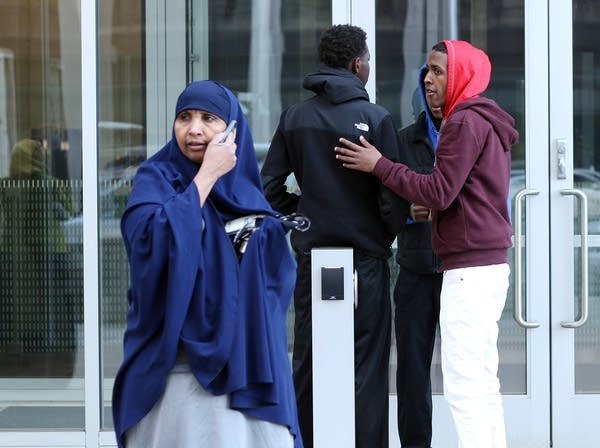 "Somebody's responsible," said Halima Ahmed, grandmother of Adnan Farah, 19, and Mohamed Farah, 21, who are facing charges. Both graduated from high schools in Minneapolis and their grandmother is convinced someone radicalized the men.
"These kids, some of them [were] born here, some of them growing here, they don't have any problem at home," Ahmed said. "They're good kids. But who's doing this? We're asking the American government to find who's behind this problem."
The public defenders representing the men all argued that their clients do not have criminal records and have strong community support. They said the men should be released to halfway houses or given electronic monitoring devices.
However, lead prosecutor John Docherty argued that the families had failed to stop their children from attempting to travel to Syria, and that because of the seriousness of the allegations, "the danger of release is extraordinary."
The attorneys said the defendants are being kept in solitary confinement.
Jon Hopeman, Zacharia Abdurahman's attorney, said Abdurahman's hands and feet were shackled to a belt on his waist, "like someone convicted of three homicides."
He offered a positive description of Abdurahman, saying the 19-year-old gets dinner set up for his mother before she comes home from work, financially supports the family and takes care of his siblings. He also goes to college and was engaged, he said.
Hopeman also said that Abdurahman doesn't believe in conflict, because his family practices the mystical Sufi tradition of Islam. "His first language is English," he said. "He's not going anywhere."
Hanad Musse had traveled to Kenya to visit his mother before, said his attorney, Andrew Birrell, and had held his passport since 2011. Musse was a student at Minneapolis Community and Technical College, had a close relationship with his father and was not planning to travel, he said.
Earlier Thursday, spectators had made audible expressions of disapproval as the government explained details of its arrangement with a confidential informant.
The informant, whom the arrested men had known as a friend, was paid more than $12,000 to help investigators collect evidence against them.
FBI Special Agent Harry Samit said the informant's responsibilities included recording conversations about the group's alleged plot to travel to Syria to join the terror group.
In addition to compensating the informant, the FBI paid for his relocation. In fact, the lead prosecutor, Docherty, began his comments in the courtroom with a warning to anyone who might be trying to communicate with the informant.
He said some people were making "very ugly statements" on social media, including Twitter. He said authorities would investigate any attempts to intimidate the informant or his family.
At least one Twitter user in recent days has posted a photo presumed to show the informant, but the man who posted the photo deleted it after other Somali community members begged him to take it down. During cross-examination of Samit, one defense attorney referred to the informant as a "snitch."
Samit said the informant did not receive a promise of immunity from prosecution.
St. Paul Imam Hassan Mohamud said using an informant will backfire, just as U.S. Attorney Andy Luger is spearheading efforts to build trust and relationships in the Somali-American community to fight violent extremism.
"You're talking about a community that has a history of division, that ran away from the civil war, that has a history of tribalism," Mohamud said. "So they don't want to see this type of approach in the United States."
More than 150 supporters of the arrested men listened to the testimony. Observers filled up the courtroom, then an overflow room, and then were denied entry to the overflow room because it had reached capacity.
Young men passed out fliers criticizing the government's decision to charge the young men with terror-related offenses.
Besides the four men being held in Minnesota, two others arrested Sunday — Mohamed Abdihamid Farah and Abdurahman Yasin Daud — remain in California.