Nearly 90 days since medical cannabis became legal to sell in Minnesota, the young industry is working through some growing pains. While a number of patients express vast improvements in their quality of life after using cannabis, others complain of high costs and trouble getting the drug.
So far, the state has registered 518 patients and 404 health care practitioners. The most common condition among those patients is muscle spasms, followed by seizures and cancer.
But not all approved patients have actually purchased medical cannabis.
Rep. Pat Garofalo, R-Farmington, who sits on the Minnesota Medical Cannabis Task Force, said the law has created even more hurdles for patients suffering from chronic conditions.
"Unless a person has been living in a cave, it's fairly obvious that the restrictions that were forced into this law are driving patients back into the black market and are needlessly driving up costs for those who need assistance," he said.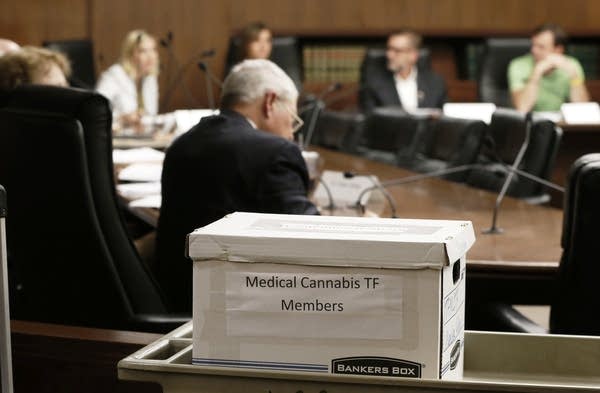 Manufacturers have their own frustrations.
Minnesota Medical Solutions Chief Medical Officer Dr. Laura Bultman said it's been a "tumultuous" three months as the state's two legal manufacturers try to provide safe and effective cannabis in pill or oil forms while competing with the black market.
"It's a difficult balance between remaining compliant with a number of regulations that are expensive to remain enforced, delivering safe medications and yet keeping the price tag as low as possible," she said.
Bultman said the average cost is around $250 a month and varies depending on the condition and dosage. But some patients say it's much higher than that, reaching up to $600.
Both Minnesota Medical Solutions and LeafLine Labs announced this week they would offer discounts to patients.
But still, some patients say the list of qualifying conditions isn't comprehensive enough.
The state has assembled an eight-member advisory panel to help the Minnesota Department of Health decide whether to add intractable pain to the list of qualifying conditions. Commissioner Ed Ehlinger is required to make a decision by the end of the year.
Intractable pain is defined in a Minnesota 1997 statute to regulate prescription of controlled substances. The law describes it as pain with "no relief or cure of the cause of the pain is [not] possible."
The intractable pain advisory panel has received more than 200 public comments with the majority of them in favor of adding it to the list of qualifying conditions. But some health care providers worry program expansion would lead to diversion and abuse of the system.
Jennessa Lea of St. Paul endures pain from Ehlers Danlos Syndrome. The 28-year-old single mother testified at the Minnesota Medical Cannabis Task Force meeting Friday that after she was prescribed narcotics at the age of 21, dependence turned her life upside down. Cannabis was the safest alternative to opiates without the dangerous side effects, she said.
"When you get so desperate in your life where you don't even want to live anymore and then you find a medication that literally you feel like saves your life," Lea said, "it's such an injustice to see everything that's going on in Minnesota around the cannabis program go on."
Rep. Garofalo said the legislature is free to make its own decision and either accept Health Commissioner Ehlinger's recommendation or deny it.
"I don't really care what the task force recommends to me, as a legislator I'm in favor of making sure the people who are suffering have access to the medication prescribed by a licensed doctor to take care of their pain."