MPR: Settlement reached on light rail noise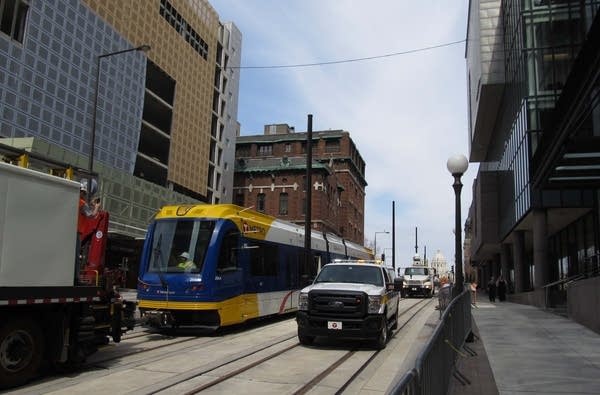 A settlement between Minnesota Public Radio and the Metropolitan Council gives MPR $3.5 million to deal with vibration and noise interference caused by the Green Line at its downtown St. Paul broadcast studios.
Jon McTaggart, CEO of MPR parent company American Public Media Group, announced the settlement Tuesday in an email to staff. The settlement allows the company to "address these impacts on its own, including replacing equipment, further sound and vibration mitigation and finding alternate studio locations," according to the email.
Over the past two years, the Met Council and MPR performed tests but were "unable to identify a permanent solution that could be implemented at the 7th Street crossing of the Green Line."
The company's headquarters on Cedar Street in St. Paul operates the Maud Moon Weyerhaeuser Studio for recordings primarily heard on The Current and Classical stations.
"We're pleased that we've reached this agreement and we appreciate the Met Council working with us over the years to jointly test the impacts of the Green Line and to explore options for mitigation," said MPR executive vice president Dave Kansas. "This settlement provides some of the resources we will need to address the interruptions caused by noise and vibration levels in our studios."
In 2009, the two parties reached a mitigation agreement that called for installing a $1 million "floating slab" as the foundation for the train tracks. The slab was meant to isolate vibrations from the trains.
The latest settlement terminates the mitigation agreement that also included new insulated windows paid for by the Met Council.
"It was reasonable to assume the 2009 Mitigation Agreement could lead to ongoing expensive litigation into the future," said Wes Kooistra, regional administrator at the Met Council. "I believe that reaching this new agreement serves the Council's and the public's best interests."