How Mary Tyler Moore made Minneapolis a star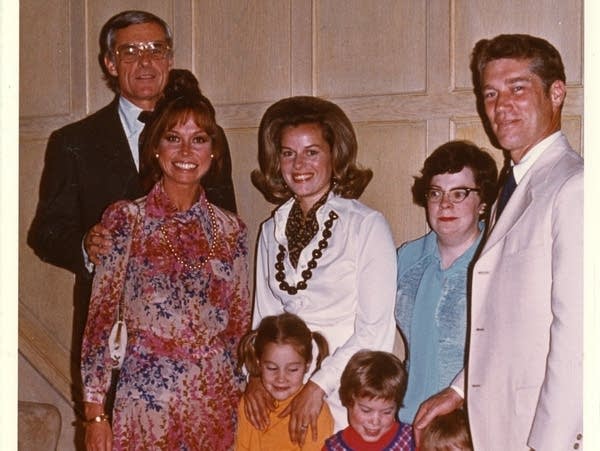 When "The Mary Tyler Moore Show" hit television sets in 1970, it made a star of Minneapolis.
In the opening credits, the city skyline shines for a moment before Moore famously tosses her hat into the air at the corner of Nicollet and 7th Street. In 2002, a statue of Moore doing just that was installed at the intersection.
The show revolved around Mary Richards, who moved to Minneapolis from the fictional small town of Roseburg, Minn., after breaking up with her boyfriend.
Though the episodes were not filmed locally, many establishing shots were, including Richards' apartment building — which is actually a single-family home. (The house sits at 2104 Kenwood Parkway, near Cedar Lake, and was on the market this fall for $1.69 million.)
Grow the Future of Public Media
MPR's budget year comes to a close on June 30. Help us close the gap by becoming a Sustainer today. When you make a recurring monthly gift, your gift will be matched by the MPR Member Fund for a whole year!
Doug Rosenquist, the owner of Twin Cities Tours, has been leading a "Mary Tyler Moore Show" tour, which stops at six sites around Minneapolis, since the mid-1990s. He led 30 to 40 bus tours of the route this summer alone.
"Ninety-eight percent of the people who are interested are women, usually 55-plus, in that range," Rosenquist said. One of the favorite sites on the tour is the Kenwood Parkway house. "It's almost challenging, because people will want to walk up and knock on the door, and of course, there's regular people who live there now, so I have to keep 'em on the bus."
They pass the spot on Lake of the Isles, where Mary once walked, smiling, in a white jumpsuit, Doug said, and Cedar Square West, the instantly recognizable high-rise apartments on Minneapolis' West Bank, where Mary Richards lived in the shows' 6th and 7th seasons.
Kate Roberts, a senior exhibit developer at the Minnesota Historical Society, was 11 years old when the show debuted. She lived in Moorhead, Minn., at the time, and the show "was appointment TV for me, and for my whole family, every Saturday night."
The Mary Richards character was "approachable, you could connect with her, and she lived in Minneapolis. That was a very big deal for us," Roberts said.
"She was a career woman, she was breaking ground. She was obviously a feminist icon, and she was placed squarely in the Midwest. I think that's something that might have been a surprise to people."
Roberts remembers coming down to Minneapolis when she was growing up and spotting locations from the show on the street.
"I do remember being downtown as a teenager and walking past Donaldson's and startling and saying, 'Oh my gosh! This is the spot! This is where she tossed her hat!'"
Donaldson's was a department store that was featured in the show's credits; the building was later destroyed in a fire on Thanksgiving Day in 1982.
In a 1974 interview with Time Magazine, James Brooks, one of the show's creators, shared the reason they chose the Twin Cities: It has to do with football.
"We chose Minnesota when one of the writers began talking about the strengths and weaknesses of the Vikings," Brooks said.
In "Mary and Lou and Rhoda and Ted," a book that examines the making of the show and its legacy, Jennifer Keishin Armstrong expands on the Minneapolis decision:
"Now Mary would live in the city — Minneapolis, they decided, to get away from overplayed Los Angeles and New York.

Minneapolis's bad weather could provide plot points and visual interest. Mainly, snow. And lots of coats.

It would also allow for a bit of character illumination. What seemed like a big city to Mary would be a small town to her New York transplant best friend, Rhoda."
Minnesota thanked Moore, and the cast of the show, in 1973. Then-Gov. Wendell Anderson presented Moore with an award from the Minneapolis Chamber of Commerce, honoring the show's excellence in entertainment and their role in bringing positive attention to the city.
The show put Minneapolis on the map for many people who had never considered the city.
In a 2015 documentary, "Mary Tyler Moore: A Celebration," Oprah Winfrey gushed over Moore, whom she considers a major influence.
"Mary Tyler Moore lived in Minneapolis — I tried for years to get a job in Minneapolis. I wanted to move to Minneapolis, I wanted to be in Minneapolis because of Mary Tyler Moore," Winfrey said.
Trisha Taurinskas, who grew up in Duluth, isn't old enough to have watched "The Mary Tyler Moore Show" when it first aired, but she caught rerun after rerun with her parents and loved it.
"She was a Minnesota gal, and she was a strong independent woman working in a newsroom with a lot of strong personalities, a lot of them men," Taurinskas said.
"I just fell in love with it. It really inspired me. It was my first introduction to a working woman on TV, and she worked in the news. It was something that really impacted me, and since I watched her, I wanted to go into news, which I did. I think she was a classy woman who gave young girls a different role model to look up to."
"The Mary Tyler Moore Show" ran until 1977, and won three consecutive Emmy Awards for Outstanding Comedy Series. Moore died Wednesday at 80.