Regents question how U handles sexual assault cases through Title IX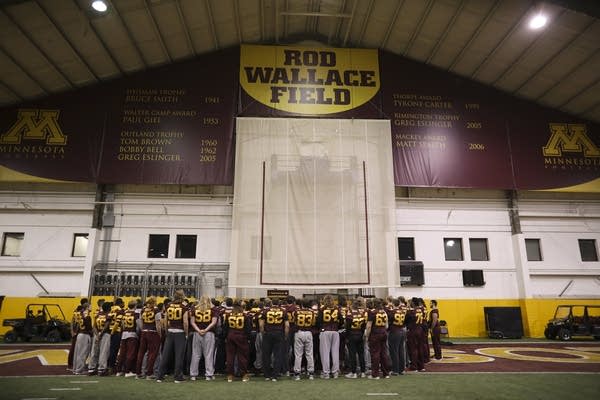 In the first University of Minnesota Board of Regents meeting since Gopher football players briefly boycotted suspension of 10 of their teammates, some members questioned the role and scope of the office that takes on sexual assault cases.
The former and incoming heads of the Office of Equal Opportunity and Affirmative Action couldn't speak directly about the football case, but they did address some larger questions raised by the board, which governs university affairs.
In light of "a lot of media attention", Regent Michael Hsu asked whether the school should even be in the business of adjudicating some types of sexual assault cases.
"Maybe you could give us an idea of how we could do better," Hsu said.
Kimberly Hewitt, director of Equal Opportunity and Affirmative Action, said the university has "an obligation and a legal responsibility to engage in this process currently, per the guidance and existence of Title IX, and I think the University has an interest based on its own mission about creating a positive campus climate to address sexual misconduct."
Hewitt added the U "has an interest and obligation" to confront misconduct, even if the criminal justice system is involved.
In the football case, the Hennepin County Attorney twice declined to pursue criminal charges. But the separate school investigation found 10 players had violated the code of conduct.
The investigative report found those present during the incident — in which a woman said she was too drunk to consent to have sex with some of them — should be at worst expelled or put on probation.
In hearings earlier this month, four of those students were cleared, four face expulsion. Two could be suspended for a year.
Regent Richard Beeson said the panels the school uses to determine discipline for the accused are a "strong idea, but in a way they're the least trained people."
Hewitt defended the panels and said the students "come with a different perspective and lens about their culture, their social interaction."
An open question for the Regents is what will change during President Trump's administration, such as perhaps letting police and courts take over when students accuse each other of assault.
Tina Marisam will take over as head of the EOAA when Hewitt leaves for Johns Hopkins University.
Marisam believes the way schools handle sexual assaults has improved over the last several years.
"We've improved training of students and awareness of issues of consent and sexual misconduct. We've improved training our staff gets in our office and everyone in the process gets," Marisam said. "We've increased the equity between the parties. We give more detailed notice about the process and what rights parties can expect."
Your support matters.
You make MPR News possible. Individual donations are behind the clarity in coverage from our reporters across the state, stories that connect us, and conversations that provide perspectives. Help ensure MPR remains a resource that brings Minnesotans together.