Minnesota gets its first blast of winter
Updated: 2:13 p.m. | Posted: 6:46 a.m.
A truck driver was killed when his rig skidded off a snow-covered bridge into a river on Friday as much of Minnesota got hit with its first significant snowstorm of the season, marking an unusually early start for wintery weather.
The tractor-trailer driver lost control of the truck just before a bridge along snowy Interstate 35 near Scanlon, which is west of Duluth, around 4:30 a.m. The truck went over the bridge and into the St. Louis River, according to Sgt. Neil Dickenson of the Minnesota State Patrol said.
Searchers found the driver's body around 9 a.m. The name of the driver was not immediately released.
The Minnesota Department of Transportation and the State Patrol reported multiple crashes, spinouts and vehicles in ditches in and around Duluth.
More than 8 inches of snow have already fallen in portions of northern Minnesota, according to the National Weather Service. The Minnesota Department of Transportation says northern roads are snow-covered and slippery, including Highway 53 between Duluth and the Iron Range and Highway 2 between Duluth and Grand Rapids.
The heavy snow brought highways and other roads in Duluth to a crawl. Icy conditions prevented buses from climbing a steep hill that runs along Lake Superior, leading the Duluth Transit Authority to limit service to two relatively flat major routes.
Huge waves on the lake flooded parts of Canal Park in Duluth and damaged the Lakewalk, a popular boardwalk along the rocky shore. The city put up barricades and recommended the public stay away until the debris could be cleared.
Midmorning Friday, Lake Country Power reported about 2,400 customers on the Iron Range without power, while Minnesota Power reported about 1,400 without electricity around Duluth and Chisholm.
Lake Country Power's Greg Schulzetenberg said slippery roads are making it harder for crews to help those affected.
"Travel is really slow right now," he said. "This is an early snowstorm up here and it is one of those that when it changes from rain to snow overnight like that, it's just slick."
Meanwhile, the weather service has extended the winter weather advisory for central Minnesota and the Twin Cities until 2 p.m., and has added the east metro and parts of western Wisconsin to the advisory.
Farther east on the Wisconsin shore, Highways 2 and 13 along Chequamegon Bay west of Ashland were closed because of lakeshore flooding.
The Minnesota State Patrol reported more than 100 crashes and 125 spinouts statewide by noon, including another fatal accident near Brainerd in central Minnesota.
Even for Minnesota, snow in October is unusual. In the past 20 years, only three years have had measurable snow in October in the Minneapolis-St. Paul area. The last year that snow accumulated in the Twin Cities in October was 2009, according to the National Weather Service. The average date for a first snowfall in the Twin Cities is Nov. 2.
The snowfall in much of the Twin Cities metropolitan area amounted to no more than a coating on the grass and other surfaces. The snow quickly melted in above-freezing temperatures.
Gallery
4 of 4
1 of 4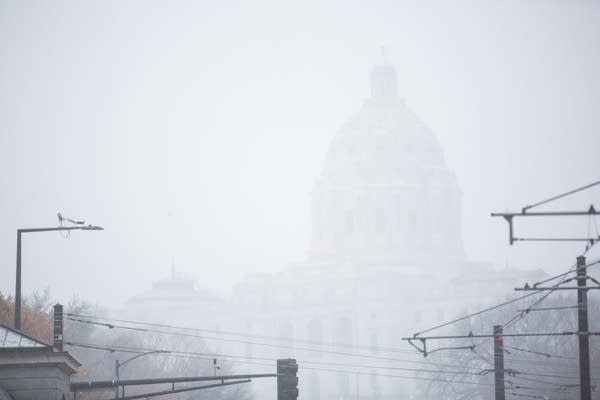 2 of 4
Your support matters.
You make MPR News possible. Individual donations are behind the clarity in coverage from our reporters across the state, stories that connect us, and conversations that provide perspectives. Help ensure MPR remains a resource that brings Minnesotans together.