70s again; rain returns for Saturday
Our Sept-ober weather continues!
We saw official Twin Cities high temps of 73 degrees on Tuesday and Wednesday at Minneapolis-St. Paul International Airport.
Our average high temperature is only 57 degrees this time of year in the Twin Cities metro area.
73 would be a typical Twin Cities high temp in the second week of September.
Temperature trends
Thursday afternoon highs are expected to reach the 70s in much of southern and central Minnesota, with some 60s in the far north.
Most of Minnesota will see highs in the 70s on Friday, with a few spots in southern Minnesota and the Twin Cities metro area touching 80:
60s will be common on Saturday: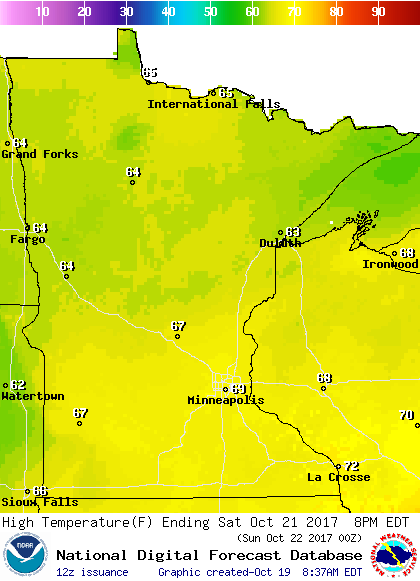 Sunday will bring highs in the 50s to the north, with 60s central and south:
Twin Cities metro area highs should stay in the lower 60s on Monday, followed by 50s next Tuesday and Wednesday.
Red flag warning
Forecasts of low relative humidity levels and gusty winds have prompted the National Weather Service to issue a red flag warning from noon to 7 p.m. this Thursday for parts of western, central and south-central Minnesota:
Any fires that start in the warning area could spread rapidly, so outdoor burning is not recommended.
Details of the warning:
URGENT - FIRE WEATHER MESSAGE

National Weather Service Twin Cities/Chanhassen MN

538 AM CDT Thu Oct 19 2017

...RED FLAG WARNING THIS AFTERNOON FOR WESTERN MINNESOTA...

.A Red Flag Warning has been issued from noon to 7 PM CDT today

for western Minnesota. South winds of 15 to 20 mph with gusts to

around 30 mph are expected as humidity levels drop to less than 25

mph this afternoon. If gusty winds materialize further east where

RH values may fall into the teens, the warning may need to be

expanded.

MNZ041>043-047>049-054>058-064>067-073>075-082-083-091-092-191845-

/O.NEW.KMPX.FW.W.0002.171019T1700Z-171020T0000Z/

Douglas-Todd-Morrison-Stevens-Pope-Stearns-Lac Qui Parle-Swift-

Chippewa-Kandiyohi-Meeker-Yellow Medicine-Renville-McLeod-Sibley-

Redwood-Brown-Nicollet-Watonwan-Blue Earth-Martin-Faribault-

538 AM CDT Thu Oct 19 2017

...RED FLAG WARNING IN EFFECT FROM NOON TODAY TO 7 PM CDT THIS

EVENING FOR LOW HUMIDITY AND STRONG WINDS FOR FIRE WEATHER ZONES

041, 042, 043, 047, 048, 049, 054, 055, 056, 057, 058, 064, 065,

066, 067, 073, 074, 075, 082, 083, 091, AND 092...

The National Weather Service in Twin Cities/Chanhassen has issued

a Red Flag Warning, which is in effect from noon today to 7 PM

CDT this evening.

* AFFECTED AREA...Fire weather zones 041, 042, 043, 047, 048,

049, 054, 055, 056, 057, 058, 064, 065, 066, 067, 073, 074,

075, 082, 083, 091, and 092.

* WIND...south 15 to 20 mph with gusts around 30 mph.

* HUMIDITY...less than 25 percent and perhaps as low as 20

percent.

* IMPACTS...any fires that develop will likely spread rapidly.

Outdoor burning is not recommended.

PRECAUTIONARY/PREPAREDNESS ACTIONS...

A Red Flag Warning means that critical fire weather conditions

are either occurring now....or will shortly. A combination of

strong winds...low relative humidity...and warm temperatures can

contribute to extreme fire behavior.
Rain chances
Most of Minnesota will see some periods of rain Saturday and Saturday evening.
A thunderstorm is also possible.
The National Oceanic and Atmospheric Administration's North American Mesoscale forecast model shows the potential rain pattern Saturday and Saturday evening:
The color chart to the right of the loop refers to the strength of the signal that returns to the radar, not to the amount of rain.
Winter outlook from NWS
The Climate Prediction Center of the National Weather Service has released its outlook for December through February.
That period is what we call "meteorological winter", and it covers the coldest three month period of the year in the northern hemisphere.
CPC's December through February temperature outlook shows a slight tendency for cooler than normal temps in northwestern and west-central Minnesota:
Equal chances of cooler or warmer than normal temps are shown for the remainder of Minnesota and also for Wisconsin.
The CPC precipitation outlook shows a slight tendency toward a wetter (snowier if it is cold enough) meteorological winter in much of Minnesota:
Seasonal outlooks are interesting, but tricky.
We saw a wetter than normal winter last year in the Twin Cities, but snowfall was much lower than normal.
Some of that precipitation fell as rain last winter, including almost one inch of rain in the Twin Cities on Christmas Day!
Programming note
You can hear my live weather updates on Minnesota Public Radio at 7:49 a.m. Thursdays and Fridays, and at 7:35 a.m., 9:35 a.m. and 4:35 p.m. each Saturday and Sunday.