Metro heat advisory Friday afternoon, thunderstorms possible
It'll be a sticky afternoon in the Twin Cities metro area and much of southern and central Minnesota.
Highs will be in the lower 90s, with dew point temperatures rising into the upper 60s and lower 70s.
The Twin Cities metro area is in a heat advisory from 1 p.m. to 7 p.m.:
Details of the heat advisory:
URGENT - WEATHER MESSAGE

National Weather Service Twin Cities/Chanhassen MN

305 AM CDT Fri Jun 15 2018

MNZ060>063-068>070-151700-

/O.NEW.KMPX.HT.Y.0004.180615T1800Z-180616T0000Z/

Hennepin-Anoka-Ramsey-Washington-Carver-Scott-Dakota-

Including the cities of Minneapolis, Blaine, St Paul, Stillwater,

Chaska, Shakopee, and Hastings

305 AM CDT Fri Jun 15 2018

...HEAT ADVISORY IN EFFECT FROM 1 PM THIS AFTERNOON TO 7 PM CDT

THIS EVENING...

The National Weather Service in Twin Cities/Chanhassen has issued

a Heat Advisory, which is in effect from 1 PM this afternoon to

7 PM CDT this evening.

* TEMPERATURE...High temperatures in the lower 90s will combine

with high humidity to yield peak heat indices in the upper 90s

today.

* IMPACTS...Heat illnesses are possible for those active

outdoors or those susceptible to heat illnesses, such as

children and the elderly.

PRECAUTIONARY/PREPAREDNESS ACTIONS...

A Heat Advisory means that a period of hot temperatures is

expected. The combination of hot temperatures and high humidity

will combine to create a situation in which heat illnesses are

possible. Drink plenty of fluids...stay in an air-conditioned

room...stay out of the sun...and check up on relatives and

neighbors.

Take extra precautions...if you work or spend time outside.

When possible...reschedule strenuous activities to early morning

or evening. Know the signs and symptoms of heat exhaustion and

heat stroke. Wear light weight and loose fitting clothing when

possible and drink plenty of water.

To reduce risk during outdoor work...the occupational safety

and health administration recommends scheduling frequent rest

breaks in shaded or air conditioned environments. Anyone overcome

by heat should be moved to a cool and shaded location. Heat

stroke is an emergency...call 9 1 1.
Thunderstorms
Northeastern Minnesota is seeing some showers and thunderstorms this morning.
Scattered thunderstorms are possible elsewhere in Minnesota this afternoon, with the best chance later this afternoon and this evening.
Some severe thunderstorms are possible later today and tonight:
Some areas could receive heavy rainfall Friday night, which could lead to localized flooding: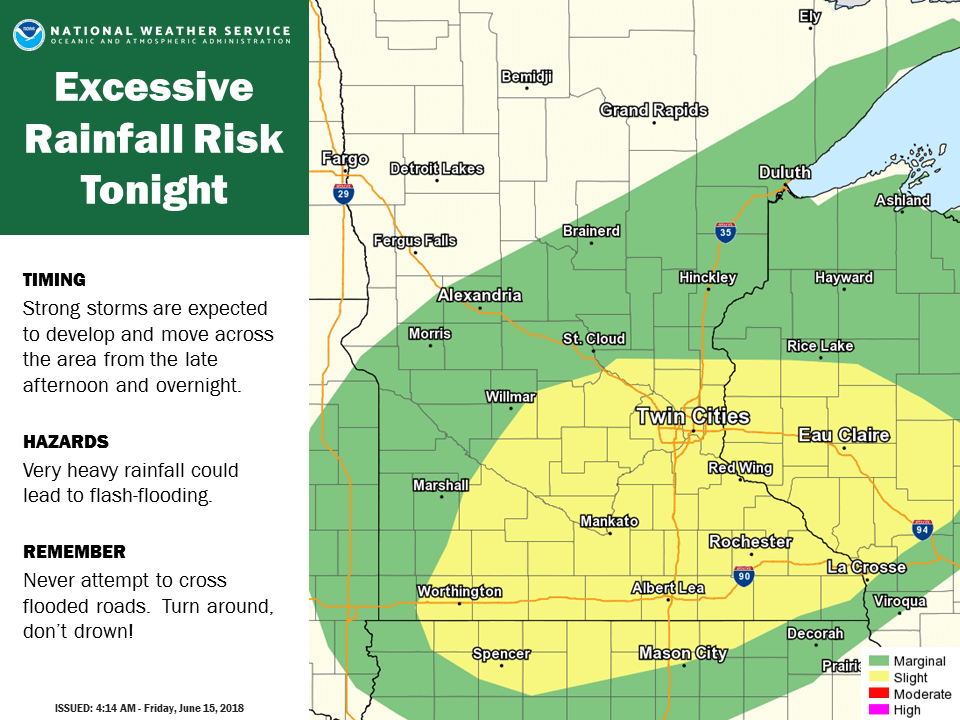 Try to stay cool. The steamy weather will continue through the weekend, along with the chance of some showers and thunderstorms.
Updraft will be updated by midmorning, with additional weekend details.