A chilly Sunday, with a passing flurry possible; mild temps return on Wednesday
One hundred years ago today, Twin Cities weather conditions were pleasant.
A check of Twin Cities weather records shows a high temp of 55 degrees on Nov. 11, 1918, with no rain.
The weather cooperated as Twin Cities residents celebrated the armistice that ended World War I.
We'll be much cooler than that as Veterans Day is observed today.
Temperature trends
Highs in the 20s are expected across most of Minnesota this Sunday afternoon, with some lower 30s in the southeast.
Some spots in the Twin Cities metro area are expected to hit 30 degrees, but that's well below our average high of 44 degrees for this date.
Monday highs will be chilly, ranging from teens northwest to lower 20s southeast:
Twin Cities metro area highs are expected to reach the lower 20s on Monday, and mid 20s on Tuesday. Then it gets warmer...highs in the lower 40s Wednesday, followed by mid 40s on Thursday. Highs retreat to the mid 30s on Friday.
Our metro snow cover should shrink Wednesday afternoon.
Snow chances
Snow continues this Sunday morning in much of north-central and northeastern Minnesota and northwestern Wisconsin.
Inland from Lake Superior, portions of Cook county could see another 1-3 inches of snow before it tapers off Sunday afternoon. A winter weather advisory continues for that area until noon this Sunday:
Details of the advisory:
URGENT - WINTER WEATHER MESSAGE

National Weather Service Duluth MN

328 AM CST Sun Nov 11 2018

...ACCUMULATING SNOW OVER SOUTHERN COOK COUNTY THIS MORNING...

.Accumulating snow is expected this morning over southern Cook

county due to anticipated lake effect snow. The main concern will

be slippery road conditions, along with reduced visibilities. Lake

effect snow bands could develop, which could bring even heavier

snow than is currently forecast, so some uncertainty does exist

with these snow amounts.

MNZ021-111800-

/O.CON.KDLH.WW.Y.0023.000000T0000Z-181111T1800Z/

Southern Cook/North Shore-

Including the city of Grand Marais

328 AM CST Sun Nov 11 2018

...WINTER WEATHER ADVISORY REMAINS IN EFFECT UNTIL NOON CST

TODAY...

* WHAT...Lake effect snow. Additional snow accumulations of 1 to

3 inches. Locally higher amounts are possible.

* WHERE...Southern Cook/North Shore County.

* WHEN...Until noon CST today.

* ADDITIONAL DETAILS...Plan on slippery road conditions.

PRECAUTIONARY/PREPAREDNESS ACTIONS...

A Winter Weather Advisory for lake effect snow means lake effect

snow is forecast that will make travel difficult in some areas.

Use caution when traveling.

The latest road conditions for Minnesota can be found at

511mn.org, and for Wisconsin at 511wi.gov, or by calling 511 in

either state.
Snow accumulations will be much lighter elsewhere: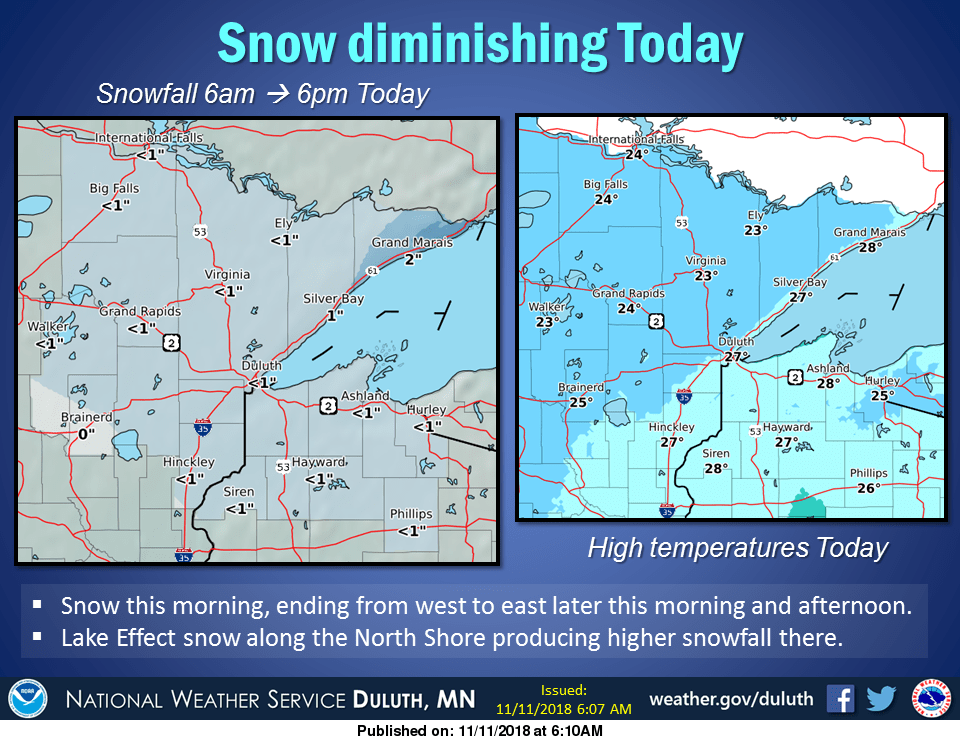 You can check for snow updates from the Duluth office of the NWS.
The Twin Cities metro area could see occasional flurries today.
Looking ahead, there is a chance of scattered snow showers over northern Minnesota and northern Wisconsin on Monday.
The National Oceanic and Atmospheric Administration's North American Mesoscale forecast model shows the potential snow pattern Sunday afternoon through Monday afternoon:
The color chart to the right of the loop refers to the strength of the signal that returns to the radar, not to the amount of snow.
It'll probably snow in some areas that look dry in the NAM loop, but the loop illustrates the overall precipitation pattern.
Thanksgiving week
Thanksgiving is Nov. 22 this year.
The Nov. 18 through Nov. 24 outlook from the Climate Prediction Center of the National Weather Service shows a tendency for above-normal temperatures in Minnesota:
That would be nice!
By the way, our average high temperature is 37 degrees on Nov. 22 in the Twin Cities.
Check for updates as we get closer to Thanksgiving.
Programming note
You can hear my live weather updates on Minnesota Public Radio at 7:49 a.m. Thursdays and Fridays, and at 7:35 a.m., 9:35 a.m. and 4:35 p.m. each Saturday and Sunday.