Spectacular Saturday; Ice out on White Bear Lake
Spring has sprung in Minnesota.
A mild air mass surges north Saturday. Temperatures reached the 60s across most of Minnesota Friday. Highs in the 70s and even 80s gathered to the west.
Spectacular Saturday
Saturday will be the warmest day so far this year for most of Minnesota. The Twin Cities squeaked out 70 degrees on April 8. Thermometers easily push past that number across most of Minnesota Saturday afternoon. Temperatures push 80 degrees in western Minnesota. It's going to feel like July in South Dakota and Nebraska Saturday.
The cargo shorts watch has been upgraded to a warning Saturday.
Easter Sunday Showers
A cool front drops south Sunday into Monday. Scattered showers arrive Sunday, and more widespread rains develop by Monday. Here's NOAA's GFS model from early Sunday into Tuesday morning.
Another inch?
Widespread half-inch rainfall totals look possible Monday. Some locations across central and southern Minnesota could pick up another inch of rainfall.
Mostly 60s
Monday's rain delivers the coolest day of the next week. Highs across Minnesota favor the 60s next week. Right now next weekend looks cooler.
White Bear ice-out
The ice went out on Twin Cities bellwether White Bear Lake Thursday. That's 4 days later than the long term average. Ice-out is progressing northward.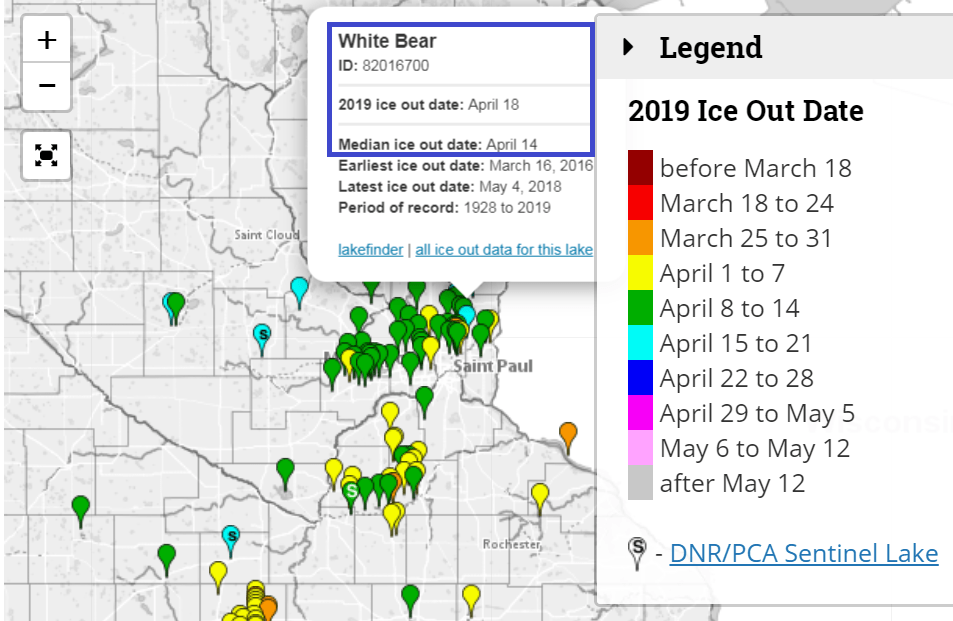 Many smaller bays are now ice-free on Lake Minnetonka, but there is still some ice. Here's Carsons Bay Friday.
Weather Balloons 
Weather balloons are critical to sampling the atmosphere at depth. They are launched twice daily from dozens of locations across the USA. The Twin Cities NWS launches them at Chanhassen in the southwest metro.