A summery Thursday; chilly and rainy this weekend
You may have set your alarm for 6 a.m. or 7 a.m.  Nature had other ideas as thunderstorms moved through between 3:30 a.m. and 5 a.m., waking many of us up a bit early.
The thunderstorms will linger over parts of southeastern Minnesota and southwestern Wisconsin early this Thursday morning.  A batch of scattered thunderstorms are possible in the southern half of Minnesota late Thursday night and on Friday.
The National Oceanic and Atmospheric Administration's North American Mesoscale forecast model shows the potential rain pattern from 7 a.m. Thursday through Friday evening:
As always, updated weather information can be heard on the Minnesota Public Radio Network, and you'll also see updated weather info on the MPR News live weather blog.
Periods of rain with embedded thunderstorms are expected this weekend.
Many areas could see 3 to 4 inches of rain over the next week, with most of it falling this weekend: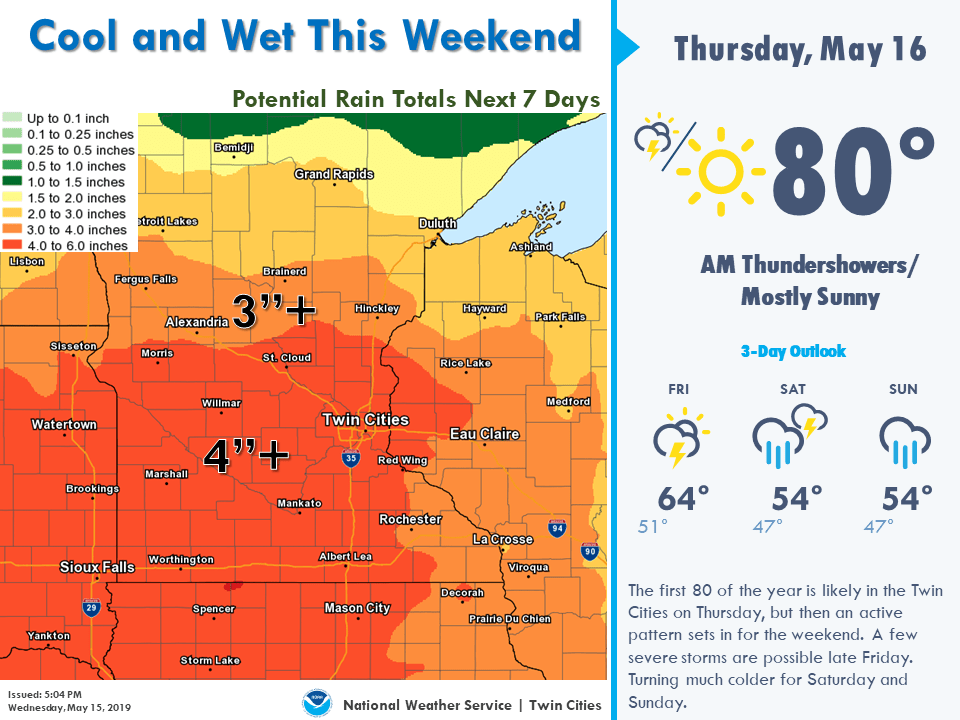 Temperature trends
High temperatures reach at least the upper 70s in the Twin Cities metro area Thursday afternoon, with a shot at 80. South-central and southeastern Minnesota will also see summery high temps, with cooler temps up north:
Cooler highs are on tap for Friday:
We'll probably have highs in the 50s this weekend in the Twin Cities metro area.
Programming note
You can hear my live weather updates on Minnesota Public Radio at 7:49 a.m. Thursdays and Fridays, and at 7:35 a.m., 9:35 a.m. and 4:35 p.m. each Saturday and Sunday.