Spectacular spring Wednesday; weekend heavy rain threat
Get out there Minnesota.
Some of spring's finest weather arrives Wednesday. Highs pressure brings a sunny, mild,  pleasantly dry air mass to Minnesota. The combination of temperatures in the 70s, dew points in the 50s, and abundant sunshine combine for one of the most tranquil weather days so far this spring. Wednesday's air mass across the Upper Midwest ranges from a few degrees warmer than average to more than 10 degrees warmer than average in the Dakotas.
Season's first 80?
A warm front bubbles into Minnesota Thursday morning. A few spotty thundershowers ride the warmer air Thursday morning. By afternoon, sunshine through a hazy and more humid air mass pushes temperatures toward the 80-degree mark in much of southern and western Minnesota. Highs in the 90s are not that far away.
Tropical air mass
Remember the concept of humidity? Thursday's air mass reminds us that July is an actual future month in Minnesota. Dew points well into the 60s in southern Minnesota will make us feel sticky.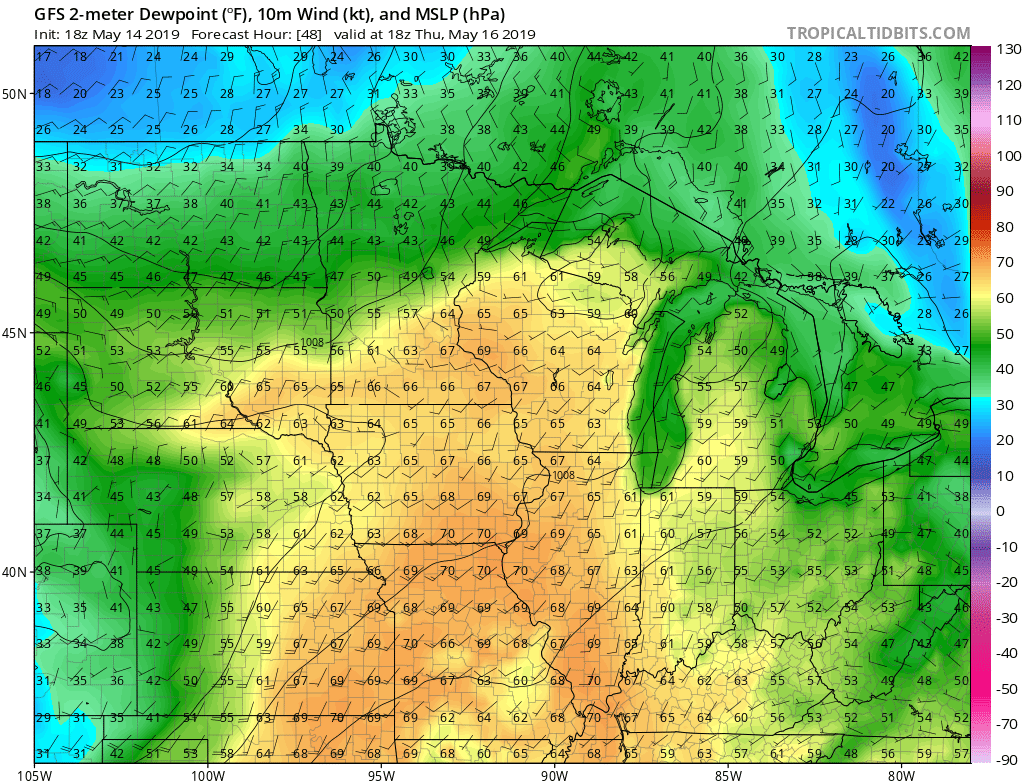 Cooler early next week
You'll notice the warmer, more humid air mass Thursday. We cool down again into the 60s early next week.
Soggy weekend: Heavy rain potential
The timing could be better. Multiple storm waves favor the upcoming weekend. That's not the best news for farmers and others with still saturated soils and high rivers and lakes.  It won't rain all the time, but we could get a few rounds. NOAA's GFS model is typical in suggesting a few different rain waves this weekend.
A couple inches of rain looks likely for Minnesota lawns and fields this weekend. The latest model trends favor the focus for bigger multi-inch rainfall across southwest Minnesota.
Stay tuned.