Showery Monday; hot and rather muggy later this week
Rain gauges have been busy from Sunday through the overnight into early Monday morning. Minneapolis-St. Paul International Airport measured 0.62 inches of rain for the 24 hours ending at 7 a.m. while St. Paul's downtown airport picked up a soggy 1.38 inches.
My backyard rain gauge in Minneapolis registered o.44 inches.
Rather heavy rain has spread from the general Twin Cities area into much of northern Minnesota. Early reports indicate that some lawns, gardens and farm fields between the Twin Cities and Duluth picked up well over an inch of rain by daybreak on Monday. That heavy rain will track northward out of northern Minnesota into Canada during the morning.
Wet Monday at times
Lighter showers on the back side of this little low-pressure system will swirl from western Minnesota into the eastern part of the state on Monday.
Some showers are likely to grow into thunderstorms during the afternoon under the prodding of the June sun. For the Twin Cities area, that means that an umbrella is likely to be useful at times due to scattered showers and the chance of a thunderstorm.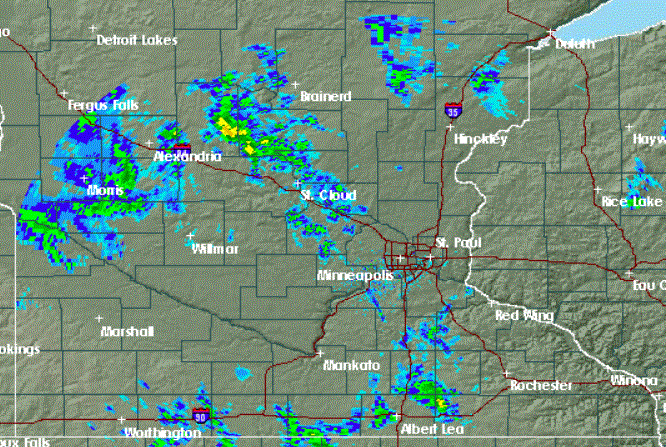 Afternoon temperatures will be a bit on the cool side thanks to the thick clouds and a breeze from the northwest. High temperatures should be in the 60s in northeastern Minnesota and 70s for the rest of the state. The Twin Cities should warm to about 73.
Severe storms are possible Monday afternoon mainly from Georgia to Ohio to southern Wisconsin and maybe in central Texas.
Marginal risk for parts of Minnesota
The outlook for severe weather posted this morning by the Storm Prediction Center puts parts of southern Minnesota, the Twin Cities area and west central Wisconsin in just a marginal risk for severe weather (darker green) later on Monday:
Comfortable Tuesday and Wednesday
Tuesday and Wednesday will be warmer. Look for highs on Tuesday from the mid 70s to the low 80s. Scattered afternoon thunderstorms are likely for about the northern half of Minnesota.
Wednesday should be a few degrees hotter, but mainly dry and not too humid.
Mid-week storms?
Weak atmospheric forcing for later this week makes the forecasting of thunderstorms rather challenging. As of now, it looks like more storms could come our way for Wednesday night and Thursday.
Heat and humidity are coming
Confidence is quite high, however, that heat and humidity will build later in the week. High temperatures on Friday are likely to run from the mid and upper 80s to the low 90s. The weekend will be hot as well, and with climbing dew points.
Looking into next week
Both the heat and the humidity are likely to back off a notch early next week as we begin July.