U.S. Attorney Tom Heffelfinger resigns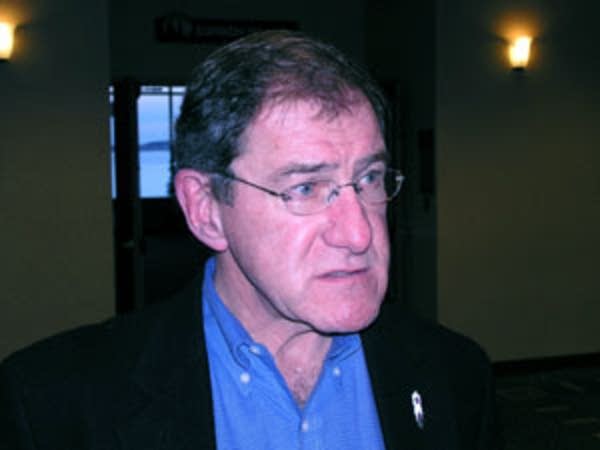 (AP) - Two weeks after presenting the findings of a school shooting investigation that may define his term as Minnesota's top prosecutor, Tom Heffelfinger announced Tuesday that he will step down at the end of the month to return to private practice.
Heffelfinger, appointed as U.S. Attorney for Minnesota shortly after the Sept. 11 attacks, was in the news most recently for his office's investigation into the shooting deaths of 10 people on the Red Lake Indian Reservation on March 21, 2005.
However, Heffelfinger said the shooting didn't play a role in his decision to step down.
Heffelfinger was criticized by some families last month for not sharing more information about the investigation that followed the shooting.
Grow the Future of Public Media
MPR News is supported by Members. Gifts from individuals power everything you find here. Make a gift of any amount today to become a Member!
The relationship at Red Lake and the work with the people up there has been one of the things of which I have been most proud.
"The relationship at Red Lake and the work with the people up there has been one of the things of which I have been most proud," Heffelfinger said. "We accomplished some really positive things up there over the last five years."
Last month, Heffelfinger went to the American Indian reservation in far northern Minnesota to present some of the results of his office's investigation to the families of victims and tribal officials.
Although he did not make the findings public, relatives who saw the presentation said Heffelfinger told them that up to 39 people had some sort of advance warning of 16-year-old Jeff Weise's plans to open fire at Red Lake High School.
Weise killed his grandfather and grandfather's girlfriend, before heading to the high school where he killed seven people, before killing himself. The only person prosecuted was Louis Jordain, 17, the son of the tribal chairman. The teen admitted to exchanging threatening communications with Weise.
The reservation is a sovereign nation, so crimes committed there are tried in federal court, rather than by state authorities. In a news release, Heffelfinger said he tried to balance a prosecutor's traditional role of crime fighting with the added responsibilities of fighting terrorism.
During his tenure, his office prosecuted Mohammed Abdullah Warsame, a Minneapolis student charged with conspiracy to provide material support to al-Qaeda and Mohamad Elzahabi, a Minneapolis resident who allegedly lied to federal agents about the shipment of electronics to Pakistan.
Heffelfinger resigned from his second stint in the job. He was also appointed to the job by President George H. W. Bush, the father of the current president.
He told WCCO-AM that after he leaves, Attorney General Alberto Gonzales will put in an interim replacement until President Bush appoints a new U.S. Attorney for Minnesota.
Heffelfinger said he expected the entire process would take six to nine months. His resignation takes effect Feb. 28.
(Copyright 2006 by The Associated Press. All Rights Reserved.)
Gallery
1 of 1