Before ever opening a book, students interested in the railroad conductor certificate program must first pass a criminal background check, a drug screening, a math and reading exam and a physical.
Once they clear all those hurdles and enter the course, they start each day in the fluorescent glare of a Dakota County Technical College (DCTC) classroom.
Students range in age from 19 to the mid-50s. Carhart jackets, plaid flannel shirts and steel-toed work boots are the accepted fashion here. Mike Bodhal of Richfield has always liked trains, and figured the industry offered some security after his job with Ricoh copiers was eliminated.
"I'm thinking long term future," Bodhal said. "The retirement is wonderful, the money's there and I intend to make a lot of it."
Bodhal's optimistic outlook is matched by fellow student Sarah Schmidt, the program's first woman. She worked with the financially strapped Northwest Airlines for 11 years but got tired of worrying about getting laid off. Schmidt's prospects appear bright.
"I had a job interview and was offered a job, so I'm heading down the right path, I hope," Schmidt said. "As long as I can get through the class."
Railroad industry officials estimate freight rail traffic will increase 70 percent nationwide in the next 20 years. At the same time, a new law allowing railroad employees to retire with full benefits at age 60 will require 80,000 new hires in the next decade.
After a morning in the classroom, the DCTC students step outside onto a unique training ground. When the program started last fall, the college worked with Canadian Pacific and Union Pacific railroads to build a quarter-mile track where the students can practice what they learn. The next closest training program similar to DCTC's is outside Kansas City.
Instructor Bob Haworth spent 10 years with Burlington Northern Santa Fe. He's glad for the opportunity to pass on what he knows.
"It's a tough business, it's not for everybody," Haworth said. "It's 24/7, 365, all hours of the day and night, all weather conditions, so it isn't for everybody. But it's a great life. It's a good income."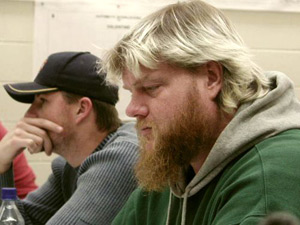 Conductors don't actually drive trains. That's the engineer's job. Conductors couple and uncouple rail cars, inspect the trains and work the track switches.
Program coordinator Don Spano says several DCTC students are getting hired before the seven-week class ends. If all goes well, Spano said, the students are earning wages starting in the mid-$40,000 range within two months.
"So far we've had a fairly decent number of placements. Our ratio is right around 85-90 percent placement," Spano said.
Each class has fewer than 20 students and the classes are booked until next fall. College training coordinator Larry Raddatz expects the course will have a tough time meeting the industry's expected demand.
"They needed 100 conductors a year for the next 10 years just to replace retirees," Raddatz said. "That doesn't even include any new business or turnover. That's just people retiring."
Canadian Pacific's main U.S. office is in Minneapolis. Laura Paulson, who manages the company's hiring for the entire country, said the Dakota County program is more convenient for attracting Minnesota applicants.
"Most of our hiring is for the Twin Cities, and it's -- with the competition with other industries and so forth -- hard to attract people into that field. You have that added benefit that they can be home," Paulson said.
Will Lohrbach of St. Paul took the first class offered by Dakota County last fall. The class ended on a Friday in late October. After a weekend off, he started work at Canadian Pacific Monday morning. It's the 19-year-old's first full-time job.
"I could probably see myself doing it for the rest of my life," Lohrbach said. "At some point I might go into management or something someday, but right now I'm fine with what I do."
Lohrbach says he was planning on going to Kansas City for the training, but learned about the start of the Dakota County program and was able to stay closer to home. He now works out of the rail terminal in St. Paul.