The Carnegie Library in Duluth's West End closed years ago. The doors were boarded up and vandals kept breaking the windows. Now the building is taking on a new life as the outreach center for the Duluth Art Institute.
In the basement, three potters are working side by side. They stack their freshly-thrown pots on shelves that reach to the ceiling.
Don Delvin describes himself as a "semipro" potter. He taught art for 30 years in the Twin Cities, and then moved to Duluth. He's been using the Art Institute's pottery studio for seven years. He enjoys sharing the responsibilities of a 24-hour firing.
"And it's really a good group of people," he says. "I learn a lot from everybody down here."
The Art Institute also has a fiber studio with looms and spinning wheels, a darkroom, and a brand new digital imaging lab.
Nearly 300 professional artists and amateurs use the studios regularly.
Shannon Cousino coordinates education programs here. She says it made sense for the Art Institute to expand from its downtown presence, to this working-class neighborhood.
"There's that perception that art is for the hoity-toity, or people that have money," she says. "But really art is for everyone, and that's what we try to stress here at the Art Institute."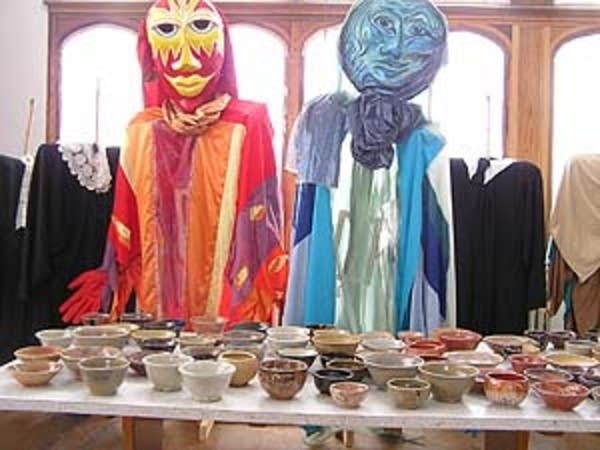 And lots of people use the facility. Youngsters from the nearby Boys & Girls Club come for classes. A group of home-schooled kids also takes art lessons. Friends come once a week to paint together. Volunteers organizing a yearly event called the Art of Peace make big puppets in the high-ceilinged room upstairs.
The Institute also organizes exhibits of local talent. Shannon Cousino says in recent years, the emphasis has been on "emerging" artists.
"We like to be that stepping stone for artists in the local area to move on to perhaps the Twin Cities or beyond," she says. "And the exhibition space is really vital to having artists have their big, important show in Duluth."
And Cousino says there's been no vandalism here since the Art Institute opened its doors to the neighbors.
That all sounds about right to Ann Markusen. She's co-author of a report called Artists' Centers: Evolution, Impact on Careers, Neighborhoods, and Economies.
Markusen is an economist who teaches at the Humphrey Institute.
She says Minnesota is particularly rich in these centers. In the Twin Cities, there are so many artists that centers can focus on particular disciplines -- the Textile Center, the Minnesota Center for Photography, the Northern Clay Center.
There are also a few centers like Homewood, on the near North Side of Minneapolis, that use art to address problems in the neighborhood.
And Markusen says centers like the Duluth Art Institute are right to try to help emerging artists, including recent graduates.
"We have discovered that that is the most critical time for an artist," she says, "in that period where they have lots of excitement, lots of good ideas, they've learned a lot about technique, they've gotten a lot of feedback in their training, but suddenly they're out there on their own."
They need access to equipment; they need mentoring, a place to get feedback, and an opportunity to show their work to the public.
And Markusen stresses the centers can also offer an economic boost to their communities. She says the downtown area in tiny New York Mills has experienced a renaissance since an arts center took shape.
"New businesses, coffee shops, the tax base has increased, the city council itself made investments in this New York Mills Regional Cultural Center, and it's drawing people in for evening shows and performances, from a much a wider area around New York Mills," she says.
Markusen calls on cities and private industry to do more to support artists' centers. And she says artists need to be willing to volunteer to help organizations grow.
She's planning studies on the impact of performance spaces and artist live-and-work buildings.