Gypsy moths have been slowly advancing on Minnesota for more than a century, since arriving from Europe on America's East Coast.
When in caterpillar form, the bugs are voracious eaters -- stripping trees of their leaves, and making a mess with their droppings. Some trees can die. Over time, repeated moth attacks can change the mix of trees in a forest.
Minnesota's Department of Agriculture traps relatively small numbers of the moths every year. But the number of moths they found last year near Lake Superior's north shore is ominous. The department trapped more than 1,000 in Cook County alone -- that's more than had ever been found in the entire state.
The moths already infest parts of Wisconsin and Michigan's Upper Peninsula. Geir Friisoe with the Minnesota Department of Agriculture says that may be where they're coming from.
"There is one theory that it's the result of blow, which means that it's actually blowing, from Wisconsin, across the lake," says Friisoe. "The other theory is that they are hitchhiking in on campers, belongings, or firewood coming from infested areas. And then a third theory is possibly coming in from the north, from Canada."
To the untrained eye, a forest eaten bare by gypsy moths looks a lot like one hit by forest tent caterpillars -- a native pest that springs up every few years. But Friisoe says there are important differences.
Gypsy moth is kind of like a mean, big brother of the forest tent caterpillar.

Geir Friisoe
"Gypsy moth is kind of like a mean, big brother of forest tent caterpillar," Friisoe says. "It's a much larger caterpillar. It can eat as much as a square foot of foliage a day. And, unlike forest tent, it will also attack conifers, so even white pine would be at risk from gypsy moth."
No one knows how a forest might respond to both pests, if they're hitting the same trees year after year. But a big tree die-off could hurt tourism and increase the fuel available for wildfires.
Gypsy moths are fond of aspen and paper birch -- both common along the North Shore, and both important to the region's pulp and paper industry. If established, the bugs can put those species at risk, and drive up costs for loggers, sawmills and paper companies.
"There is an economic cost, and that's why we want to keep this out of Minnesota as long as humanly possible," Friisoe says. "You can still move things, but it just simply becomes more cumbersome and more costly for business."
Infested counties are subject to quarantine. Tim O'Hara, with Minnesota Forest Industries and the Minnesota Timber Producers, says quarantine makes it more difficult to move timber.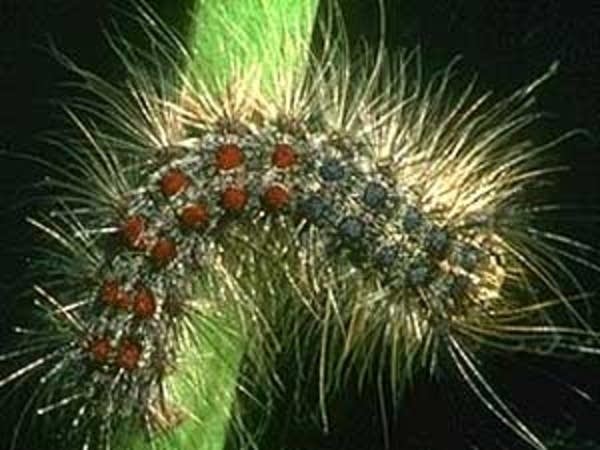 "Logs that would be transported would have to go through an inspection, and be certified as clean by the Department of Ag," says O'Hara. "And once they're eventually shipped to the mill, at the landing yards there, those companies would have to keep that wood separate, would have to keep the bark separate, and dispose of the bark in a proper fashion."
There's little experience so far with the gypsy moths in a pine-based boreal forest, like that inland from the North Shore. Steve Katovich with the U.S. Department of Agriculture says the bugs might not thrive through the region's cold winters. And, he says, Cook County has little of the gypsy moth's favorite food.
"This is an insect that really focuses most of its activity on oak-dominated forests," Katovich says. "The North Shore doesn't have a lot of oak. However, it does have a lot of aspen and it has a lot paper birch. And those are two species that gypsy moth will feed on heavily and do well in."
The real risk, Katovich says, isn't so much to the North Shore, but to oak dominated forests further inland, north of the Twin Cities to Brainerd and Grand Rapids. There's enough aspen and birch along the North Shore to give the moths a chance to get established.
"Once it does that, especially with all the visitation we get in the summertime there, it's much more likely to get on somebody's campers, in somebody's firewood, on somebody's boat, and then be moved down into other parts of Minnesota," Katovich says. "So we're very concerned about the potential for rapid spread out of the North Shore area to other parts of Minnesota."
Officials plan to attack the gypsy moth this summer. Several of the Cook County outbreaks are targeted for treatment with a chemical pheromone. Geir Friisoe of the state Agriculture Department says the chemical is completely harmless, even to the moths. But it can keep male moths from finding females.
"It's a chemical that is imbedded on a little tiny piece of plastic, about the size of confetti," Friisoe says. "And during the summer that little piece of plastic emits the chemical, or the pheromone, and what that does is it overloads the male gypsy moth ability to detect females, or to navigate."
But there is a downside to pheromone treatment. Friisoe says it also makes it difficult to gauge how successful the treatment has been.
"The pheromone that's contained in these flakes is the same compound that's used in our traps," says Friisoe. "And, because of that, it blinds us, so we can't use our traps for at least a year and a half, and possibly two years. And that is one of the disadvantages."
Even if the treatment knocks back the number of moths, experts only consider it a holding action. The gypsy moth's progress has been slow but relentless. Eventually, Friisoe says, gypsy moths will infest Minnesota.
"We think with these treatments that we're applying, that we can delay quarantining of Minnesota counties - probably be about five to 10 years out, is our estimate," Friisoe says.
Open houses and public meetings are scheduled this week to explain this summer's treatment plans for four of the moth outbreaks in Cook County. The first is in Grand Marais Tuesday, followed by meetings in Hovland and Schroeder Wednesday and Thursday. Pheromone application is expected in late July or early August.