Just over a year ago Jim Vandenheuvel's scars, as well as his memories of the war, were painfully fresh. Ten months before, while serving in a California-based National Guard unit in Iraq, Sgt. Vandenheuvel's Humvee was blown up by a roadside bomb west of Baghdad.
Back then, sitting in his boyhood home near Pierz, Minnesota, Vandenheuvel wasn't shy about showing the grizzly aftermath of that attack. Most of the muscle from his left calf and hip was gone. The bomb had shattered his left femur. When doctors put his leg back together, it was four inches shorter than his other leg. His blonde hair was trying to grow in around the scars that covered much of his head, where good portion of his skull had been replaced with a titanium plate. His memory was suffering and it was hard for him to talk.
Now two years after the attack that shattered his body, Vandenheuvel is doing better. The 25-year old lives with his mom in an apartment in Sartell, north of St. Cloud.
Vandenheuvel finds it easy to be optimistic, considering how much he's healed in just two years.
"There's only step farther down than I was, and that's dead. Not very many people that were in the situation I was in, can go as far as I have especially so soon,"

Jim Vandenheuvel
"There's only step farther down than I was, and that's dead. Not very many people that were in the situation I was in, can go as far as I have especially so soon," Vandenheuvel said.
Vandenheuvel's condition has improved a lot over the last year. Mental exercises have sharpened his mind. He talks much faster. Physical therapy has strengthened a body left weakened by months in a hospital bed. Muscles are beginning to build up his 6-feet-2-inch frame. And doctors at the Minneapolis VA Medical Center lengthened his left leg, so he no longer needs a walker to get around.
Vandenheuvel marks his progress with small but important strides. Like when he recently played with the young daughter of a family friend.
"Me and the three-year old were running down the sidewalk. I must have run for four blocks. It was unbelievable. It's the most I've ran since I got back from Iraq. It was great," Vandenheuvel said.
And while Jim is getting better everyday, he'll likely struggle with his injuries for a lifetime.
Doctors say it'll be tough for him to fully regain all of his mental functions. And he'll probably always suffer aches and pains. His body is riddled with shrapnel. His legs and torso are embedded with pieces of bomb shell, and even parts of the Humvee he was riding in.
"I even got a thing about the size of a credit card. I take it to an airport and instead of going through the metal detectors, I just give that to them and go around it, because I'll set that off immediately," Vandenheuvel said.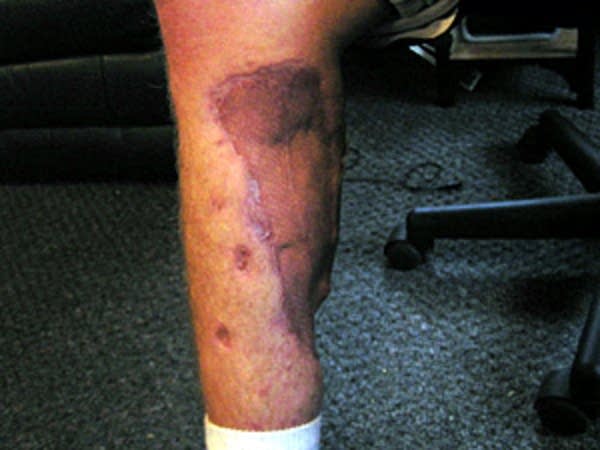 But none of this seems to get Jim down. And if you're wondering how he feels about a war that nearly killed him, he's got a straight forward answer.
"It's what I felt about it when I was there, it's dumb. I don't support the war, I support the troops, but the war I don't support. If I was still in, I'd still do it again. I was doing my job, that's how I look at it," Vandenheuvel said.
Vandenheuvel doesn't keep up with day to day news from Iraq. He says he's not avoiding war coverage. But most likely it's because in this apartment, it's his mother Mary who doesn't like to see headlines about soldiers being injured or killed.
"When he was there it was hard on us to watch the news," said his mother Mary. "And then after his injury, and knowing what could happen over there, it's just to hard to watch it, knowing we've got friends over there. We've got people we really care about. I don't want to see what's going on,"
Mary shares her son's feelings on Iraq, she supports the soldiers, but not necessarily the war. Although she doesn't have much time for politics. Her focus is to provide the support and encouragement her son needs. It's work that began when she flew to a military hospital in Germany, just a few days after Jim was injured.
"During the first few days, weeks and months, I didn't even consider what will he get back to, it was just 'Will he live?'. It was touch and go, we didn't even know if he would make it through the weekend, or the next night," Mary said.
Once Mary knew her son was going to survive, his recovery became a strange but somehow familiar experience.
"It was like raising a child all over again. All the stages he went through it was like raising a child in fast motion. He went from the stages of being in the hospital wearing undergarments because he couldn't control his functions. To going on his own, to feeding himself," Mary said.
Mary helped Jim walk again, and watched as doctors taught him to speak. And if all of this is like watching a child grow, Mary says Jim's latest accomplishment puts him somewhere near the level of a teenager.
Jim Vandenheuvel recently took a driving test, and got his license. Because of his brain injury, driving was off limits until now. Being behind the wheel again gives Vandenhuevel the freedom to get himself to the St. Cloud VA hospital, where he goes several times a week for physical and occupational therapy. Jim's doctors want him to be physically and mentally prepared to hold down a job soon.
For his part, Vandenheuvel wants to go to college and add to a law enforcement degree he earned before going to Iraq. Jim says he's accomplished so much in the two years since his injury, that heading back to school and finding a job, will be just another step in his recovery.