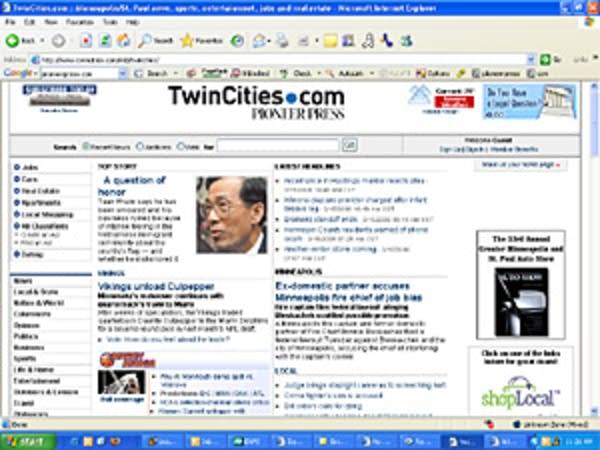 Knight Ridder Web sites, from St. Paul to Kansas City, from Wichita to Miami, shared a template and looked alike. McClatchy sites, from the Minneapolis Star Tribune to the Fresno Bee, appear quite different from each other.
Jon Gordon of Future Tense talked with Chris Jennewein, who runs Internet operations for the San Diego Union Tribune. He's one of the founders of the first newspaper Web site, Mercury Center at the San Jose Mercury News. That was a Knight Ridder paper. Jennewein says the sameness of Knight Ridder sites will begin to fade away.
Jennewein: I think that the Knight Ridder sites will become increasingly unique," he says. "It's a good thing because even in this world of globalization and national advertisers, there's a lot of uniqueness, a lot of difference in each local community. And I think newspapers and newspaper Web sites are at their best when they recognize those differences and play to those differences.
Gordon: How did the Internet figure into McClatchy's decision to buy Knight Ridder?
Jennewein: I think every newspaper executive is now looking at online to be a key driver of revenue and profit growth. At a well-managed newspaper company, online can now contribute anywhere from 10 to 20 percent of the profitability. So I think McClatchy would have looked at markets that had profitable Web sites, rapidly growing Web sites, and the ability to grow even more.
Gordon: How important is the Internet for McClatchy going forward?
Jennewein: I'm a real optimist on the Internet and the role that it's playing at newspapers. I think that Internet growth at newspapers is going to more than compensate for declines elsewhere in the business. I wasn't, of course, in a position to know exactly what was going on in the discussions in the board rooms of McClatchy and Knight Ridder but I've got to think that McClatchy was looking at the success of a number of Knight Ridder Web sites. I know that the papers they want to keep have very successful operations. Charlotte, Kansas City both routinely rank in the top 10 or 20 newspaper sites in terms of local market reach. And I think McClatchy was very interested in leveraging that.
Gordon: Your optimism certainly sets you apart from many analysts, who say there's just not enough money in newspaper Web sites to replace what's being lost on the print side.
Jennewein: Online is much more profitable than print. You don't have the cost for paper, for ink, for distribution. So once you cover the cost of basically getting the site operating, the fixed cost, it's very, very profitable and very fast growing.