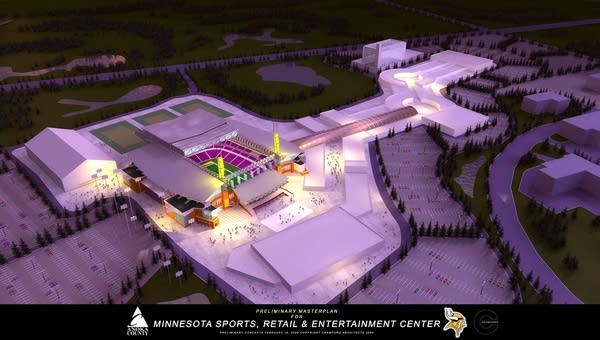 (AP) The football season has been over for nearly two months, but a few Vikings fans pulled out their purple jerseys Friday for a hearing at the state Capitol.
A House committee reviewed the team's proposal for a $1.5 billion-dollar football stadium and retail and entertainment complex in Anoka County - a plan the Legislature must approve if it's to go forward.
No vote was taken Friday, but officials from the team and Anoka County, and some hardcore fans, urged state lawmakers to get behind it.
"I don't think it's a question of, 'Should we spend the money?"' said David Willard, decked out in a Vikings cap and sweat shirt. "It should be a point of, when do we drop a shovel in the ground and start doing it?"
The Vikings are touting a $675 million retractable roof stadium with 68,500 seats just off Interstate 35W in Blaine. It would be the anchor of the $1.5 billion Northern Lights Sports, Retail and Entertainment Center, with stores, a hotel and conference center, office and retail developments, and preserved wetlands with a visitor center.
Vikings owner Zygi Wilf has promised $280 million toward the stadium, as well many of the costs associated with the other developments, for about $1 billion in private investments.
"Any time you have a quality company willing to invest a billion dollars in our state, we should find a way to help them out," said Rep. Andy Westerberg, R-Blaine, chief sponsor of the Vikings bill. "It's simply good common sense."
Anoka County would also pony up $280 million through a three-quarters of a percent sales tax increase, about 75 cents per $100. The Anoka County Commission has already approved it, but the Legislature must authorize it before it can be levied.
The state would also provide $115 million through construction bonds.
Supporters say the new stadium complex would be more than just a windfall for the Vikings, as some opponents have claimed. They also predict an economic explosion in the northern suburbs of the Twin Cities.
"How do people think of Anoka County?" asked Larry Spooner, a Vikings fan who lives in the county. "For most people, it's a drive-thru on the way to the cabin. This is going to turn it into a drive-to community, no doubt about it."
But opponents said the many millions in new revenue the Vikings stand to harvest need to be considered, and that lawmakers should pressure the team to up its own contribution.
"This is going to be a bonanza for them," said James Hafner, who also lives in Anoka County. He urged lawmakers to consider a fee on the team's advertising and TV revenue that would allow the proposed county sales tax to be cut at least in half.
Rep. Kathy Tingelstad, chairwoman of the House Government Operations Committee, said a committee vote on the project could come in the next few weeks. But legislative leaders continue to say that proposed new stadiums for the University of Minnesota Gophers and the Minnesota Twins are higher priorities this year.
"I still feel like three stadiums in one session is a bigger bite than many are willing to take," said House Speaker Steve Sviggum, a Republican, on Friday.