Geography, it turns out, has helped Munster arrive in the big leagues of bicycling.
"It is a very, very flat area, to be honest, and that is a good advantage for bicycle riding indeed," says Berthold Tillmann, mayor of the city of Munster, Germany.
Tillmann says the 280,000 residents of Munster collectively own more than half a million bicycles. The flatness encourages many of them to bike to work. So does the fact that unlike the Twin Cities, Munster is not a victim of urban sprawl.
"We have not so long distances in Munster, so you can reach nearly every point you want to by bicycle," he says.
Munster is a 1,200-year-old city near Germany's border with the Netherlands.
Mayor Tillmann says cycling to work is popular, in part because vehicle parking is expensive and the narrow medieval streets discourage four-wheeled traffic.
Mayor Tillmann says the city has spent decades methodically creating a bicycling infrastructure. There are extensive trails and bike routes, clearly marked crossings and many other cycling amenities. Perhaps most important, Tillmann says, Munster residents have adopted the power of positive thinking.
He says riding a bike is regarded as a virtue, a philosophy not all that common in the United States. The new federal transportation bill that went into effect this year attempts to address that issue in this country.
"If you have to ride a bike to work, it must be because you can't afford a car, says Georgena Terry an avid bicyclist who lives near Rochester, New York. "That, I think, is the public perception. 'Oh, there's a poor person who has to ride his bike to work. There must be something wrong.'" Terry is founder and chief executive officer of a company which sells specialized bicycles and accessories for women. The League of American Cyclists identifies her as one of the country's most influential bicycling proponents.
The 126-year old league estimates there are 57 million cyclists in this country. But a survey shows a large gender imbalance. Men account for more than 80 percent of the country's more devoted pedalers.
Terry speculates concern about personal safety discourages many women. She also worries our culture doesn't encourage young people to ride.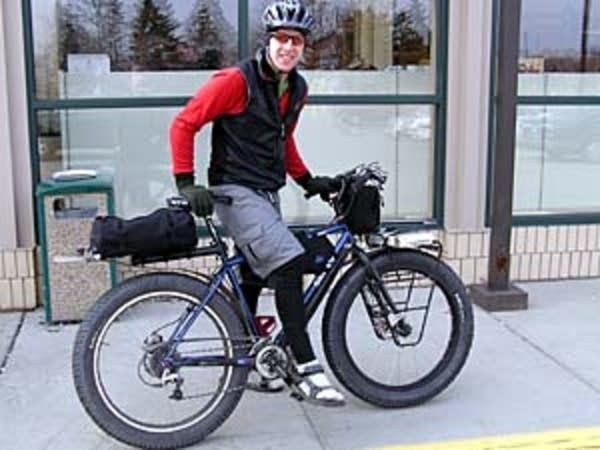 "Kids just don't get into bicycling these days, so they don't grow up with a love for the sport. They don't think of it as part of their lifestyle the way I did or people my age do," she says.
That issue is addressed in the new federal transportation bill that took affect this year.
U.S. Rep. James Oberstar, D-Minn., the ranking Democrat on the House Transportation Committee, convinced colleagues to spend tens of millions encouraging cities and school districts to designate safe bicycle routes to schools.
In addition, Minneapolis is one of three cities getting $25 million over the next four years to promote biking and walking.
There's an already extensive Minnesota and Twin Cities bicycle system to build on. In Hennepin County alone, there are more than 400 miles of trails and designated routes, and each year another 50 miles are being added.
Hennepin County engineer Bob Byers says the goal is 800 miles. Byers says as soon as the county puts new routes in place, their use by bicyclists increases.
"It's going up geometrically," Byers says. "It's doubling every few years. It's quite incredible to watch. As things get interconnected, all of sudden your travel opportunities expand and you can now get from point A to point B on a trail, where before you could not."
Point A for David Gray is a home in southeast Minneapolis. Nearly every work day he rides 16 miles to point B, his job in Bloomington.
The 36 year-old husband and father manages a wholesale bicycle business. He rides what he sells, a Twin Cities-made brand of bike called Surly.
Gray rattles off a litany of advances that have made bicycle commuting more attractive, including a state law requiring vehicle drivers to give bicyclists at least three feet of space as they pass them on roadways.
"At least the law exists," Gray says. "It's there, it's something that we can use to inform people when they do get a little close to our back wheel that we need our space."
For all the progress, there are still powerful cultural and economic forces arrayed against cycling. Sprawl continues virtually unchand ecked, placing people farther from workplaces fostering even greater reliance on cars.
A group called the Southwest Metro Bicycle Connection wants bicycle corridors to and from the fast growing southwest Twin Cities suburbs to counter the effect. They point to Munster, Germany, as their model, and helped arrange the visit of its mayor, Berthold Tillmann.
Tillmann will explain how his city accomodates biking and walking, and maybe say a word about how even in Munster there's occasional friction between cyclists and pedestrians.
"They complain about bicycle drivers who use the pedestrian zones, and something like that. But we get along with that, that's one of our realities, it is a little bit of conflict and we get along with that," Tillman says.
Tillmann speaks Monday in Minneapolis at the University of Minnesota's Oberstar Transportation Forum.