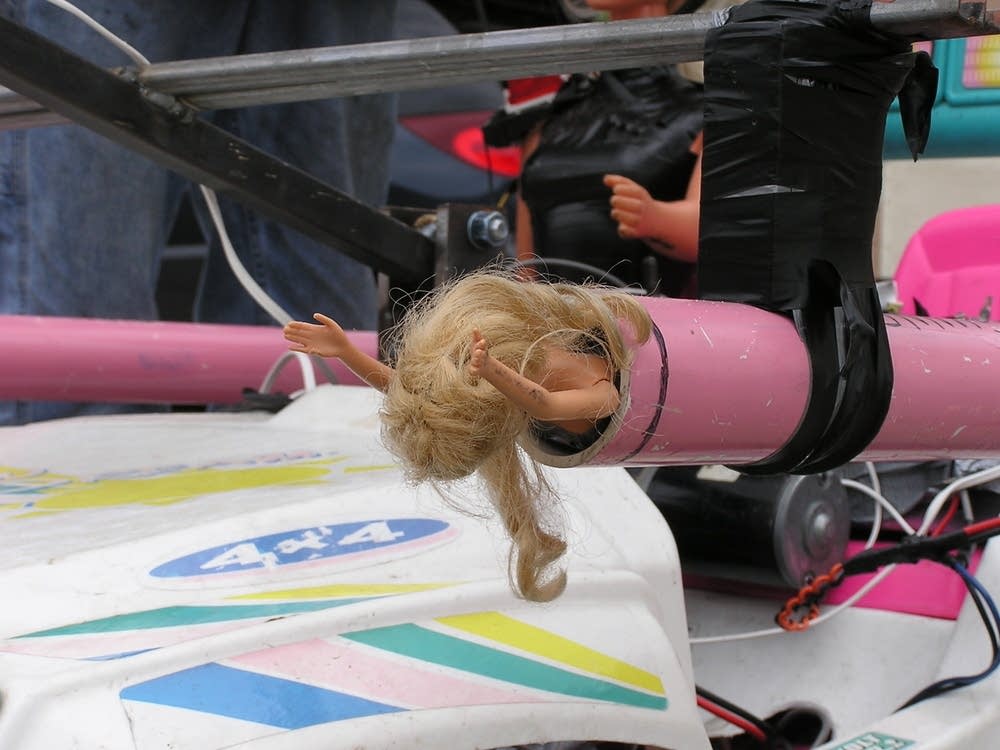 At three feet tall, Borg Queen Barby -- not to be confused with Mattel's Barbie -- is an even match for her competitor, My Size Ken. She drives around in a Barbie jeep with four-wheel drive. There's a forklift on the front and two cannons on the sides.
She's the creation of Tim Wolter and his son, Karl. And she'll be entered into Mechwars as an "art bot." It's a fighter, but not a serious contender for any trophies.
Tim and Karl are helping Mechwars organizer Jon Vandervelde put together the solid steel cage robots will fight in this Saturday.
The Barby isn't Tim and Karl's first robot. Tim jokes with Vandervelde about some of their earlier creations, which were made from garden gnomes.
"There was actually a gnome series of robots. Gnome One and then Turbo Gnome," Tim Wolter says. "The gnome was basically a couple of old wheelchair motors and a big aluminum turkey roasting pan, and a lawn gnome on top. It would try to get close to people and spin around. We had various modular weapons, axes and hammers and things. And we'd try to pound people."
Most people who enter Mechwars are serious competitors. People scrounge for parts and barter for welding time. Bill Arden comes down from Brainerd. He admits to being the mad scientist of the group.
Arden says robot combat is a sport that takes serious commitment.
"Another good suggestion for would-be robot builders is to take your robot, design it tough and then throw it off the roof," Arden suggests. "If it can't survive that, you're in trouble. And if you aren't willing to do that then you're in the wrong sport."
Arden loves to win, but he's also absorbed by his own mechanical prowess.
His robot is called Millipede, but he got rid of the legs a while ago. Now it rolls on wheels. It also spins really fast. It's a steel octagon with special hooks.
"This whole top spins at 1,000 rpm, so these tips are going over 100 miles per hour. One or the other robots gets destroyed because those tips are specially designed to dig in," Arden explains.
Saturday's competition takes place at the Bystrom Building in south Minneapolis from 10 a.m. until 6 p.m.