Dawn Upshaw is one of America's leading sopranos. She performs on opera stages around the world and is acclaimed as an adventurous recital singer dedicated to contemporary music.
But when Dawn Upshaw first sang with the St. Paul Chamber Orchestra in the mid-80s, she was an unknown talent fresh out of music school. She says she's always been thankful to the group for taking a chance on her back then. Now she'll be the first singer to serve on the SPCO's leadership team as an artistic partner.
"It's just the sort of thing you dream about as a performer: to have an institution like the St. Paul Chamber Orchestra willing to take risks by handing over this blank page to someone they trust. So I feel like it's my duty to find some directions that I haven't gone before," Upshaw says.
Although she curated the Carnegie Hall "Perspectives" concert series for two seasons, Dawn Upshaw has never had a position like this one with the Saint Paul Chamber Orchestra.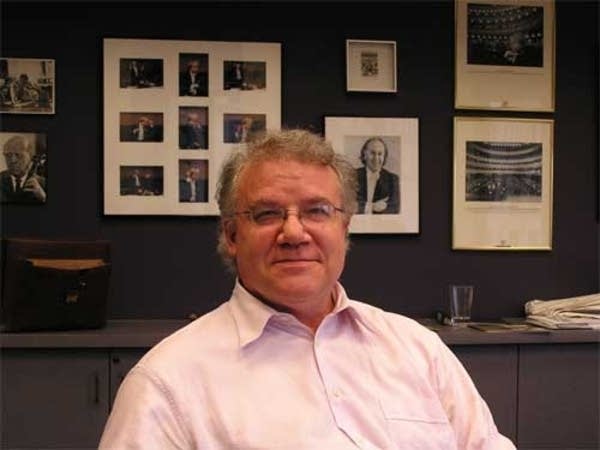 Unlike most orchestras, which have a single music director at the helm, the St. Paul group works in collaboration with a collection of artistic partners.
The SPCO switched to that leadership model two years ago. During her first season with the orchestra, Upshaw will be one of five artistic partners, joining conductors Roberto Abbado, Nicholas McGegan and Douglas Boyd and pianist Pierre-Laurent Aimard.
St. Paul Chamber Orchestra President Bruce Coppock says Upshaw won't conduct concerts from the podium, but may lead concerts by singing.
"The appointment of Dawn Upshaw will stretch the limits of the artistic partnership," he says. "In Dawn's case the question was, Could we devise a vision for nine programs over three years that will be cohesive and reflect who Dawn is as an artist and also stay within the framework of what the SPCO is artistically?"
Coppock says Upshaw will explore a wide variety of musical styles during her tenure as artistic partner. He expects everything from a staged Bach cantata to three newly commissioned works to be performed by Upshaw with the orchestra.
Critic Tim Page says he's not surprised that Dawn Upshaw would accept a position like this. Page covers classical music for The Washington Post. He says she's an artist who's always testing new waters.
"She's really kept an open mind, especially for somebody who has become a star," Page says. "She's remained a very intelligent star and also one who doesn't just go after the tried and true. I'm not at all surprised that she's doing something that's a little bit creative and unusual for somebody of her magnitude."
As a worldwide classical music celebrity, Upshaw has a busy schedule, but she says she's dedicated to her upcoming position as Saint Paul Chamber Orchestra Artistic Partner. She's excited about this new association because she says her most interesting and vital work has come through close musical collaborations with other artists.
"I'm thinking about being able to slip into the life blood of the group itself," she explains. "Every large ensemble has its own energy and personality. I don't see myself as coming in and telling them what I'd like to do and expecting them to do it."
Dawn Upshaw doesn't begin serving as St. Paul Chamber Orchestra Artistic Partner until 2007, but she says she's eager to get in touch with the musicians to begin their collaboration as soon as they can.