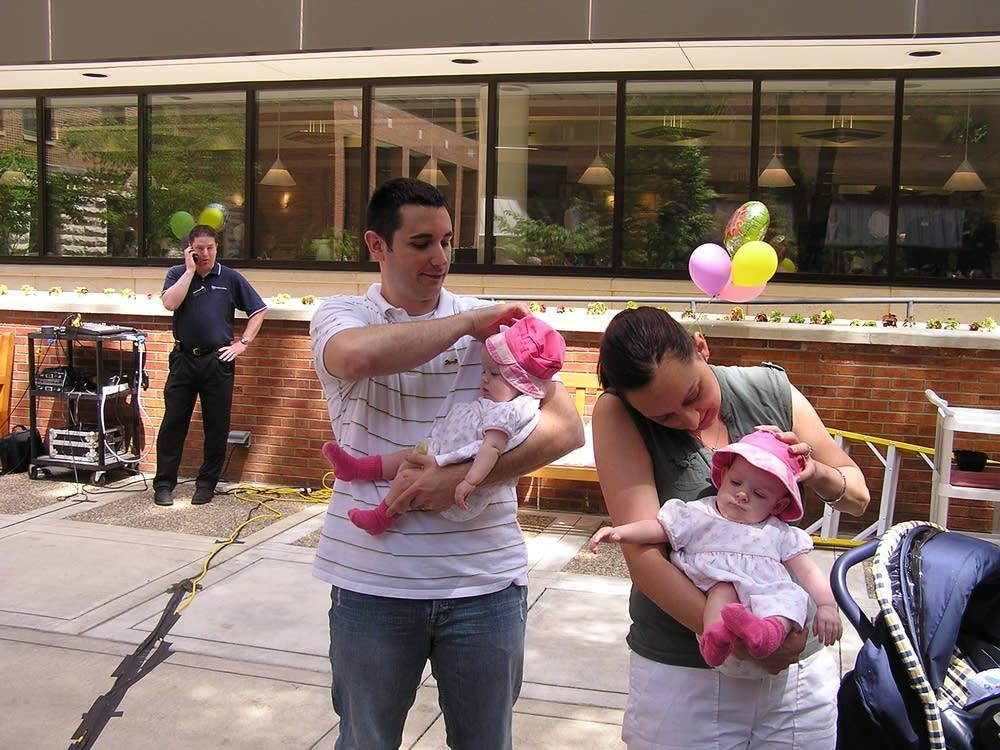 The Carlsen parents and their two daughters now have a second family. It's at Mayo Clinic. At a pre-departure party the nurses and the doctors coo over the girls.
Lead pediatric surgeon Doctor Chris Moir says the girls have been recovering well. They've also been learning how to move and experience the world on their own.
"They out of necessity would kind of look back and over to look," Moir explains. "But now they can turn their heads now and turn their bodies. And already Abbey is trying to sit up. You can see her using her abdominal muscles which she could never use before, trying to use her belly muscles to sit up."
At six months old the girls aren't far behind in their development. Physical therapist Wendy Timm helped them learn to roll and prop themselves up. She says physical therapy will continue in Fargo.
"They're sitting with assistance right now and they're not far from achieving that on their own. So really I anticipate that they'll catch up pretty quickly," she says.
Doctors will also be watching Belle's chest wall. It doesn't completely cover her heart. Doctors have said she shouldn't have any physical limitations because of it. But Doctor Chris Moir says it needs to be monitored.
"That's one of the common things that happens is that the chest wall will grow in a pattern that's different than normal. So we'll be watching that and that's why they come back every year," he says.
Moir expect the girls will be back in three months for a check-up and once a year after that, as a precaution. But he hopes to see them more often. He's become close with the family. He says surgery is a deeply personal act.
"There is a degree of intimacy that you have with that person or that child that demands the best of you," Moir explains. "Demands that you do your duty to that child."
Parents, Jesse and Amy Carlsen, say their girls are healthy and very strong. Amy says they are fine being away from each other during the day. But they do sleep together.
"I notice during the day they'll look at each other," she says. "At night when they're sleeping in their Pack and Play when I get up to take care of them they just weasel back to one another. And I notice they'll have their hands crossed or touching. So that's really cute too."
The Carlsens' say they haven't discussed the cost of care. Abbey and Belle spent over one hundred days at Mayo.
Mayo doctors and nurses will be in touch with the family's new team in Fargo. Amy Carlsen says she has no plans to return to work in the near future.