Desdamona: The back story on a B-girl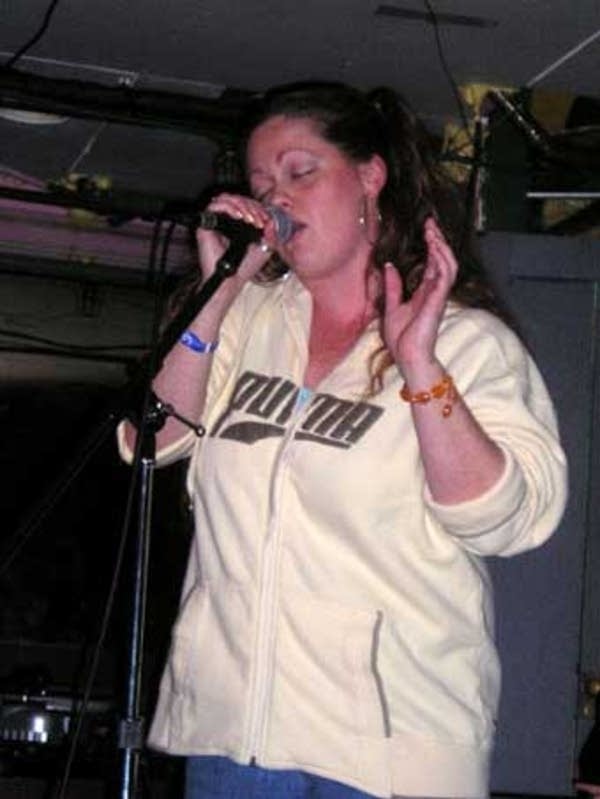 To get a sense of what drives Desdamona as an artist, you need only look as far as her name. Desdamona is not what her mother named her, but she says it's her real name. It was inspired by Desdemona, wife of Shakespeare's tragic hero Othello. He strangles her in a jealous rage.
"To me," says Desdamona, "what she represented was a voice that was silenced. And when I took on that name was when I decided to not be silent. Ever."
As a child growing up in Iowa, Desdamona struggled mightily in school. Art and music were the only areas where she naturally excelled. In high school she and her friends formed a group inspired by all-female R&B superstars TLC. Desdamona was the rapper. When she and a friend moved to more-musically-fertile Minneapolis, Desdamona's raps found an audience, but not the one she thought she would reach.
"When I moved here, I wanted to find an outlet, and I couldn't really get in the door anywhere," she says. "So I found open mics and I started to perform my lyrics as poetry and got known as a spoken-word artist, when the truth is that's not what I was initially. But becoming a spoken-word artist actually made me a better writer."
Desdamona says she didn't start out wanting to blaze trails for women in hip-hop. But as images of women in rap songs and videos became more objectified and barriers for female hip-hop artists remained high, her perspective on the place of women in society changed.
"I think we oftentimes just toss women to the side," she says, "and it's not just within hip-hop, it's in the society in general. And I think we even do it to ourselves. I've seen it. I've been a recipient of it."
Before you keep reading ...
MPR News is made by Members. Gifts from individuals fuel the programs that you and your neighbors rely on. Donate today to power news, analysis, and community conversations for all.
[image]
Desdamona battles back against those forces on her latest CD, "The Ledge," which she describes as her breakthrough. With the help of legendary reggae musicians and producers Sly and Robbie, Desdamona has crafted songs of defiance and self-affirmation.
Writer Dwight Hobbes is a fan of her work, and admires her for confronting misogyny.
"The genre of hip-hop is notorious, infamous for using women as eye candy, as sex objects in the most literal definition of the word," Hobbes says. "So it's important when an artist like Desdamona is willing to get out there and go against that grain."
In one song on the CD, "Don't Listen to the Lyrics," Desdamona depicts how the degradation of women seems to have become a standard feature in rap songs.
"I don't want to just see the body and know that that body is actually selling all those records, without speaking at all," she says. "So what happens if we actually speak, you know? What does happen? Well, I think things change automatically and I think people are afraid of that."
Part of that change is being instigated by the B-Girl Be celebration, which Desdamona helped create. B-Girl Be began as an outgrowth of a monthly workshop Desdamona presented at Intermedia Arts in Minneapolis. In two years it's become what organizers describe as the only event in the world that brings together female artists from every genre in hip-hop, including deejaying, break dancing, graffitti art and rapping.
Intermedia Arts Programs Manager Theresa Sweetland says the way Desdamona conducts herself as an artist captures the spirit of B-Girl Be.
"She's a role model," Sweetland says. "She's a woman who's working hard. She's doing her own thing. She's not fitting into what other people expect out of her. She's supporting other women and especially girls, and she's collaborative. And that's what B-Girl Be is about, women working together on an equal plane."
Desdamona says before B-Girl Be, she used to put together an annual, all-female hip-hop show, and it was a challenge scrounging up talent. But she says that performance used to be her best-attended show of the year. She remembers all the girls who'd come running up afterward, yelling "I write, I write," and it made her kind of sad.
"Part of why B-Girl Be is here is because we want women not to feel like they can't be a part of something, but make them feel like they're entitled to this. Men feel entitled to be a part of hip-hop. I don't think women feel that same entitlement and I want them to."
The B-Girl Be celebration opens tonight at the Capri Theater in Minneapolis with a keynote address from teen rapper-turned-psychologist Dr. Roxanne Shante. On Saturday the beats will flow at an all-ages show at First Avenue, with performances from female hip-hop luminaries Medusa and DJ Pam the Funkstress. Desdamona, who's also performing, will serve as master of ceremonies.
Gallery
1 of 1