Robbery victims Erin and Kyle McCleary say the way to address the crime problem is to hire more police, keep a closer watch on kids, and more closely regulate landlords who rent to problem tenants.
The McClearys' formula grows out of a moment of terror that struck them like a bolt of lightning one early spring evening. As they pulled into the garage behind their house in northeast Minneapolis, a robber jumped them.
"He was upon me, and before I knew it I was on the ground kind of shielding myself," Kyle McCleary recalls. "The gun was pointed at my head."
The shock of the attack and the robber's gun left no time to consider self-defense.
"He said, 'Where's the money, where's the money?' I immediately pulled out my wallet and handed it to him. He proceeded past me, pointing the gun now at Erin," McCleary says.
The robber grabbed everything they were carrying.
"He took both of our cell phones, our house keys and our car keys, and turned around and walked..." Kyle McCleary says. "It was, what, a minute or less?"
Without their phones and locked out of their house, Kyle and Erin knocked on doors until a neighbor responded and let them use a phone to call police.
Erin said the response time was gratifying. Literally within moments police arrived, took information, gave them a victims rights card -- but then delivered the hard news.
"They also made it clear that nothing was really going to come of this. They said, 'Don't really expect anything, don't expect a call. This is probably it,'" Erin McCleary says.
One of the problems was they couldn't describe their attacker. The robber wore a mask, a baseball cap and a hooded shirt.
Lack of a description is not a problem for north Minneapolis residents Tina Masterman and Corbin Connell. They know the identity of the person who they say is running a drug-selling business on their block. But they say the police are overwhelmed.
They echo the McClearys' views that the city needs more police, children need more supervision and landlords with problem tenants need tighter regulation. Masterman and Connell say they're willing to pay higher taxes to pay for it all.
Tina Masterman says the problems began when they moved in less than a year ago.
"The first night we moved in, we were painting the upstairs bedrooms and we heard loud firecrackers," Masterman says. "It turned out to be a house a few doors down here was shot up -- maybe 30, 40 bullets in the house. Nobody was hurt. I think they may have caught the people who shot up the house. I think it was in retaliation for a house that was shot up just a couple blocks down."
Sitting on the front steps of their house on a humid summer evening, Corbin Connell says the neighborhood is plagued with drug dealing. Connell says most of the neighbors are law-abiding residents, and the block is safe when the police are around.
"There's a police officer driving down the street now, and that's good to see," says Connell. "But when the police aren't here, these folks basically run free and deal drugs, and shoot weapons, and fight each other and scream at each other, and play loud music and partake in all sorts of anti-social behavior."
Why is lawlessness on the rise -- not just in Minneapolis, but also in St. Paul and many other cities? All of the answers are familiar. None of the causes are new.
The young people coming to the Jerry Gamble branch of the Boys and Girls Club in north Minneapolis for basketball and other activities are the eyes and ears for manager Kevin Stringer.
They confirm what Stringer observes on his own. Some of the crime is being caused by people moving in from other cities, who are bringing with them guns and drugs.
"A lot of people from Chicago are here. Detroit. Wisconsin," Stringer says. "A lot of different places, and a lot of them are would-be gang members. And a lot of kids see that, and they think it's exciting and fun and they want to get involved. But I don't think they really realize the risk that's involved with it."
Lenora Gray, 17, is a youth worker at the Boys and Girls Club. She sees more children with no adult supervision on the streets, where she says the atmosphere is wide open.
"It's very fast. Teens today, I think lot of them are making the wrong decisions because they don't have a lot of influence at home. I think it's more of a family problem," says Gray. "I don't think families today like to sit down with their kids. I don't think they spend a lot of time at home with them, so they come to the streets to find other things they can get into."
Monica Nilsson sees the same pattern on Minneapolis' south side. Nilsson is community development director at the Bridge, a 35-year-old program that serves homeless teenagers.
Sitting at a table in a courtyard in back of her office, Monica Nilsson adds poverty to the list of factors straining families, and causing kids to spend too much time on the streets.
"When I see youth in my neighborhood who are 10 years old, and come up to me and show me the little ink tattoo on their hand -- and it's a gang symbol and they don't even know that -- or the youth who are coming over to my house to do their homework because their electricity has been off for three weeks, or they're grilling in their yard because they don't have access to refrigeration or a stove, are we surprised they're joining gangs, where they can get money and have a resource for something better in life?" Nilsson asks.
The crime pattern police are seeing looks like this -- a proliferation of guns, drugs and disaffected young people looking for a way to make money.
Minneapolis Police Lt. Medaria Arrandondo patrols the city's north side. He says gangs are attracting younger members.
"We're seeing a lot more youth who've experienced hopelessness, and they are resorting to those things which they get instant gratification from," says Arrandondo. "In many ways, they're still looking for those surrogate families that many of them do not have."
Arrandondo says another factor causing rising crime rates is the ex-convicts who are returning to neighborhoods.
Seventeen years ago, in l989, Minnesota lawmakers increased, and in some cases doubled, prison sentences for many crimes. The state's prison population grew from just under 3,000 inmates then to more than 8,000 today.
The number of people released from prison each year is rising as they finish their sentences. However, many lack education or training for a job, and employers are reluctant to hire them.
Minnesota Department of Corrections statistics show that 35 percent return to prison after committing a new crime.
Jeff Boemer, 39, has been in prison most of his adult life. He served time for second-degree murder and a string of burglary convictions. He's just out of prison, finishing up a temporary job and looking for more permanent work and a place to live. Boemer understands the reaction to his record.
"Would you want someone who's been convicted of burglary multiple times in your neighborhood? Because as someone who's following the law, and a taxpayer, you don't want your house broken into," he says. "But on the other hand, you got to also look at what you're going to do with the people. What do you do? There's no real clear-cut answer."
Robbery victim Kyle McCleary believes he knows the answer.
He offers what may strike some as an exceptionally broad-minded strategy for a person still dealing with the flashbacks and trauma of the crime committed against him. McCleary bases his formula on his own upbringing.
"I had a support system to pick me up when I fell down. If I got in trouble there was somebody there to slap the back of my hand, show me the right way. I wasn't kicked out of the house, I wasn't ignored, money was there for education and so on. That's on the front end," McCleary says.
"On the back side, I don't think we can necessarily ease up on police presence and enforcement, jail terms for violent offenders, but when they do get out we need to do the same thing we're doing for youth on the front end," McCleary adds. "We need to bring them back into our communities, provide them with rehabilitation, provide them with education if they need it. You know, I'm not saying open the doors and give these guys a hug, but we need to give them a chance." McCleary's formula is expensive. However Dan Cain says people who wince at the cost need to keep their own self-interest in mind. Cain is president of RS Eden Services, a Minneapolis-based nonprofit that helps people just out of prison find work and housing.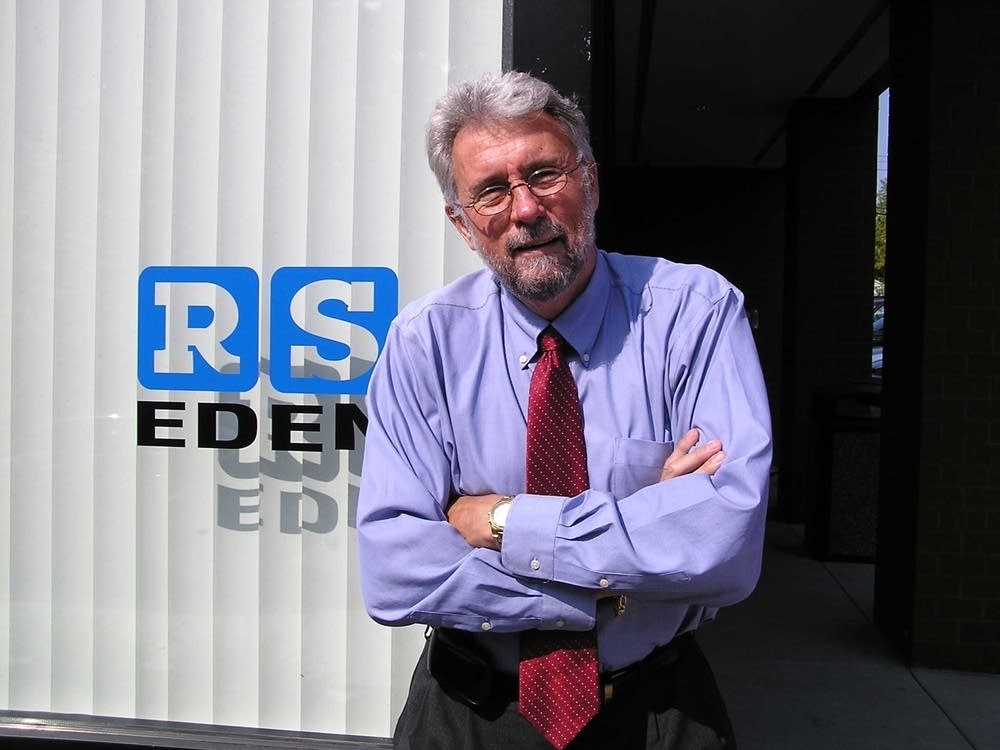 "When we do that, we don't do it for them, we do it for us. If they get back on their feet then they are no longer a threat to us, and we have to approach it as a public safety issue," Cain says.
But Cain says ex-cons are encountering more closed doors. A growing number of employers, including fast food companies, no longer hire felons for even relatively low-level or menial tasks. Cain says more property owners are reluctant to rent to ex-cons, for fear of being held liable should the person commit a new crime.
"If you have someone come out of prison that can't get a job and a place to live," Cain says, "armed robbery starts to look pretty good as an option, especially when you're not afraid of being behind bars because you've been there."
The causes of crime are well-known and widely agreed upon. The solution most readily embraced is longer sentences for law breakers. Less popular are ideas which divert young people from a life of crime before they start one, or programs that give adults getting out of prison a chance to go straight when they re-enter society.