Rain falling in St. Paul Tuesday had members of the drought task force in an upbeat mood. Some joked that they should get together more often since it always seems to rain when they meet.
The task force was formed after the 1988 drought to help coordinate drought activities among state agencies. This was the group's second meeting.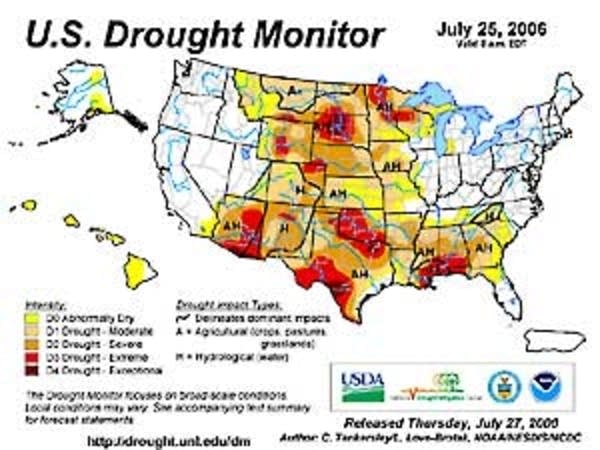 Members spent about an hour and a half updating each other on various aspects of the current drought. Meteorologist Craig Edwards told the group that steady rain should fall across a good chunk of the state for the next day or so, and there's the possibility of above normal precipitation next week. But Edwards said the state's rain deficit is a huge hurdle to overcome.
"I think it's hopeful for portions of Minnesota. But I'm not too hopeful about the areas in the most severe drought," said Edwards.
In contrast, Edwards says the 8-14 day forecast suggests below normal rainfall.
That, of course, has been the case for much of the summer. State Climatologist Greg Spoden showed the task force a map of Minnesota that illustrated the total amount of precipitation across the state since May.
Lots of areas of Minnesota have had five or less inches of rain. ... it's the equivalent of missing all of June's rainfall and portions of July.

State Climatologist Greg Spoden
"Lots of areas of Minnesota have had five or less inches of rain. Now keep in mind over the same period of time that the historical average, the so-called normal, would be something like nine, 10, 11 inches," said Spoden. "So to have five or less is the equivalent of missing all of June's rainfall and portions of July."
A red-colored swath runs through the center of the map from Lake of the Woods, south to Todd County. There it turns east, forming an L-shape, and continues into northwest Wisconsin. This is the area of the most extreme drought in state.
That means there are already serious water shortages and crop and pasture losses. All around the L's edges are areas of severe drought. From there, conditions taper to moderate drought across the southwest and in northeastern Minnesota.
Spoden says only a small section of the state has been spared.
"There's a streak that extends essentially from Lamberton in Redwood County, over to near Rochester, where I'm told it looks like the Garden of Eden. Things look wonderful agriculturally," sais Spoden. "But by and large, almost all of Minnesota has been impacted by this dry spell."
Rivers and streams in some parts of the state are nearing all-time low flows. This has been particularly problematic along the Mississippi River, which is a source of water for many cities and businesses. At the task force's first meeting, there was a lot of discussion about low flow levels on the river at Xcel Energy's Monticello power plant. Since then, Xcel and other water users upstream held their own meeting to figure out ways to prevent the abnormal water drawdowns.
The Army Corps of Engineers reported that it's trying to help with the river's flow where it can. But many of the dams and reservoirs upstream are so low that the Corps is restricted to minimum water releases.
Bob Engelstad says the Corps was able to boost the releases coming out of Lake Pokegema by 100 cubic feet per second, because lake levels there allow it. "This is an option that we've got, to do this to help out. It's a small pool however, so we're going to keep assessing this as to what we can do," Engelstad said.
But Engelstad says there's not much the Corps can do to help areas like Gull Lake, where conditions are so dry, recreational activities could be in jeopardy.
"The folks up there are very much hurting, and they're looking at taking boats out or not -- and it's not a desirable situation. We're just not getting the inflows," said Engelstad.
Gayle Junnila with Explore Minnesota said after the meeting she hasn't heard anything yet from her tourism clients about the drought's affect on tourism. But she said with August being one of the biggest tourist months, she's poised to spread the message that tourism is not weather-dependent.
"Even if you can't put your boat in in Gull Lake, there's a lot of things to do in the area other than boating to make up for that situation," said Junnila. "That's what we would probably do. We'd probably come out with some kind of a release that says there's still lots to do. Don't stay away."
Agriculture, on the other hand, is clearly suffering. Thirty-eight drought-stricken counties have reportedly lost at least 30 percent of their crop yield. Gov. Pawlenty has asked the Department of Agriculture to create a drought advisory committee to help state officials determine farmers' need for assistance.
The state is also creating a "hay list" Web site to match up farmers who need hay with those who want to sell or donate it.