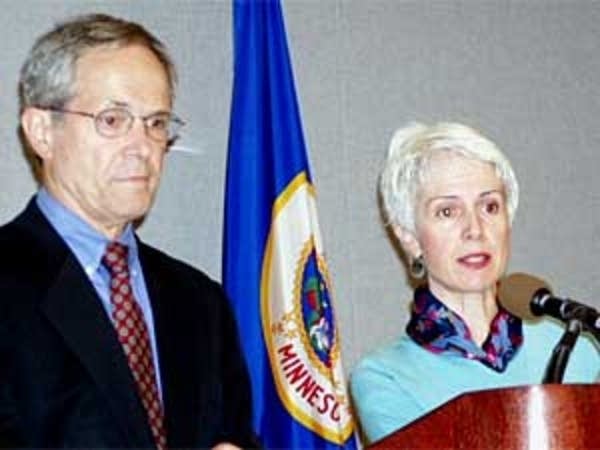 Hutchinson and his running mate, Dr. Maureen Reed, have developed a plan they say will provide better health care for Minnesotans at a lower cost.
One piece of their plan is a mandate that Minnesotans acquire basic health coverage, either through private insurance or state subsidized plans, as the state of Massachusetts is doing.
They also want to cut administrative costs in half by the year 2010 - saving as much as $800 million a year. Hutchinson says improving Minnesota's health care system would be his top priority as governor.
This issue is so important to the future of this state that not doing this is not only bad politics, it's ethically wrong.

Peter Hutchinson
"This issue is so important to the future of this state that not doing this is not only bad politics, it's ethically wrong," Hutchinson said. "And I think that's where we are ... The people of Minnesota know we're facing a crisis when it comes to health care costs. And they're waiting for someone to stand up and say, 'Here's what we need to do, and I am willing to stake whatever I've got in terms of political capital to get this done.'"
Hutchinson says Minnesotans have a responsibility to improve their own health too. He says people who don't smoke, lose weight and exercise should get a discount on their health insurance. He says information on the cost of various health care treatments should be readily available in libraries and on the Internet.
Hutchinson and Reed say the state should ban smoking in all indoor workplaces and increase tobacco taxes. Reed, the former medical director for HealthPartners, says the state should also require providers to use electronic medical records, and pay providers more for providing quality care.
"We need to stop paying for the stuff that doesn't work. The stuff that's done twice, and we all know about those things, the stuff that's unecessary " said Reed. "And when we get the unecessary stuff and the stuff that's duplicative out of health care, we can reduce the medical cost of care by some 15 percent. That is staggering."
Reed says using "best care" standards would save state and local governments about $900 million a year. That's in addition to the $800 million in savings from administrative costs.
Reed says the state would have to pay more to subsidize health insurance for people who can't afford it, and the result is an estimated $1.2 billion in savings a year.
Gov. Pawlenty announced a health care proposal last month to set quality care standards for diabetes and other types of care. He says his Q-Care plan would save the state about $150 million a year.
Hutchinson says Pawlenty's proposal is fine, but it's only a piece of what's needed to improve the health care system.
"At this point, it's an initiative, it's a pilot project, it's all good stuff. But it doesn't add up to what I think ... people are looking for, which is something that attacks the whole problem, does it comprehensively, expects everybody to contribute. We're not there yet," said Hutchinson.
Pawlenty's campaign manager, Michael Krueger, says Pawlenty has already led the charge for health care reform, including a push to import prescription drugs from Canada and a proposal to ban prescription drug advertising. Krueger says Hutchinson's plan will require a tax increase.
Hutchinson is the last of the major party gubernatorial candidates to release his health care plan. DFL-endorsed candidate Mike Hatch wants to squeeze administrative and other costs out of the health care system, and insure more Minnesotans over time.
DFLer Becky Lourey has a plan to achieve universal health coverage by 2010, by expanding state health care programs and capping administrative costs.
Political observers say health care is a major concern for voters struggling to pay for coverage, but it's unclear how politically potent the issue will be in this year's governor's race.