Hmong find ways to keep traditional music alive
Under the fluorescent lights of a Concordia College classroom, one generation of Hmong is passing on a musical heritage to the next.
"My name is Keng and I'm 19 years old, and I teach qeej class at Concordia University," says Keng Lor.
The qeej (pronounced GHLENG) is an L-shaped configuration of bamboo pipes. Keng Lor has been playing the qeej since seventh grade, when his parents pressured him to take lessons. He's not a master, but he's quite good. His 9 and 10- year-old students watch attentively when he gives a demonstration.
If there's a universal instrument in Hmong culture, Lor says the qeej is it.
"No matter where you go, if you say qeej, then almost anybody who's Hmong will know what it is," says Lor.
Some people think the qeej is the Hmong equivalent of the Scottish bagpipes, minus the bags. Like the pipes, the qeej is a reed instrument, designed so the musician can make sounds sucking in or blowing out.
Its music is like an extension of Hmong language. Each note represents a word. To Hmong people, the sounds of the qeej are like speech.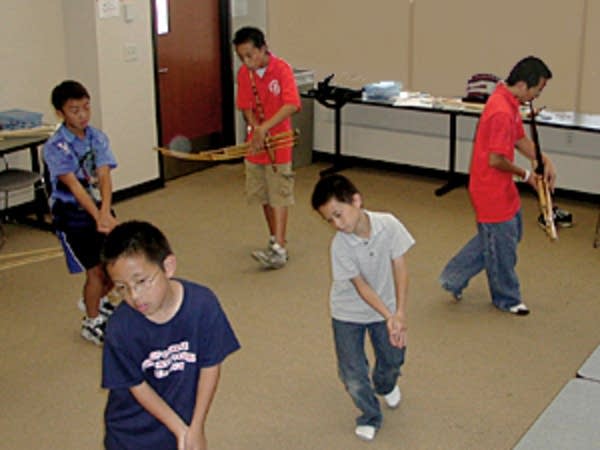 "People who are familiar with qeej, or they know how to play it, they know what the music is saying because it says certain words. So that's how we know what the qeej is saying."
Qeej players are storytellers, performing centuries-old ceremonial songs. They often dance while they play. In Lor's class, the students learn to spiral quickly to the left or right, and do complete circles while holding the instrument.
"We believe that there's like ghosts, spirits," Lor explains. "That when you blow the qeej, spirits come after you. And so when you turn around in circles, that's how you lose a ghost, so they can follow you."
The qeej is played primarily at Hmong funerals, to pay tribute to the dead. You also might hear it at the annual Hmong New Year celebration in late fall. It has a sacred role in Hmong culture. Keng Lor is among a relatively small number of younger Hmong preserving the tradition.
If there's a universal instrument in Hmong culture, the qeej is it.
"I'm pretty glad my parents signed me up, because it makes me feel stronger about my background and where I come from," Lor says.
If the qeej can be traced back through Hmong history, Hmong hip hop traces the more recent history of the Hmong.
The carnival-like beat in the song "Tequila Moonrise" is the work of Delicious Venom, featuring rappers and brothers Vong and Tou Saik Lee. Several Delicious Venom songs speak of the persecution of the Hmong in their homeland of Laos, and their struggle in America.
But a Delicious Venom side project is even more of a bridge to the past. "Fresh Traditions" pairs Tou Saik Lee with his 65-year-old grandma, Youa Chang, in a spoken-word collaboration.
Chang practices the traditional art of kwutxhiaj (pronounced goo-TEE-ah), or poetry chanting. Her grandson asked her to perform with him at a festival joining old and new artistic forms. They both decided his Americanized spoken word and her chanting were so comparable and compatible, they began a partnership.
"It comes from the same soul. And it's a voice," says Lee. "You're giving a voice to your community and your perspectives, and even my grandmother, when she saw us perform, she said, 'That's something that's similar to what I do.'"
"We're both speaking about our lives and we're both speaking about how to live well, and so, that part is very similar," Chang adds.
Chang has been chanting since she was 10. In the mountains of Laos, she performed songs about village life and courting. Back then, it was entertainment for teachers and clan leaders. In St. Paul, her chanting has taken on a more serious tone.
"A lot of my songs are about how difficult it is to be here in America, and how Americans have the opportunity to go to school and they can write things down and they get all the jobs and they get all the work," says Chang. "Being a Hmong person, we work really hard and we struggle to survive, and that's what most of my songs are about now."
At a Fresh Traditions performance, Lee and Chang alternate back and forth. Sometimes Chang will make up a chant on the spot, like a freestyling rapper.
Lee often gestures to the crowd while his grandma chants, encouraging them to wave their hands as if they were at a hip hop concert. Toward the end, the chanting and the spoken word begin to mesh together.
Chang says she and Lee are closer because of their collaboration.
"I'm happy to do this with my grandson because it gives us something to do together, and we can tell our stories, and people can understand what we go through."
Unlike the music of the qeej, the art of Hmong poetry chanting may be in danger of being lost. Chang says Hmong youth don't seem to be interested. If nobody makes an effort to learn kwutxhiaj, it will probably die with her generation.
Gallery
3 of 3
1 of 3
2 of 3
Your support matters.
You make MPR News possible. Individual donations are behind the clarity in coverage from our reporters across the state, stories that connect us, and conversations that provide perspectives. Help ensure MPR remains a resource that brings Minnesotans together.