Dozens of friends and family members gathered at the Baker farm near Cleveland to clear fallen trees and dig through the debris scattered by the tornado. Tonja Baker says her husband, two sons and a sister were huddled in the basement Thursday evening when the storm hit.
"My ears hurt really bad right before it hit," Baker recalled Friday. "And I asked my sister if her ears hurt and she said yes, and I thought we need to get the blankets. So we all got into a circle and held each other, with two dogs in the middle, and prayed."
Baker said they were in the cistern in the basement of their house.
"We live in an old farmhouse we were remodeling, and I think that the heavy walls saved us."
But those heavy basement walls are all that's left of the Baker farm. The family lost its house, barn, garage, cars, a chicken coop and three sheds.
"At least we're all here. We kept telling that to the boys," Baker said. "It's devastating, looking and seeing everything gone."
Just up the road, a large farm owned by Jim Struck was also flattened. Joe Connolly, a LeSueur County commissioner, was among many area residents helping the farmer locate his missing cows.
"There was 150 head of livestock that came out of here that are lost," Connolly said. "They're out someplace, but it will take us some time to round them up. We're out on horseback now doing it. It's quite a job because they get split up, and it's very dangerous to people traveling at night, the cattle will move at night try to get back. It makes it very difficult. But we have a good group, they're experienced at it and we'll get 'em."
The lone fatality came near Lake Emily. Authorities Thomas O'Brien, 90, was pulled from underneath debris. He died from his injuries at a Mankato hospital. Nearly two dozen people were taken to emergency rooms for medical treatment, but few injuries were considered serious.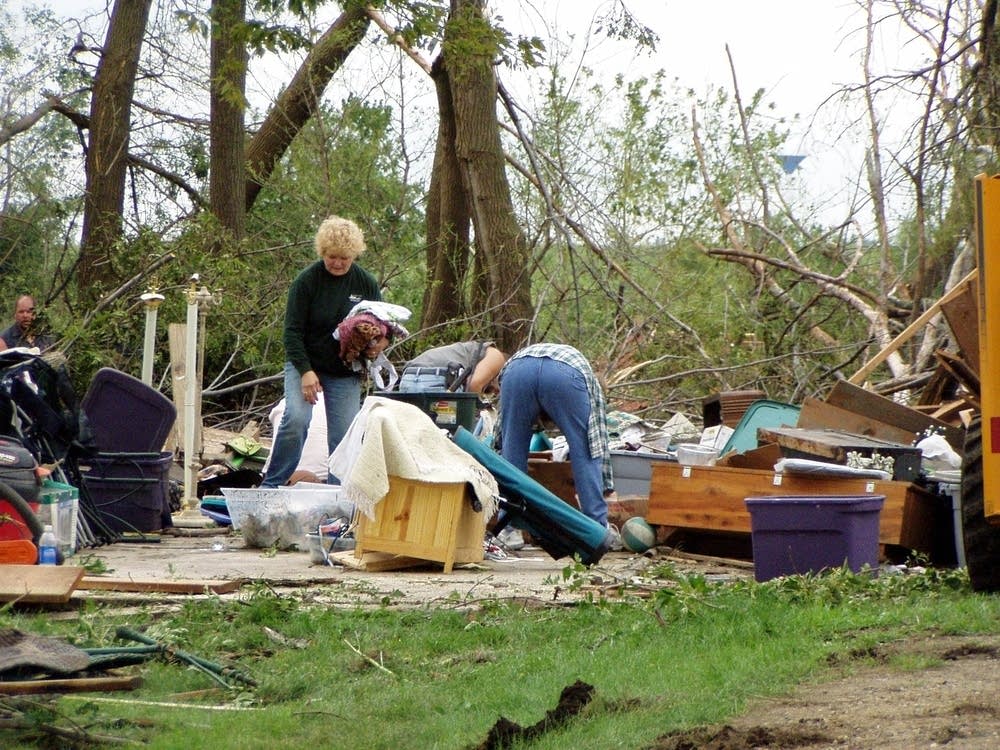 More than a dozen homes were destroyed and many more damaged. LeSueur County Chief Deputy Tom Doherty was still overwhelmed by the amount of damage.
"We have areas where you can't even believe a house [existed]," Doherty said. "A rambler ... just knocked right to the ground. Crops -- you wouldn't even know there were crops there. Corn fields, just nothing left."
On the south shore of Lake Emily, Paul Schwichtenberg was feeling pretty lucky. His garage was wrecked, so were his boats. But his family was safe, since nobody was home at the time.
"I come up, and then we had to cut wood for an hour, so we could get the ambulance vehicles through for the guy who was injured. So we were up until about midnight last night," said Schwichtenberg. Schwichtenberg was in a hurry to pull his large fallen trees from the lake. Like most storm survivors, he was trying to stay busy, trying to get something in his life back to normal.
"Hopefully power will be up in a couple of days. It will be a couple of months, maybe this spring until everything gets somewhat, semi-normal," he said.
Gov. Tim Pawlenty took a helicopter tour of Cleveland and Nicollet, cities on either end of one tornado's destructive path. He also met with one of the families that lost a farm. Pawlenty described the disaster as sad and challenging.
"But the silver lining in all of this is Minnesota has an extremely proud tradition of always rallying around individuals and families and victims of natural disasters, and this will happen again," the governor said.
Pawlenty said Minnesota's Department of Homeland Security is working with federal officials to determine how much, if any, federal disaster aid is available for the affected area.