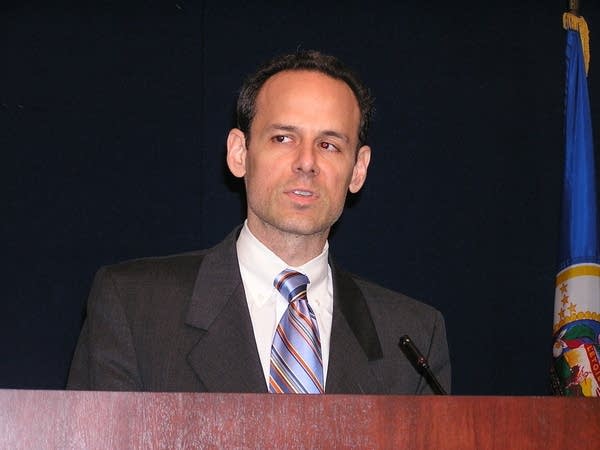 Republican Alan Fine told a group of reporters that the real campaign for Congress has begun and launched a fierce attack on Ellison, less than 24 hours after he won the DFL nomination.
If elected, Ellison would be the first Muslim to hold congressional office and the first African American from Minnesota elected to Congress. Fine says he has concerns about Ellison's past relationship with the Nation of Islam, some of his controversial writings in law school and for appearing with speakers who have made anti-semitic comments.
"I'm extremely concerned about Keith Ellison, Keith Hakim, Keith X. Ellison, Keith Ellison Mohammed. I am personally offended that this person is a candidate for U.S. Congress. He is unfit to represent the voters of the 5th District," Fine said.
Fine says that, as a Jew, he's concerned that Ellison praised Nation of Islam leader Louis Farrakhan in a University of Minnesota newspaper column in 1990. Fine says he questions Ellison's sincerity about bringing people together since Farrakhan has made several anti-Semitic comments over the years.
Grow the Future of Public Media
MPR News is supported by Members. Gifts from individuals power everything you find here. Make a gift of any amount today to become a Member!
Fine is not the first to criticize Ellison's past. A group of conservative bloggers, the Minnesota Republican Party and some of Ellison's challengers in the DFL primary have raised similar questions over the summer. Ellison has also been criticized over having his driver's license suspended for failing to pay his parking tickets. He's taken heat as well because of fines he incurred for failing to file his campaign finance reports as a state lawmaker.
It appears that the GOP and Alan Fine will step up that criticism now that Ellison has won the primary. For his part, Ellison says he is not worried. Prior to Fine's news conference, Ellison said he'll keep his focus on the needs of the people in the district.
"Keep on talking about peace and universal health care and continue to talk about the issues that are effecting all of us, the middle class squeeze, the lack of the increase in a minimum wage since 1997. I don't blame Republicans for wanting to do a personal smear attack because on the issues they're in just big trouble," he said.
Ellison says he has never met Louis Farrakhan and was wrong to disregard the anti-Semitic comments made by Farrakhan and other members of the Nation of Islam. Minnesota's 5th Congressional District is a DFL stronghold that includes Minneapolis and several suburbs. No Republican has represented the district since 1963. Only 28 percent of the district voted for President Bush in 2004.
Independence Party member Tammy Lee says those voting patterns mean Alan Fine, or any other Republican, doesn't stand a chance. She says she's the better fit for the district.
"It's a much steeper climb for a Republican in this district, in particular because this is a very progressive district and my message to the voters today and for the rest of the campaign is for common-sense Democrats and rational Republicans come on over because I'm the best alternative in this race," she said.
Lee says she doesn't think voters will back Ellison's support for more government spending on things like universal health care. She says voters want greater control on government spending.
While Lee and Fine both say Ellison is too liberal for the district, Green Party candidate Jay Pond doesn't think he's liberal enough. Pond says he would have questioned Democratic leaders for not protesting the war in Iraq earlier. Pond also wants universal health care based on a single payer insurance system, and more money for renewable energy. Pond says he's not concerned about Ellison's past and would prefer to focus on the issues.
"I don't want to be talking about parking tickets," he said. "I want to talk about how we're going to get out of Iraq, single-payer universal health care and renewable energy. And so I want to stick to those issues and I think the public does too."
Ellison also hopes that the public continues to focus on the issues. Voters in the heavily Democratic district will have to decide which counts more-- Ellison's policy positions and four year track record as a state lawmaker or the questions about his past. In the primary, those questions about his past failed to stop his bid for Congress.
Gallery
1 of 1