Top Klobuchar aide fired for viewing leaked Kennedy ad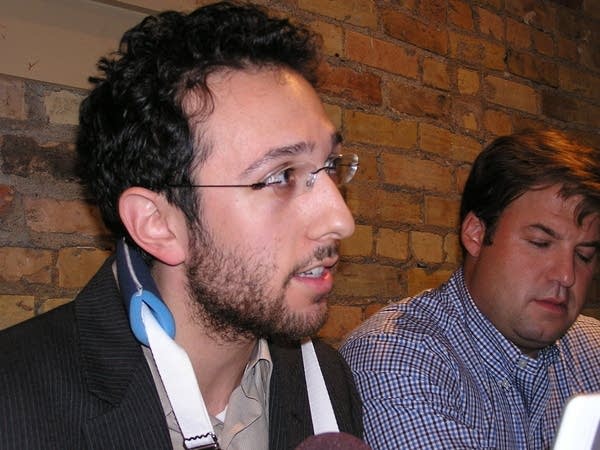 Klobuchar campaign manager Ben Goldfarb said in a statement a local blogger directed Tara McGuinness to a Kennedy ad located on a Republican operative's Web site last Saturday.
The statement said McGuinness viewed the ad and asked others in the campaign to watch it. The statement also said the local blogger told McGuinness that he gained access to the Web site through the use of passwords.
Klobuchar, the Hennepin County attorney, ordered the matter be turned over to the FBI. On Monday, the campaign contacted the FBI and McGuinness was fired. McGuinness did not return calls for this report. The Klobuchar campaign statement also included an apology from Klobuchar to Kennedy.
Just hours after being notified, Kennedy's campaign held a news conference to detail a list of unanswered questions about the matter. Kennedy was in Washington and unavailable to comment.
His campaign manager, Pat Shortridge, said the campaign wants to know what material was accessed on the Web site. He also wants to know how many people saw the ad. He also asked why it took Klobuchar so long to contact them.
"We don't know what ad they accessed. We don't know how many ads they accessed. We don't know who they shared them with. We don't know the name of this unidentified blogger. There were a few kernels of information that we were given in the Klobuchar press release, but we don't know anything more than that," he said.
Before you keep reading ...
MPR News is made by Members. Gifts from individuals fuel the programs that you and your neighbors rely on. Donate today to power news, analysis, and community conversations for all.
By the end of the night, some of those questions were answered.
Goldfarb said the campaign waited to notify the media and the Kennedy campaign until they filed their report with the FBI.
The blogger in question is Noah Kunin, 24, of Minneapolis. He writes the liberal blog, blanked-out.com. In a news conference late Wednesday night, Kunin said he discovered the ad when he visited the Web site of Kennedy's media consultant, Scott Howell.
The Web site containing this ad can be accessed by anyone with an Internet connection, by directly typing in the URL. ... It was in no way secured.
Kunin says he searched the site and typed in "Allen," for Virginia Sen. George Allen, into a specific field on one page of the Web site. He says he eventually found the Kennedy ad.
Kunin says he believes he did nothing wrong. He says even though he got to the ads by typing in the name "Allen," it was possible to see the ads without doing so.
"The Web site containing this ad can be accessed by anyone with an Internet connection, by directly typing in the URL. It is possible -- I must emphasize this -- it is possible to directly go to this Web site by entering nothing at all, just the URL to this Web site. It was in no way secured," Kunin said.
On the advice of his attorney, Kunin would not discuss his communication with McGuinness. He maintains he was not working on behalf of Klobuchar's campaign.
FBI spokesman Paul McCabe confirmed to the Associated Press that Klobuchar's campaign contacted the agency. He says agents are reviewing the facts to see whether any federal laws were broken.
That may not be an easy determination, according to former federal prosecutor Paul Luehr. Luehr, who now works for the computer forensics and technical consulting firm, Stroz Friedberg, says it isn't always easy to prosecute a case of Web site hacking.
Luehr says investigators will need to find out several things, including whether the Web site is properly protected, and whether it's clear to an outsider that the information was restricted.
"One difficult question can always be whether access was unauthorized or not. And particularly in Web-based cases, it can be difficult for a person to determine at what level they're entering into a Web site," Luehr said.
As the FBI considers whether a crime was committed, Klobuchar and Kennedy will weigh the political fallout of the latest incident.
University of Minnesota political science professor Larry Jacobs says he doesn't think the latest news will cripple Klobuchar's campaign, unless more damaging information comes to light.
"I think the big picture here is until we get answers -- and I would say more incriminating answers -- this strikes me more as a kind of an ember, and has yet to become a full-fledged bush fire or forest fire," Jacobs said.
Klobuchar and Kennedy are engaged in a race that's being watched closely by both national parties. Both have raised millions of dollars and have been preparing for the final sprint in the last month of the campaign. Klobuchar has been leading Kennedy in most of the independent polls.
Gallery
1 of 1