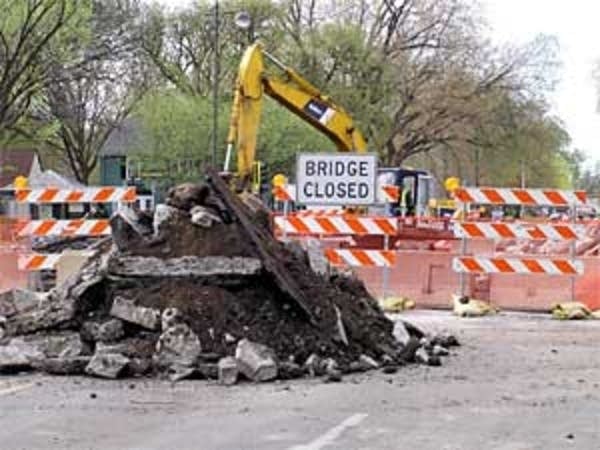 The decision by a majority of Minnesota voters to spend all rather than half the motor vehicle sales tax revenue on transportation will add about $60 million a year to road, bridge and transit spending. The amount is expected to more than double in five years.
However state representative Bernie Lieder, a Crookston Democrat and a long-serving member of the House Transportation Committee, says the money picture is still quite bleak.
Part of the reason is that elected officials for several years have approved borrowing and spending anticipated federal revenue for state road and bridge projects. All of that money has to be paid back and the payments, Lieder says, will slice deeply into the state's transportation spending for 2007 and 2008.
"The construction portion of the highway budget is less than half the normal," he says. "So unless there's something to augment or supplement that, we're going to see the level of construction going down for the next couple of years until we see some of the bond payments and interest start being paid off. Those monies come out of the existing budget that they get every year."
With Democrats regaining control of the House, Lieder is the likely chair of the House Transportation Finance Committee. He says the most promising source of additional money is raising the gas tax and tab fees. Lawmakers in past sessions have approved transportation bills with a higher gas tax but the idea has been vetoed by Gov. Pawlenty.
State Senator Steve Murphy shares Lieder's outlook. Murphy, a Red Wing Democrat who chairs the Senate Transportation Committee, welcomes voter approval of the transportation amendment. However, he estimates the state is short nearly $2 billion a year in keeping up with transportation infrastructure needs.
He predicts lawmakers will propose raising the gas tax. "I could see a slight a very modest adjustment there and also some tab fee adjustment, but both of those need to go up," he says.
Many voters may have supported the transportation amendment with the assumption that it solves most if not all of the state's transportation needs.
Shelly Shreffler of Minneapolis says she knew going into the voting booth that approval is just a first step. "I hope nobody thinks that the (money) that will be raised will be sufficient to the huge task in front of the state," she says.
Shreffler says she's willing to pay a higher gasoline tax.
So is Bob Saumur, a traveling window sales representative. Saumur racks up 40,000 miles on Minnesota roads every year. He opposed the transportation amendment but favors a higher gas tax.
"It seems to me that we should spend more money on roads," he says, "and I think we should have raised the gas tax rather than putting this constitutional amendment in place."
Approval of the transportation amendment means transit now has a dedicated source of funding. An amendment to the Minnesota constitution decades ago allocates the state's gas tax and tab fee revenue to road and bridge building. Until now, transit funding has depended on lawmakers' willingness to appropriate money from the state's general fund.
Transit for Livable Communities Executive Director Lea Schuster says lawmakers for several years running have cut general fund spending for transit. "We would not have avoided that again this year if we hadn't passed this amendment," she says. "Now we can focus on building our transit system and providing more transportation choices instead of cutting service and raising fares."
A constitutionally dedicated source of transit funding, Schuster says, puts Minnesota in better standing with federal officials who hand out money for transit projects including light rail and bus rapid transit. Those officials appear to favor projects in states that have a stable source of transit funding.