Billy Thompson is a well-known constant in the western Minnesota town of Milan, a place that's seen lots of changes over the years. At just over 300 people, Milan's population is about half of what it was in the 1940s.
Through those changing times Milan Mayor Ron Anderson says Thompson was there, with a movie camera in hand.
"Everybody would say, 'Oh there's Billy with his damn movie camera,'" according to Anderson.
Mayor Anderson doesn't think people truly appreciate what Thompson has done over the years. But now that he's collected more than six decades of small town happenings on film, the importance is obvious.
"I'm glad Billy was there, and so is everybody else, because it's kind of fun looking at it," Anderson says.
Thompson, 78, says he started documenting small town life in 1945 when his father bought an 8mm Bell and Howell movie camera.
"I became very interested in taking movies, so I took that camera and I started taking photographs of everything you can possible imagine," Thompson says. One of the very first things Thompson filmed was Milan's high school graduation in 1945. Then he went into the Army and took reels and reels of film of his ski unit training in Alaska. When Thompson returned home, he started a carpet store, but kept his passion for filming the Swift County town.
"I've probably taken thousands of feet of movie film that is absolutely worthless. But you have to take a lot to get a little bit of good footage," Thompson says.
"Thankfully, I've been able to do all this, to record history."

Billy Thompson
Day to day happenings must have seemed like rather unremarkable subjects to film a half century ago. But sit down and watch those movies with Thompson, and his narration makes you feel like you're in a museum exhibit come to life.
"This scene here is of the old snow storms in Milan," Thompson says as he watches a grainy film from the 1950s. "In those days we didn't have the big rotary snow plows and all this machinery. When the snow came, they had a big road grader or road construction crew. They'd push it into a pile. The farmers and people in town got together and they shoveled it onto a truck by hand. That's something that would be absolutely unheard of now."
Thompson sees historical significance in what he's collected; from movies of wildlife in the area, to small town landmarks so familiar to a generation.
"Look at the old buildings! There's the old outhouse, something you would never see," Thompson says, pointing to scene from another movie.
There are others who see value in what Thompson has captured on film. The University of Minnesota at Morris recently digitized 100 hours of Thompson's aging films. The university thinks someday researchers may take an interest in Thompson's studies of life in a small town.
That preservation work may even spur a new role for Milan. A grant will help the town digitize more of Thompson's films. Community officials even hope to start a film preservation business in town, something other communities could use to preserve their history that's been captured on film.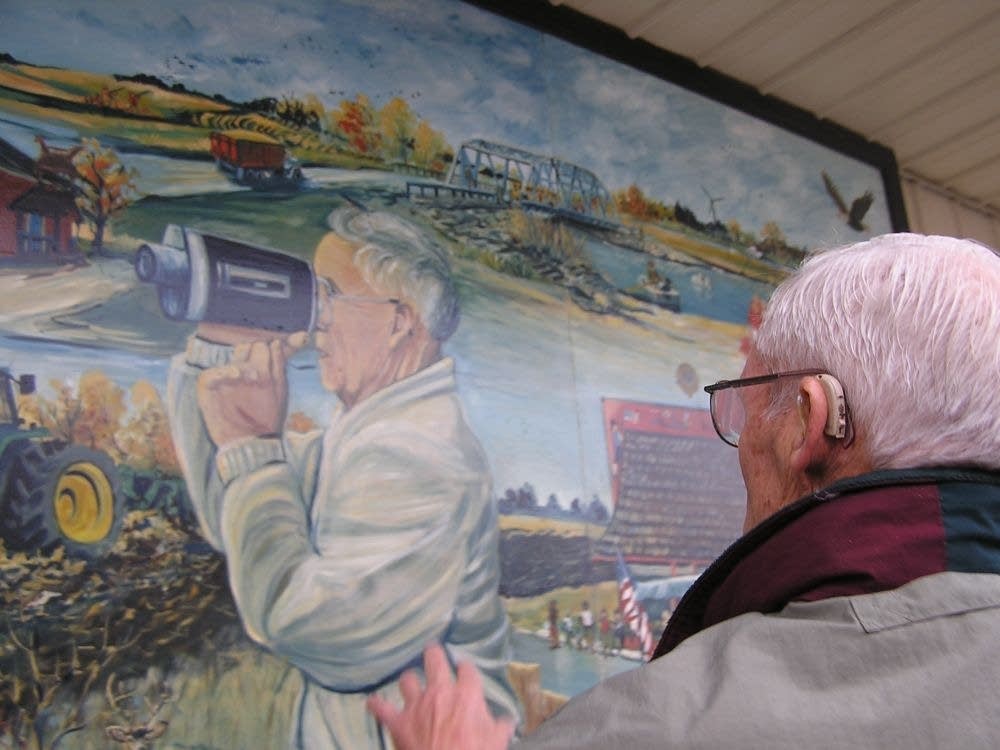 Thompson himself is excited at the prospect of having his films preserved, and the possibility that it may spawn efforts to save the work of other small town filmmakers.
"I didn't realize this whole project would grow to be what it is right now. But I'm thankful I had the foresight to take all these movies. What's this going to mean to the people around here in the future? I've just thankfully I've been able to do all this, to record history," Thompson says.
Thompson is still recording history, most everyday, in Milan. Although these days he uses a state of the art digital movie camera.
He's spent his life documenting Milan's history, but he's become part of it too. A 50-foot mural on Main Street shows faces and images from the town's 130 years of history.
There on the end is a life-sized portrait of Billy Thompson, peering through his camera, filming it all.